MTN has again emerged the best data and voice Network in Uganda having attained the Best Network Performance Score during the national network benchmarking campaign in a countrywide assessment undertaken at the end of last year by Rohde & Schwarz. This award comes two years after MTN's win of the same award in February 2020.
Rohde & Schwarz bestowed this award on MTN Uganda following tests conducted on ground in Uganda, during the 3rd quarter of 2021, and within the framework of a study that involved extensive tests of voice calls and internet speed evaluations across over 9000km around the country.
The awarding company, Rohde & Schwarz is a leading global supplier of standalone products, integrated solutions and managed services for testing and improving the quality of mobile networks along the entire network lifecycle – from lab verification, spectral clearance, interference hunting and base station installation to site acceptance, benchmarking, optimization, troubleshooting and monitoring. The comprehensive portfolio supports all technologies, from 2G to 5G, and addresses all test and measurement scenarios from RF to end-user quality of experience (QoE). The innovative solutions allow users to accurately collect data and to gain machine learning-assisted deep insights into the QoE delivered to end users. Solutions from Rohde & Schwarz empower top-tier mobile network industry players to make QoE-centric business decisions with confidence, to deliver better services with higher quality for end users, to reduce time to market for new technologies and services and to secure and increase the value of their business.
Between 10th October and 24th December 2021, Rohde & Schwarz conducted an independent network quality and performance test on the networks of all mobile operators in Uganda including Smile, Airtel and MTN. In the survey, the three network systems were benchmarked against leading European mobile telephone operators using the network performance scoring method of European Telecommunications Standards Institute (ETSI) TR 103 559 S.
MTN Uganda registered the highest score in both data and voice, scooping a total of 649 out of 1000 points. MTN's data service scored 367 out of 600 points while its voice service scored 282 out of 400 points, making it the premium provider of both data and voice services in the country.
Managing Director of Rohde&Schwarz SwissQual AG, Hanspeter Bobst, stated "We are very pleased to be partnering with a leading multinational operator such as MTN and use our expert knowledge of the execution of large-scale benchmarking campaigns and data analytics. This was the third project we completed together, and the team in MTN Uganda has demonstrated an impressive and continuous improvement of network quality over the years, achieving the best Network Performance Score since the beginning of the project."
Commenting about the company's remarkable Network Performance Score, Wim Vanhelleputte, the MTN Uganda Chief Executive Officer said that; "This score is evidence of how much effort we have invested in delivering on our belief that everyone deserves the benefits of a modern connected life. Such a performance encourages us to work even harder to extend of top-notch services to our customers. The fact that we won this award in 2020 and won it again in 2022 shows our commitment to providing the very best services to our clientele."
Vanhelleputte further noted that MTN Uganda is investing US$ 300 million over a three-year period that commenced last year, to further consolidate its services across Uganda, with the aim of upholding the country's Broadband policy and Vision 2040.
The Best Network Operator award comes at a time that MTN Uganda is commencing the operationalization of the MTN Ambition 2025 strategy which is anchored on the vision of MTN leading digital solutions for Africa's progress. Key among the MTN Ambition 2025 strategy pillars is the active desire to drive industry-leading connectivity operations, a fact that has manifested in the company's impressive Network Performance results.
Also worth noting is that MTN's Best Network Performance award comes barely two years since MTN was named the most admired brand in Africa. In January 2020, MTN Uganda became the first operator in East Africa and the third in Africa to showcase the 5G network to its customers.
"Our mission is to lead the delivery of a bold, new digital world to our customers" said the MTN Uganda Chief Technology and Information Officer, Ali Monzer. "We are delighted that our efforts are yielding results through seamlessly connecting people and businesses. This is a great building block to the economies in which we operate more so during the pandemic where voice and data services became a lifeline across all the various sectors of the economy."
Monzer further noted that the increasing adoption of digitization in every sector as a way of conducting business has necessitated having a high-speed, reliable and universal internet connectivity that MTN Uganda is set to deliver as part of its commitment to leading innovations for Africa's progress.
In line with the 2018 National Broadband Policy that emphasizes the role of broadband internet in the socio-economic transformation process as a critical enabler and Uganda's Vision 2040 that underscores the need for Uganda to re-orient itself to make ICT as the main driver of economic growth through ensuring 'Connectivity for all', MTN is committed to further amplifying its services to continue with its vision of delivering a bold new digital world to its over 15 million customers.
About MTN Uganda
MTN Uganda is a leading telecoms company in Uganda with a primary objective of carrying on the business of a national operator of a telecommunications network pursuant to the NTO license granted by the UCC. Among our offerings are network services, digital and financial technology services, interconnect and roaming, sale of mobile devices and MTN Mobile Money (which is conducted through subsidiary MTN Mobile Money Uganda Limited). MTN has a presence in all 134 districts of Uganda. Our services are delivered through a network of 119,077 Mobile Money agents, 200 service stores and 13 main distributors. At end of June 2021, MTN Uganda had 14.9 million subscribers, 8.6 million MoMo users and 4.7 million active data users. Visit us at www.mtn.co.ug or follow us on
www.youtube.com/mtnug and www.twitter.com/mtnug or www.twitter.com/mtnugpro for assistance.
About MTN Group
Launched in 1994, the MTN Group is a leading emerging market operator with a clear vision to lead the delivery of a bold new digital world to our 240 million customers in 21 countries in Africa and the Middle East. We are inspired by our belief that everyone deserves the benefits of a modern connected life. The MTN Group is listed on the JSE Securities Exchange in South Africa under the share code "MTN". We are pursuing our Ambition 2021 strategy with a major focus on growth in data, fintech and digital businesses.
For more information, please contact: 
MTN Uganda Press Office: mediadesk.ug@mtn.com
Rhona Arinaitwe: Rhona.Arinaitwe@mtn.com or 0772 123 067
Prisca Baike: prisca.baike@tbwa-uganda.com or 0782 654 083
MTN Mobile Money Uganda Limited, a 100% duly owned subsidiary of MTN Uganda Limited, is pleased to announce the appointment of Richard Yego as its Managing Director.
"We are delighted that Richard Yego joins the MTN family as the Managing Director for MTN Mobile Money Uganda. He brings with him a wealth of experience attained from his journey through the banking and digital financial services sector, which will be pivotal to the realization of the company's strategy and vision of creating a modern connected world," Wim Vanhelleputte, a member of the board of directors of MTN Mobile Money Uganda and the CEO of MTN Uganda, said.
Prior to his appointment at MTN, Richard served as the CEO of the Agent Banking Company of Uganda where he was responsible for the overall operations of the Joint Venture Entity of Uganda Bankers' Association and Eclectics International.
In the same role, he supported the implementation and roll-out of an inter-operable Shared agent banking technology and agent network infrastructure across Uganda, a move which fast-tracked financial inclusion by ushering convenience in the uptake of digital financial Services among the banked, under-served and unbanked population.
With over 15 years of experience in the financial sector, occupying several senior roles, Richard boasts of a stellar track record in successfully steering disruption in the digital financial services space.
At MTN, Richard will deploy strategy to shape and direct the Mobile Financial Services business. He will provide strategic leadership in the use of technology innovatively to improve and automate the delivery of financial services. He will also harness strategic relationships to develop the financial and mobile money ecosystem.
Richard holds a bachelor's degree in Economics from Makerere University bolstered by several other qualifications and certifications in Digital Financial services. His appointment takes effect on 1st February 2022, subject to regulatory approval.
Yego's appointment comes after the formulation of MTN Mobile Money Uganda ltd. in accordance with the National Payments Systems Act 2020 which prescribed the separation of the financial services from the core telecom business.
There is a high number of youth skilling programs today but very little or no information is known about the impact they have actually created.
Among the most recently launched is the MTN Foundation Youth Skilling program. The program funded by MTN Foundation, the charity arm of MTN Uganda and implemented by Ubunifu Systems was created with the aim of empowering youth to become job creators. The program also sought to boost innovation with the aim of solving challenges in society.
Following the recently concluded inaugural graduation ceremony where 60 youth were empowered with technical and digital business skills, MTN and Ubunifu systems organized a webinar deciphering ways in which organizations can track the impact of youth skilling programs. The webinar also spoke to how youth can implement the learnings from the programs.
Speaking during the webinar, the guest speaker, Edmund Walusimbi , founder of The Secret Initiative, a youth motivational program and campus ambassador of Startup Africa, advised youth to only learn what they intend to use.
Plan-Do-Check-Act (PDCA)
He urged the youth to utilize the PDCA management formula which involves planning, doing, checking and acting.
"You plan a process and execute the process. As you do that, you notice areas that need improvement, garnering feedback, interact with customers and that ushers you into the checking stage to analyze what works and what does not. The final stage is acting upon the information you have received. This now needs to become a vicious circle because it will help improve your personal and business brand," he said.
Irene Nandyose, a co-founder of Candid crafts, a business that provides market for artisans and alumni of the MTN Foundation Youth Skilling program also has an individual business knitting and crocheting. The young lady says she has gained a lot from the MTN Foundation Youth Skilling program to the benefit of her crocheting venture.
"Personally I have seen changes in the projects I am involved in. In the beginning, I had a low stock turnover due to high pricing. After the training, I picked lessons from entrepreneurship, marketing and product development training to research, engage and interact with my customers which has since boosted my sales," she narrates.
Organisations
Speaking to organisations, Walusimbi said it is important to ensure that they have key performance indicators for the trainees undertaking the program.
"It is important to identify key performance indicators. They are a form of performance measurement used for tracking impact of organisations. These can be tailored around the roles or vision of the organization for example a digital skills training center can be assessed through the ability for people to create websites and online advertising campaigns," he explained adding that it is important to ensure the indicator is reliable and relevant.
Evaluation of the trainees is also important. Walusimbi explained that organisations can utilize online forms to assess the qualitative and quantitative data about the impact of the program.
"Some of the tips on creating smart evaluation forms include: mostly using specific objective questions during the assessment. Make the form short and concise to fill, highlight anonymity as people love secrecy when it comes to giving honest feedback," he notes.
It is also very important to explain to the trainees the vitality of honest feedback for improvement of the training programs.
There are also simple software programs that can be used to make the smart evaluation forms for instance Google forms, Microsoft forms and Air table.
Walusimbi also advised to create a community of the trainees (alumni) with the goal of building sustainability of the empowerment.
An alumni, he said will create an accommodating environment for the youth to bond and freely share ideas for growth.
"Recognize the fact that everyone grows at different paces to give room for the members to grow at ease. It is also important to document the achievements of the members to create proof of the impact," he tipped organisations.
Nelson Munyanda, a manager at MTN Foundation in charge of youth empowerment said the Foundation is glad to have witnessed positive results from the trainees such as Nandyose noting that MTN is keen to see results and commits to create a sustainable and successful skilling program to reduce unemployment among the youth.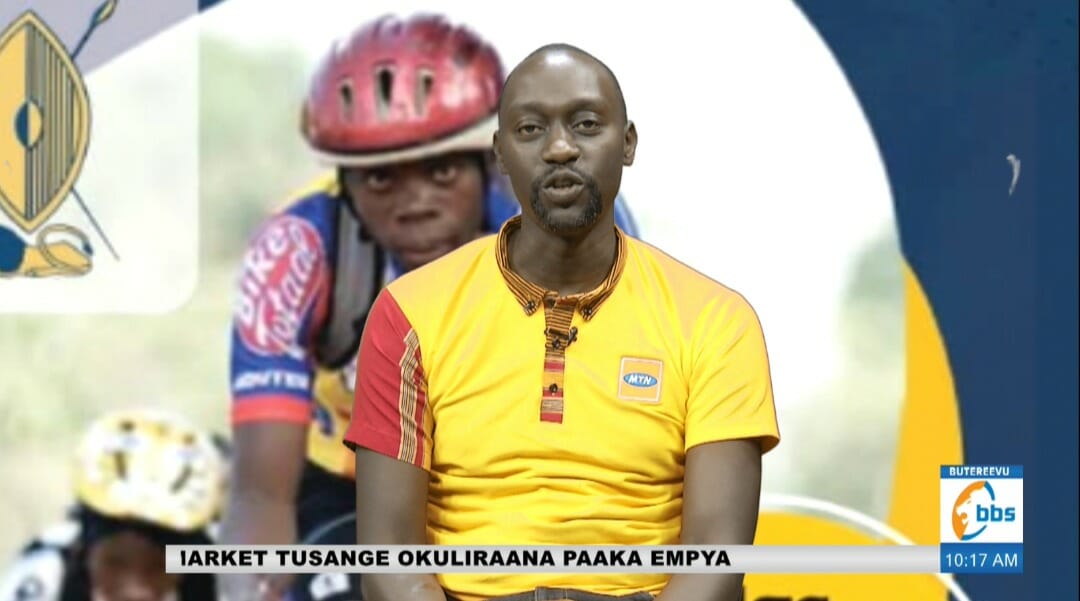 Revival of bicycle racing competitions in Buganda is underway as MTN Uganda in partnership with Buganda-owned television; BBS Terefayina, has today launched the Kengere ya BBS ne MTN' bicycle challenge scheduled for 5th and 6th February 2022.
Coined Kengere ya BBS ne MTN, the bicycle racing competition which will be broadcast live on BBS Terefayina, will encompass all the 18 counties (Masaza) of Buganda with the goal of promoting unity and strengthening culture in the kingdom.
The competition will draw participation of representatives from all the 18 counties of Buganda who gather in Buddu where the challenge will take place.
Each county (Ssaza) team will be selected by the cycling committee in consultation with the respective county sports committees from the various local competitions they organize.
Speaking during the launch held at the BBS Terefayina studios in Bulange Mengo today, Ronald Muwaya the MTN Uganda Trade Marketing Coordinator said that MTN Uganda is honored to be involved in such a noble cause for it ties in directly with the telecom's business pillar of togetherness.
"At MTN, we believe that the community is the bedrock of success in any society, hence our dedication to drive shared growth, unity and prosperity in all our partnerships. Today is no different. Kengere ya BBS ne MTN seeks to cultivate socio-economic development and transformation amongst the people of Buganda," he said.
Kengere ya BBS ne MTN was earlier launched in May 2021 in commemoration of the five-year existence of BBS Terefayina, however, the competition was affected by the emergence of the Delta variant of the coronavirus which pushed the country into lockdown.
The Ppokino of Buddu, Owek. Jude Muleke lauded MTN's efforts in strengthening relationships with the communities in which it operates noting that the bicycle challenge will bear fruit in breeding unity in the different counties of Buganda.
"For more than five years now, BBS Terefayina continues to provide quality services thanks in part to partnerships such as this one with MTN, which hinges on spurring socio-economic growth of the community. Through this partnership, we hope to entrench cultural roots in the people of Buganda to ensure fortitude of the kingdom," he noted.
Previously held and relished as a social event in Buganda Kingdom, Bicycling commonly referred to as Obugaali became obsolete and was only revived in November 2020, following the creation of the Buganda Cycling Committee.
According to the Ppokino, Kengere ya BBS ne MTN challenge is a step in the right direction towards reviving the once vibrant sport in the kingdom.
Besides being a socially entertaining sport, cycling confers unique health benefits like improved strength, balance, and coordination, making it a great sport.
The rules and regulations governing the Kengere ya BBS ne MTN bicycle challenge, will be released ahead of the event.
MTN MoMo Customers can now access MTN MoMoAdvance overdrafts to complete their MoMo transactions and pay back later
MoMoAdvance is available to all MTN MoMo customers through the MyMTN App or on *165*5*3# for a one-time registration.
MoMoAdvance is not a loan. It is a cash overdraft that enables a customer to transact beyond their available MoMo wallet balance and automatically deducted the next time a customer gets funds on their MoMo account.
MTN Mobile Money in partnership with NCBA Bank, has launched a new MTN MoMo overdraft service dubbed MoMoAdvance that will enable MTN MoMo customers to access advance Mobile Money funds that they can use to complete their MoMo transactions and pay back later.
Available to all MTN MoMo customers, MTN MoMoAdvance is an extension of the MTN MoMo customers' transacting capability, enabling them to continue transacting even when they have run out of MoMo within an approved credit limit.
This development by MTN MoMo follows a successful pilot scheme with about 135,000 subscribers since December 2020. This service is now available to MTN customers that have been on Mobile Money for a minimum period of 6 months, have passed credit scoring based on their usage of Mobile Money and other MTN services. MoMoAdvance is also available to MoMo Agents, Merchants, SMEs and corporate users of MTN MoMo among others.
MoMo customers can use their MoMoAdvance to send Mobile Money, pay for goods and services through MoMoPay, Airtime and bundle purchases, Pay bills such as water, electricity, TV subscription among others.
While launching MTN MoMoAdvance, Stephen Mutana, the General Manager MTN Mobile Financial Services said that MTN MoMoAdvance will offer the MTN MoMo customers the convenience of transacting beyond their MoMo wallet balance and pay back later.
"MTN MoMoAdvance is a product that we have been working on for some time with our partners from NCBA Bank. We are happy to finally roll it out to all our customers and we believe that it will give them the convenience to transact seamlessly beyond their wallet balances during times of need then pay back later," Mutana said.
Mutana further noted that MoMoAdvance will solve the issue of insufficient MoMo funds that customers face in moment of emergency while transacting with MoMo.
To activate MoMoAdvance customers are required to perform a one-time registration for the MoMoAdvance service through the MyMTN app or by dialing *165*5*3#, select YES to accept Terms and Conditions by entering their Mobile Money PIN. Once approved, the customer's credit limit is available for usage on an ongoing basis and can be increased proactively based on repayment performance, with no need for a new application when you need to access the limit.
"I encourage all customers to continue actively using MTN services such as MTN MoMo, Data, Voice which improves their credit score over time," Mutana added.
To distinguish MoMoAdvance from MTN's loan facility, MoKash, Mutana noted that unlike the MoKash loan facility where MTN customers can borrow money within their credit limits and pay back in 30 days as they wish, MoMoAdvance on the other hand is an overdraft facility that allows customers use more money than they actually have on their accounts, and the overdraft amount is automatically deducted the next time a customer gets funds on their MoMo account.
MoMoAdvance attracts a one-off access fee equivalent to 2.75% of the amount overdraft used and a daily interest of 0.5% on any outstanding balance. The daily interest shall be charged at the end of each day that the overdraft is outstanding up to a maximum of 45 days. No maintenance fee is charged if the outstanding overdraft amount is settled within the first day. No additional fee shall be charged beyond day 30. Normal MTN Mobile Money transaction charges apply for other transactions done.
It is only a matter of days until the anticipated reopening of schools. This follows the presidential address on New Year's Eve, where he announced that schools would be reopening in January, but also emphasized the need to adhere to SOPs to avoid a surge in Covid-19 infections.
In line with mitigating the spread of coronavirus, MTN MoMo is providing a safe and convenient solution for school fees payment especially for the parents. The solution covers more than 5,000 schools and institutions across the country.
Stephen Mutana, acting Chief Executive Officer, MTN Mobile Money Uganda said using MTN MoMo, parents can pay for their children's school fees conveniently and securely and receive a notification with a transaction ID to enable them reconcile with the schools.
"Through telecommunications solutions such as MoMo school fees payment, MTN is always looking to simplify and improve the lives of its customers. Parents can simply pay school fees for their children using their phones without enduring the long lines or even leaving their workplace to queue in line to make a payment," he said noting that the mobile payment solution saves money that would otherwise have been used for transport.
"Travelling long distances to pay school fees is very challenging for parents who have 8am to 5pm jobs because some financial institutions close at 5pm in the evening. For those in the villages, travelling to the nearest financial institution could be very costly coupled with the waiting time in long queues. That is why the mobile money payment solution for school fees is very important for MTN because it makes the life of our customers easier, convenient, and cheaper in cost," Mutana explained.
In addition to convenience, paying school fees through MoMo mitigates the spread of Covid-19 by preventing congestion of people as they wait in line to make payments.
Mobile Money also mitigates the exchange of cash between different parties, which was one of the ways highlighted as possible causes for transmission of the virus.
How to pay school fees using MTN MoMo
To pay school fees using MTN MoMo, simply dial *165*80# or use MyMTN app.
Enter the student number provided by the school. It will show you the student's name and class plus outstanding balance.
Once you have confirmed the student details above, you can then enter the amount you want to pay and follow the remaining prompts.
At the end of the entire process, you will receive a text message confirming the success of the payment of school fees to the school.