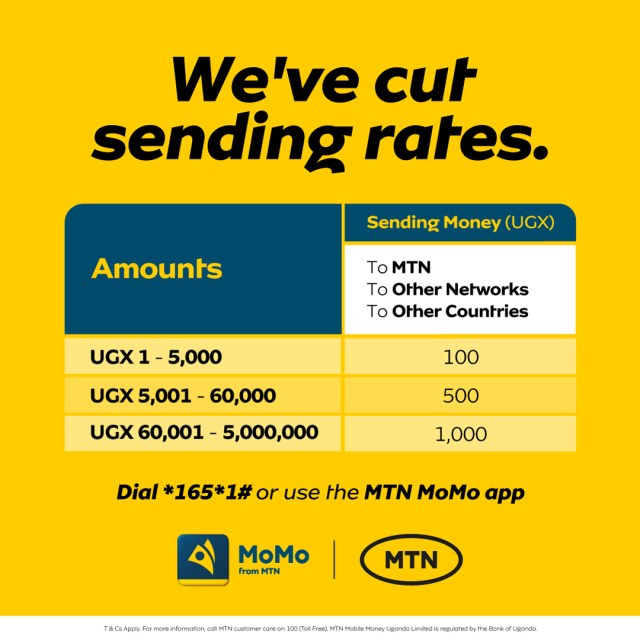 MTN Mobile Money (MoMo) Limited Uganda has introduced new reduced sending rates across all networks in and outside the country, making sending money through MTN MoMo cheaper, affordable, and simpler.
The new MTN MoMo sending rates apply to three simple tiers for amounts being sent ranging from Ugx.1/= to Ugx.5,000,000/= as shown above.
MTN MoMo customers can now send money to MTN and other networks both local and international, at a uniform affordable rate ranging from only Ugx.100/= to Ugx.1000/= maximum.
The new reduced rates apply to both transactions performed through USSD *165*1# as well as the MTN MoMo App.
About MTN MoMo Uganda
MTN MoMo Uganda is a 100% subsidiary of MTN Uganda and the leading Mobile Financial Services provider in Uganda, providing services to more than 9 million customers. MTN MoMo Uganda avails its customers with safe, secure and trusted virtual mobile money wallet services, person-to-person money transfer, utility payments, MoMo Pay, school fees payment, savings and loans and many other financial services using a mobile phone. Download the MTN MoMo app for free from google play or the App store and enjoy MTN MoMo's best-in-class Mobile Financial Services. At end of Quarter 1 2022, MTN MoMo Uganda had 9.5 million MoMo users and 120,000 Mobile Money agents.
For more information, please contact: 
MTN Uganda Press Office: mediadesk.ug@mtn.com
Rhona Arinaitwe: Rhona.Arinaitwe@mtn.com or 0772 123 067
Prisca Baike: prisca.baike@tbwa-uganda.com or 0782 654 083