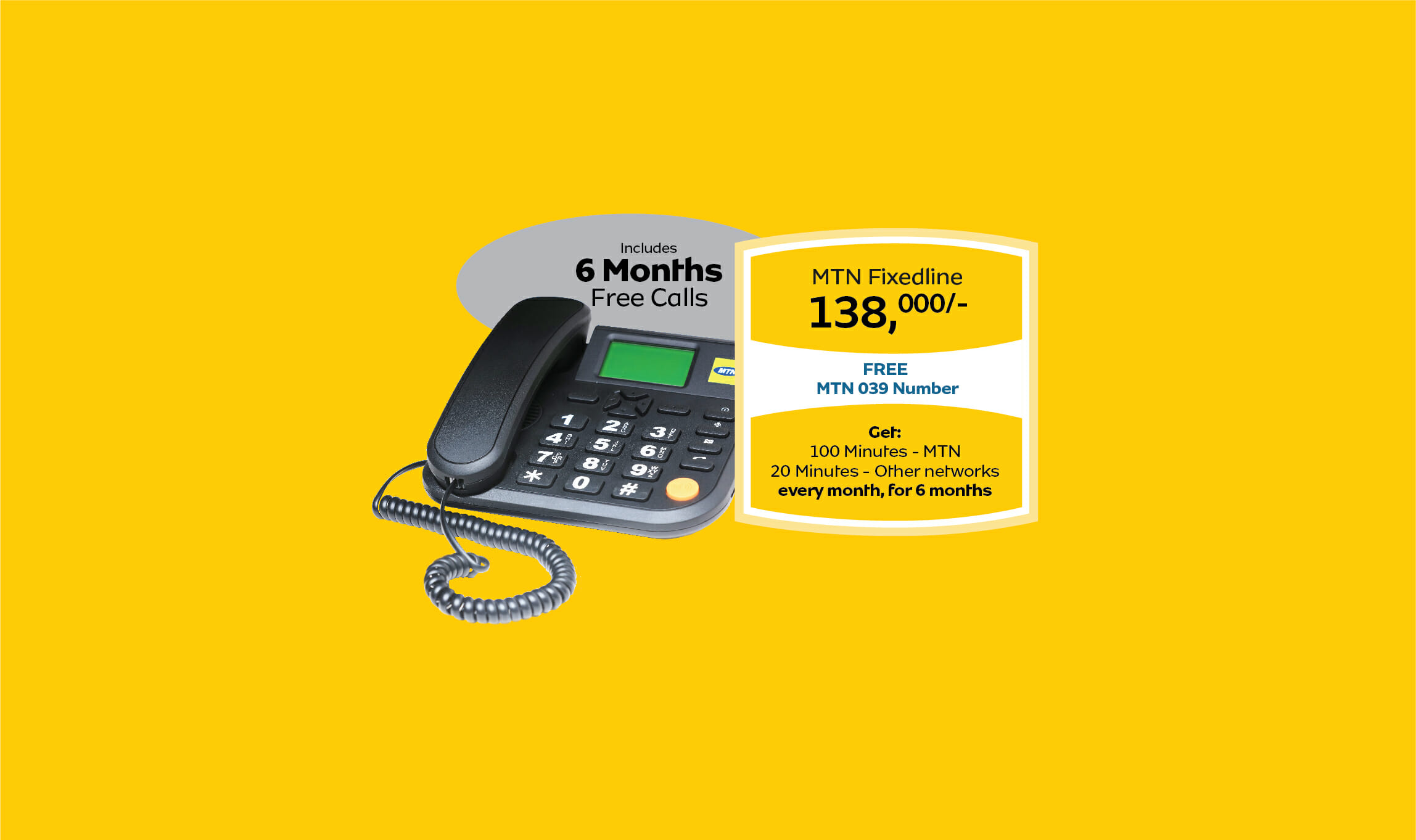 check_circle
UGX 138,000
---
Kigale with MTN Fixedline
check_circle
SIP Trunking
check_circle
0800 Toll Free Voice services
Offer Includes
---
The new Kigale Fixed line Starter Pack enables your business make uninterrupted FREE calls for a whole 6 months.
The new MTN Fixed line bundle is valid for 6 months and your business is entitled to 100 MTN minutes plus 20 Local network minutes every month. And that's not all, it comes with a FREE 039 number and inbuilt radio.
Any unused bundle minutes are automatically carried forward during this period. To top up or check your balance dial *160*53# and follow the prompts.
Visit any of our Service Centres today everywhere you go
MTN PRI ISDN provides fixed lines with multiple voice channels for the business with a high volume of voice calls. Each PRI line, also referred to as an E1, provides up to 30 voice channels that enable you and your staff to make up to 30 calls through your PRI line simultaneously.
The PRI, or Primary Rate Interface, is a physical connection between your business and our fixed line switch, which enables you to route calls from your business through our
network. The setup requires that all your office extensions connect to your company's internal phone system or PBX, which then connects to one or more PRIs.
The number of PRI lines required depends on the number of simultaneous calls you need to be able to make. MTN PRI ISDN services are offered on either a prepaid plan or post paid contract plan.
Benefits
Flexible, convenient and affordable calling packages.
Gives your business a professional identity.
The contract plan guarantees a consistent and convenient service, since you pay your bills at the end of every month.
The prepaid plan guarantees a convenient service, with more control over your expenditure.
Features
We provide numbers for all your office extensions, with DDI (direct dial-in) enabled where required.
MTN SIP Trunking provides an alternative to PRI lines for your fixed line calls. A SIP trunk is a virtual connection between an IP phone system (IP-PBX) and a telephone service provider, and is connected over a business's data network. With SIP trunks, you can eliminate PRI connections and rely on a data or internet connection to make voice calls.
The Session Initiation Protocol (SIP) is the key protocol that supports VoIP (voice over IP) calls, and does so by setting up and tearing down real-time sessions (calls) between two endpoints (phones). SIP trunks therefore use VoIP to enable voice calls over the internet or a data network.
Benefits
Flexibility to use different service providers to achieve Least Cost Routing (LCR) on outgoing calls since you have your own IP PBX.
Easier and quicker to scale as there is no need to add termination hardware when increasing trunk capacity, as is the case with PRI ISDN. Adding or removing extra capacity can be as simple as a configuration change, with the number of available simultaneous calling lines only limited by the available bandwidth.
Generally, more cost effective than PRI ISDN.
Automatic call rerouting to pre-defined locations or to a mobile phone should the location go offline, or in the event of a data outage, allowing for business continuity.
When the SIP trunking service is delivered over an internet connection, unused bandwidth can be temporarily used for other purposes.
Features
Connections are virtual.
Extensions come as a standard offering.
Calls are charged at local fixed line rates.
Our Toll-Free voice service enables your customers to call you for free, while you meet the cost.
Benefits
0800 Toll Free enables you to offer unparalleled customer relationship management to your customers. Your customers can call you for more information on your products and services.
A convenient way for your customers to interact with your organization with no limitations, as they don't spend on calling you.
Features
Calls are billed at local fixed line rates.
Let's Talk!
We are here to help, anytime!
For more information: