The game is part of activities to celebrate Uganda-France Friendship Week
The ex-African internationals will commission classroom block in Wakiso with the MTN Foundation and launch MTN online child protection policy.
The match is being organized with support from the Federation of Uganda Football Associations (FUFA)
 Sameul, Eto'o, Emmanuel Eboue and Yaya Toure are some of the big African football names that will take part in a football game on Sunday 22nd March 2020 at Mandela National Stadium, Namboole against a line-up of ex-Ugandan football stars.
The football game sponsored by MTN Uganda is part of activities earmarked to celebrate the annual France-Uganda friendship week. The game will be between ex Uganda national team players and ex francophone (some Anglophone) international/African stars.
Other big names expected to make the ex-internationals team are El Hadji Diouf, Taribo West, Fadiga Khalilou, Taribo West, Nwanko Kanu, Sissoko Mohamed Lamine, Geremie Njitap, Camara Aboubacar Sidiki, Kamara Moustapha, Luala Lomana Tresor among others.
In partnership with the MTN Foundation, the ex-internationals will also take part in a charity event that will include the commissioning of a classroom block at Onwards & Upwards Secondary School in Wakiso district and the launch of the MTN Online Child Protection Policy, which seeks to educate children, parents and teachers about responsible use of the internet.
"We are excited to be part of activities to celebrate the Uganda-France friendship week. The football match and indeed all the activities of the week, offer an opportunity to our customers, especially young people, to reflect on the many possibilities that this cooperation offers. Our association to this initiative is a demonstration of our current #GoodTogether brand message and proof of the potential good that comes out of working together. Business and meaningful relationships are the foundation of growth and development. You are never good alone. We are all good together," said MTN Uganda Chief Executive officer Wim Vanhelleputte.
Other activities during the 6 day long celebrations include; Francophonie (Saturday 21st March 2020), a day dedicated to the celebration of Francophonie (art, music, cuisine) in collaboration with other Francophone communities living in Uganda, Gastronomy (Monday 23rd March 2020), a day celebrating French fine dining, Fashion day (Tuesday 24th March 2020), catwalk at the residence of France in Uganda showcasing both Ugandan and French designers.
Business and Innovation day (Thursday 26th March 2020), focusing on shared business interests for innovation. Sports day (Friday 27th March 2020), French and Ugandan rugby players to visit various schools to organize sports activities for children.
And to crown it all, the Music & Sports day (Saturday 28th March 2020), featuring a rugby tournament between the Uganda national team and the French national army team at Kyadondo rugby grounds. This will be followed by a music concert at the Lugogo Cricket Oval headlined by the famous Kassav band.
MTN has partnered with Baobab Circle to introduce the Afya Pap mobile app that enables customer access to remote monitoring of their vitals, health, diet and exercise information that helps prevent or manage diabetes and hypertension while reducing or delaying development of complications.
The partnership with MTN Uganda makes the app more accessible through subscription bundled with data that can be bought using MTN MoMo to enable customers stay connected.
The partnership also reiterates MTN Uganda's commitment to working together with others for the good of Ugandans because "We are good together"
In another effort to enhance value for its customers, MTN Uganda has today unveiled a mobile solution that enables customers to manage their health in order to reduce the risk of complications like stroke, blindness, kidney disease among others.
MTN Uganda partnered with Baobab Circle Limited, a London based health technology company to provide a health application named "Afya Pap" to its customers. Through the Afya Pap mobile App, MTN customers will have access to remote monitoring of their vitals, health, diet and exercise information that helps reduce or delay development of health complications. The App is powered by artificial intelligence for personalized diabetes, hypertension, vitals tracking, meal planning and physical exercise planning.
Customers can download the Afya Pap mobile App from the Google Play store and register to use it. All new users of the App will be given a 14-day FREE trial inclusive of data. Upon expiry of the FREE trial, customers can then buy subscription using MTN MoMo within the Afya Pap App. The available subscription plan is 30 days at ONLY UGX 4,000, inclusive of the data for using the App.
MTN Uganda Chief Marketing officer Somdev Sen said MTN believes in meaningful partnership as a way of making the world a brighter place for her customers and all Ugandans.
"We are all good together. They developed the app and we have the means to make it convenient and affordable for the users. As the mobile device continues to become a central part of our customer's lifestyle, we intend to create more services for them to use on the phone so they can get more value out of it. With this app, we hope to further brighten the lives of our customers," Somdev.
Baobab Circle Limited, a renowned London based health Technology Company with operations in Sub- Saharan markets, the Middle East and spreading its wings in East Africa, specializes in digital mobile intervention programs for remote patient monitoring and applied health signals in the management of chronic conditions.
Spencer Matonhodze, Chief Commercial Officer of Baobab Circle said the mobile application is seamlessly integrated with smart glucometers and blood pressure monitors, allowing users to conveniently test their sugar and BP levels using their mobile phones and store the data, which can automatically be shared with their care partners who could be either a family member and or a personal doctor through a caregiver module. The application also allows 24/7 accessibility to a medical practitioner, nutritionists and sports therapist; he added
The Afya Pap application was first launched in August of 2015 and is now available in Kenya, Zimbabwe, Zambia, Egypt among other countries.
The application has won several awards including the Sanofi Diabetes Innovation Challenge (2019), AMREF health innovation challenge (2018) and Nominated for the GLOMO health innovation award at World Mobile Congress (2019) among others.
MTN 

Uganda 

first launched the service in 2015

 with partners in

 Kenya

 and Rwanda followed by Tanzania and Burundi

 in 20

19.

 
With growing trade in the region, the service makes 

mobile money transactions 

easy, fast, secure affordable across the borders

.

 
The 

service is part of the larger Mobile Financial Services plan of MTN

,

 to further expand financial inclusion not just in Uganda but across the region.

 
MTN Uganda has added Vodacom Tanzania to the list of telecom partners with whom customers can do mobile money transactions in the East African region.  
The new addition follows a success of the same service with other providers in Tanzania (Tigo & Airtel), Kenya (Safaricom), Burundi (Eco Cash) and in Rwanda (MTN Rwanda) a few years ago. 
The mobile money cross border money remittance service is intended to ease the process of sending and receiving money in the region enabling business people and families to safely, easily, affordably and conveniently carry out money transactions in the region in real time. 
"Regional remittance service is an important part of our mobile financial services strategy to increase financial inclusion for all using mobile technologies, and to reduce the cost of transferring money between countries. The new partner will take advantage of the extensive distribution network of Mobile Money in the region and reduce the cost of sending and receiving money for our customers," said Ali Monzer, General Manager Mobile Financial Services MTN Uganda. 
The ability to transfer money easily and cheaply in the region is already revolutionising the lives of many of our customers. As with the Tigo in Tanzania, MTN Rwanda, Eco Cash Burundi and Safaricom in kenya, the Vodacom Tanzania addition will not only enhance family connections, but will also facilitate more trade and business partnerships on a regional scale, Monzer added. 
To send money across the region, an MTN MoMo customer in Uganda simply dials *165*1*2# and selects their preferred destination. The customer is then prompted to enter their destination number, then the amount in Uganda shillings. The customer will then receive a summary including the amount they are sending, the forex rates of the day, the amount the recipient will get and then a pin prompt to confirm the transaction.  
Epimack Mbeteni, Vodacom M-Pesa director in Tanzania said existing statistics show that in 2015 the value of trade between Tanzania and Uganda was over Tsh 178 billion and increased to over 350 Billion in 2018. Although the amounts of money sent between Tanzania and Uganda through formal money transfer is large but it is estimated that more than twice that amount has been sent through informal money transfers channels including bus drivers and bus attendants or using relatives and friends traveling' said Mbeteni. 
"We have seen the difficulty our customers face when transacting between neighbouring countries and we have brought a solution through this service which is convenient, reliable and faster. There is no reason for our customers to send money through bus drivers or conductors and other unsecure channels when doing business transactions, paying tuition fees or send money to family and friends. Our customers can now save time by sending and receiving money from Uganda through their M-Pesa wallets more conveniently and affordably", Mbeteni said. 
–Ends– 
About MTN Uganda 
Launched in 1998, MTN Uganda is the leading communications operator in Uganda, offering Mobile and Fixed telecommunications, Mobile Money Services and Internet Service Provisioning. As at 31st December 2018, MTN Uganda recorded 11.2 million subscribers across Uganda. Visit us at www.mtn.co.ug or follow us on  
www.youtube.com/mtnug and www.twitter.com/mtnug or www.twitter.com/mtnugpro for assistance.  
About the MTN Group 
Launched in 1994, the MTN Group is a leading emerging market operator with a clear vision to lead the delivery of a bold new digital world to our 240 million customers in 21 countries in Africa and the Middle East. We are inspired by our belief that everyone deserves the benefits of a modern connected life. The MTN Group is listed on the JSE Securities Exchange in South Africa under the share code "MTN". We are pursuing our BRIGHT strategy with a major focus on growth in data, fintech and digital businesses.  
For more information, please contact: 
The mediadesk.ug@mtn.com or 077 212 1372 or  
Emmy Olaki at emmy.olaki@tbwa-uganda.com or 078 260 5997 
MTN has opened remote access to its business services by introducing a self-help USSD service
MTN Business customers who were previously accessing all their business solutions from service centers, can now join and buy business bundles from  *177#
 MTN Uganda has unveiled a convenient and easy channel for business customers to join and access different offers from MTN by way of self service. This is a concerted effort to empower customers to take care of their needs and to save time spent walking to service centers, as they will now take business into their own hands.
With this new self-help business solution, customers in search of business solutions simply have to dial *177# to enjoy easy access to MTN Business offers as opposed to visiting the service centres.
Until now, business customers have been accessing MTN Business solutions through service centers only. Therefore, this initiative will give them the ability to access all their business solutions and support at their fingertips, in the comfort of their premises, homes, offices or wherever they are, hence saving them a lot of time that they spend queuing up at the service centres.
Business customers should simply dial *177# to join and thereafter purchase bundles such as Business Combo bundles, Unlimited Internet bundles and Fixed line bundles among other services provided by MTN Business.
While addressing the press at the launch, Mr. Ibrahim Senyonga, the General Manager MTN Business said  "With this new innovation, our customers will have less business being in a service center as we open up the ability for them to address their needs remotely on their own".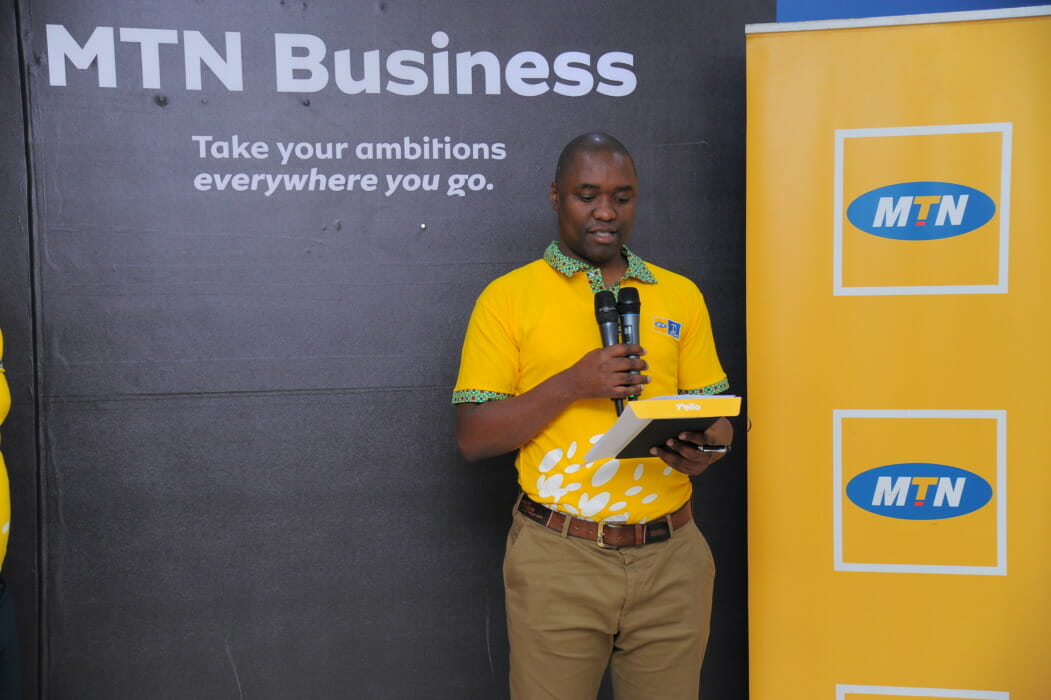 Senyonga further noted that the initiative is tailored towards fostering convenience, saving time and improving the MTN Business customer service experience.
This is in a bid to equip students in vocational training Institutes with the necessary skills for the 21st Century job market
It is under MTN Uganda's ICT for Development project
Other beneficiaries include; Amelo Technical Institute in Adjumani and St. Simon Peter's Vocational Training Centre in Hoima District
Students of St. Daniel Comboni Polytechnic in the North Eastern district of Moroto are set to benefit from a fully furnished ICT lab courtesy of the MTN Foundation in partnership with the Belgian development agency, Enabel.
The MTN Uganda Foundation which is the corporate social responsibility arm of MTN Uganda, in partnership with Enabel, a bilateral agency that implements and coordinates the international development policy of Belgium have extended support to vocational institutes through the provision of computers and fast internet connection. This is expected to partly contribute to the fulfillment of the aspirations of the 10-year BTVET strategic plan called "Skilling Uganda" and ultimately result in the equipping of youth with the skills needed for employment and job creation in order to eradicate poverty.
The laboratory whose equipment cost 64 million shillings will also support and provide educational services to students from neighboring communities. MTN Uganda renovated and repainted the laboratory, donated 10 computers connected to high speed internet connectivity and a digital learning platform.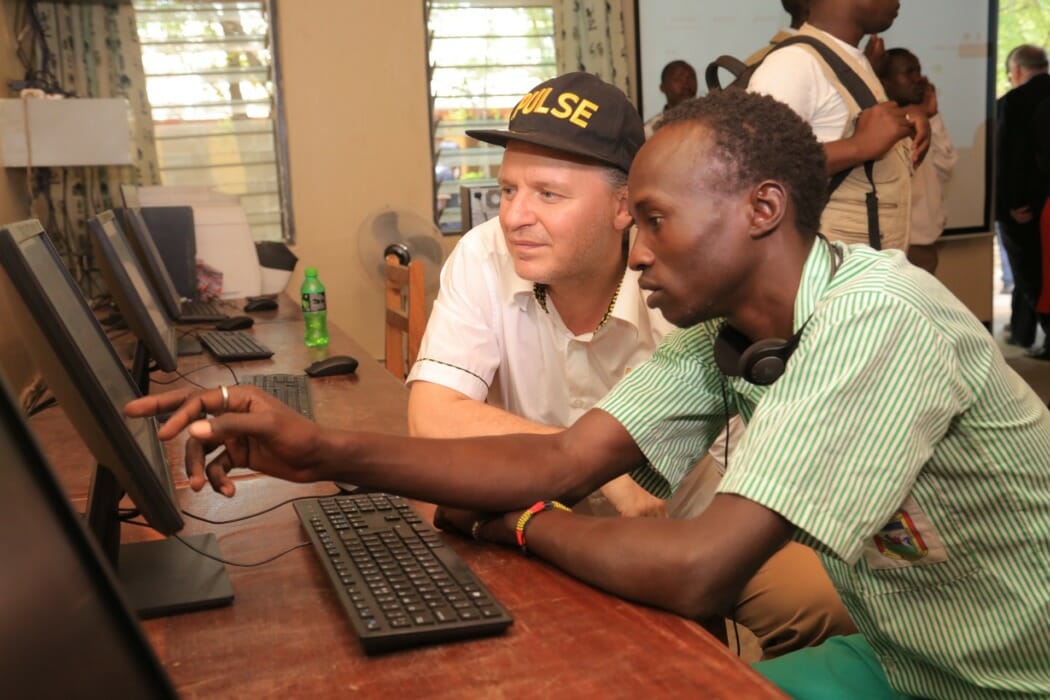 Other beneficiaries include; St Simon Peter's Vocational Training Center in Hoima and Amelo Technical Institute in Adjumani district which were refurbished and commissioned last year. The entire project for the three ICT labs cost 192 million shillings.
Speaking at the commissioning of the laboratory at St. Daniel Comboni Polytechnic in Moroto, Mr. Wim Vanhelleputte, the Chief Executive Officer MTN Uganda said that: "The aim is to skill Ugandan youth for the 21st century job market by enabling them to access technical and vocational information online through open education resources for skills development."
Vanhelleputte further noted that the decision to support vocational institutions was based on the fact that vocational training was found to be an effective way of addressing unemployment, which is a major issue for the youth in Uganda today.
The Ambassador of the Kingdom of Belgium to Uganda H.E Rudi Veestraeten noted that his country and Ireland have close to 5 years heavily invested in skills development through supporting the implementation of the skilling Uganda strategic plan. The laboratory, he said, will address some of the challenges that vocational institutes currently face.
"Although ICT has been formally integrated into the Business, Technical, Vocational Education and Training curriculum, Vocational Institutes lack general computer equipment, trained ICT staff and ICT content and programmes," he said.
The Director for Higher Education at the Ministry of Education and Sports, Mr. Oceng Odok Robert lauded MTN Uganda and Enabel for supporting government initiatives through supporting the education sector.
"As we are all aware, today, the role of ICTs in education cannot be under estimated. ICTs play a critical role of shaping the desirable 21st century work and life skills," he said.
Fr. Jude Kiggala, the Principal of the Institute said the laboratory will enable them to embrace modern technology to keep up with the ever-evolving trend so as to provide a workforce befitting the 21st century.
"Instructors will use the lab to source information to better the quality of their trainings, understand the latest trends in their respective fields then align their trainings accordingly." Fr. Kiggala said.
Ends
MTN
The mediadesk.ug@mtn.com or 077 212 1372 or Emmy Olaki at emmy.olaki@tbwa-uganda.com or 078 260 5997
Enabel
William Yeka, william.yeka@enabel.be, 0701 153727
The tests were conducted by Rohdes & Schwarz, using the ITU/ETSI standards and methodology.
MTN Uganda has been recognized by Rohde & Schwarz, with "Highest Network Performance Score" for its data and voice services.
The award was officially presented to the Chief Executive Officer (CEO), MTN Uganda – Mr. Wim Vanhelleputte at the company's offices in Kololo, Nyonyi Gardens on Tuesday, 18 February 2020 by Shakil Ahmed, Director Africa together with Paul Mwangi, Manager Mobile Network Testing, Rohde Schwarz.
Rohde & Schwarz bestowed this award on MTN Uganda following tests conducted on ground in Uganda, during the 3rd quarter of 2019, and within the framework of a study that involved extensive tests of voice calls and internet speed evaluations across over 8500km around the country as well as static tests in hot spots.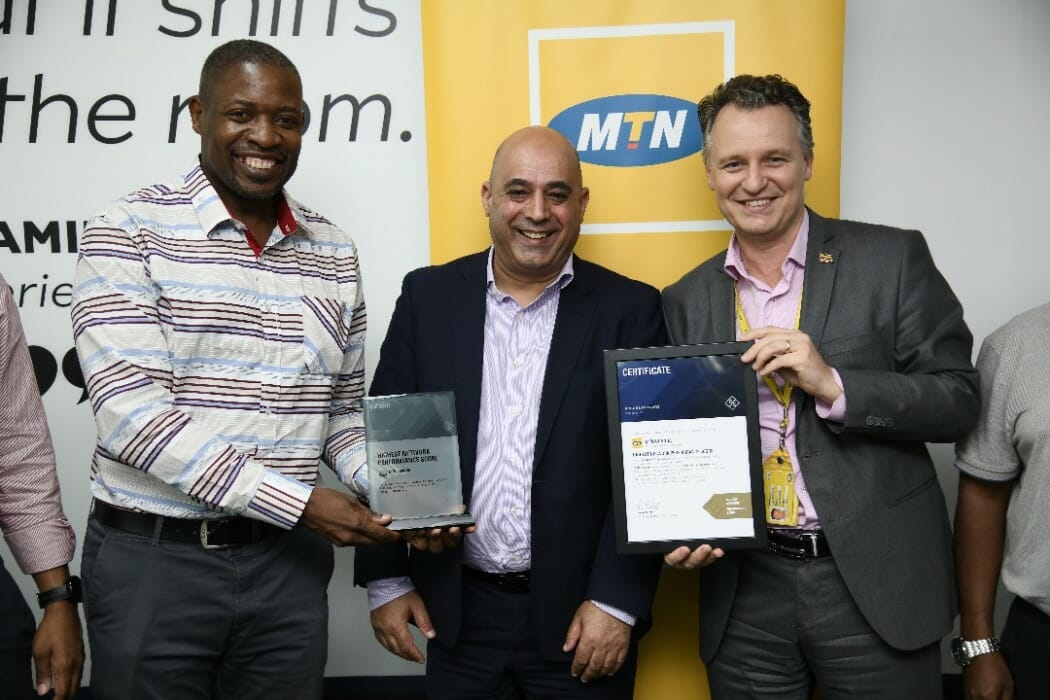 These independently conducted network quality and performance tests were done on the networks of all mobile operators in Uganda and benchmarked against leading European mobile telephone operators using the network performance scoring methodology of European Telecommunications Standards Institute (ETSI) TR 103 559 S.
Rohde & Schwarz is a renown international organization that specializes in auditing 2G, 3G, 4G and 5G performance of mobile networks across the globe using the International Telecommunication Union (ITU)/ETSI standards and methodology.
"The award justifies MTN's commitment over the years to continuously invest in a wide and quality network.", said Mr. Vanhelleputte.
"The advantage of using this global standard of measurement (is that), it challenges us to not only be the best in Uganda but also benchmark ourselves against leading networks across the world. Our consistent investment in the network over the years is getting us ever closer to the 'best in class' global networks.", he further noted.
MTN's network had the highest aggregated voice performance score across major towns and on highways. This specifically with regard to placement and quality of calls. In addition, MTN Uganda also registered the highest aggregated data performance score in relation to quality of videos and ability to stream.
Being the market leader with more than 13 million customers, MTN Uganda has made it a strategic priority to deliver and maintain a positive experience for customers using our network.
Commenting on the subject, MTN Uganda Ag. Chief Technical Officer (CTO), Mr. Samuel Sentongo said, "MTN Uganda's innovation agenda requires that we constantly invest, upgrade and maintain a robust network, one that can optimally carry and sustain both voice and data traffic as well as the rapidly growing mobile financial services portfolio".
MTN has over the years embarked on an aggressive dual data strategy, through which the company is not only heavily investing in the network but also signing-up various partnerships with device manufacturers and other related service providers to put in the market affordable data enabled devices. "At MTN, we believe everyone deserves the benefits of a modern connected life. That explains our commitment to put communication and access to the internet in the hands of every Ugandan while maintaining a network that has both the reach and quality to sustain positive customer experiences," concluded the CEO.
In January 2020, MTN Uganda became the first operator in East Africa and the third in Africa to showcase the 5G network to its customers, after MTN South Africa and MTN Nigeria last year. The use case trials demonstrated the capability of 5G, giving customers a glimpse of the benefits, this future technology will deliver.
Ends.
About MTN Uganda
Launched in 1998, MTN Uganda is the leading communications operator in Uganda, offering Mobile and Fixed telecommunications, Mobile Money Services and Internet Service Provisioning. As at 31st December 2018, MTN Uganda recorded 11.2 million subscribers across Uganda. Visit us at www.mtn.co.ug or follow us on
www.youtube.com/mtnug and www.twitter.com/mtnug or www.twitter.com/mtnugpro
for assistance.
About the MTN Group
Launched in 1994, the MTN Group is a leading emerging market operator with a clear vision to lead the delivery of a bold new digital world to our 240 million customers in 21 countries in Africa and the Middle East. We are inspired by our belief that everyone deserves the benefits of a modern connected life. The MTN Group is listed on the JSE Securities Exchange in South Africa under the share code "MTN". We are pursuing our BRIGHT strategy with a major focus on growth in data, fintech and digital businesses.
For more information, please contact:
The mediadesk.ug@mtn.com or 077 212 1372 or
Emmy Olaki at emmy.olaki@tbwa-uganda.com or 078 260 5997
Rotary Uganda is looking to raise US$100,000 towards the equipping of the Rotary Blood Bank at Mengo Hospital. Through the Annual Transformational Leadership Forum and concert, which will take place next week on Friday 28th February 2020, the Uganda Rotary Blood Bank Programme is seeking to collect funds to purchase ultra-modern blood-processing equipment.
The equipment to be purchased, at a total  cost of US$100,000, will complete the blood processing cycle. It includes the Automatic Blood Grouping Machine, which determines the donated blood groups; and the Floor Standing Centrifridge 6000i for component preparation, which separates blood into different components like platelets, plasma and packed red cells among others.
Purchase of this equipment will be an additional boost to the recently acquired transfusion transmissible infection testing machines, and will go a long way in making the Mengo Hospital Rotary Blood Bank a fully fledged facility that will serve as a backup to the national blood transfusion services.
The Uganda Rotary Blood Bank Programme has over the past three years held concerts to raise funds towards building a first class fully-fledged facility that can test, process and pack safe blood.  Through these initiatives and local fundraising drives among local Rotary clubs and the community, US$856,000 was raised for construction of the building.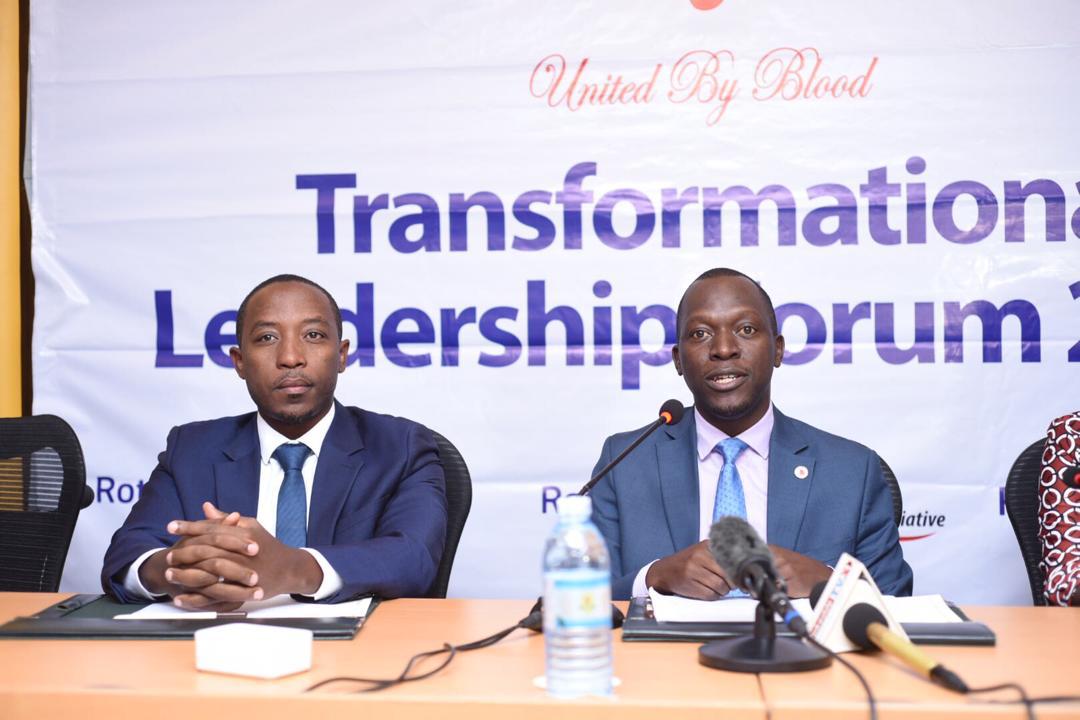 The Transformational Leadership Forum, whose theme is 'United by Blood', will feature an array of prominent and inspirational internationally acclaimed speakers including H.E. Dominic Barton, Canada's Ambassador to China; Professor PLO Lumumba from Kenya; Nabou Fall, a renowned author and blogger and President of the Women's Investment Club in Ivory Coast; and Mr. Edgar Kasenene a leading business executive and digital transformation advocate across Africa and Europe.
Each of these personalities will address the participants on topics ranging from transformational leadership, international collaborations, public private partnerships, innovation, and the Africa Free Trade Agreement. In addition, there will be a discussion on Africa's role in the global corporate world by a rich panel of discussants.
The Leadership Forum will be concluded with a dinner and concert featuring renowned local artistes. The function is expected to attract about 500 people among them corporate organisations. Main sponsors for the Forum include Stanbic Bank and MTN Uganda, which will have each contributed Ushs 25 million. Tickets to the function are sold at the Rotary Office and are available on 0751-335772 and 0781-059300.
Announcing the sponsorship package, Bryan Mbasa, the Manager MTN Foundation commended Rotary Uganda for coming out, once again, to support the Mengo Hospital Rotary Blood Bank. "We are happy to join hands once again with the Uganda Rotary Blood Bank Programme to boost the equipment in this crucial facility. MTN Uganda and Rotary are 'United by Blood', because our operations here for over 20 years have given lasting relationships that we treasure. That is why we keep coming back to support such initiatives as this one", he said.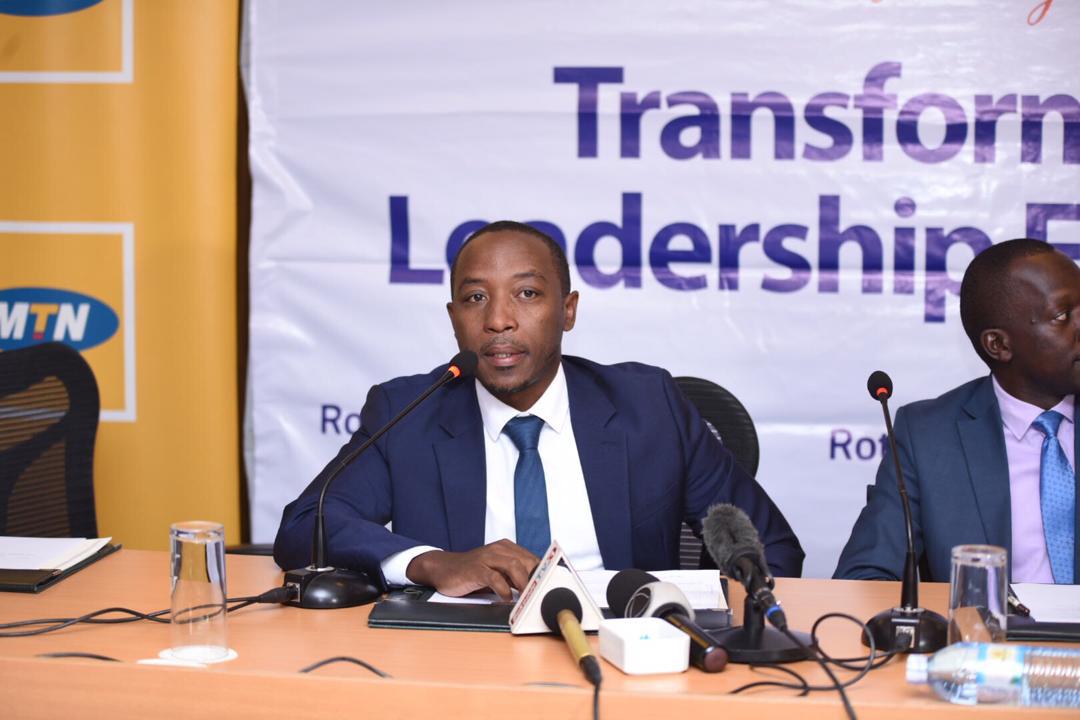 Patrick Mweheire, the Chief Executive of Stanbic Bank Uganda said, "Our partnership with Rotary Uganda is a noble one. We are happy and proud to be back this year to once again raise funds to support the equipping of the Rotary Blood Bank. We see this as a worthwhile investment in people and health, the most valuable asset we have as a business and nation, that's why are back this year. We stand firmly by the slogan that we are "United by Blood."
The idea of constructing a Blood Bank at Mengo Hospital was born in 2013/2014 when a number of Rotary Clubs under the leadership of the then District Governor Emmanuel Katongole, set out to build a modern facility to complement the existing National Blood Bank in Nakasero.   The total cost of this project was US$ 1,305,219.
The construction of the 800sqm facility cost US$ 856,000. This was funded by local initiatives including fundraising concerts, a Rotary Cancer run and donations from corporate entities, Rotarians and individual well wishers. The sophisticated blood banking equipment and training of the specialized staff cost US$247,000, which was raised from Rotary Clubs both in Uganda and abroad through a Rotary grant. The total cost of the facility so far, including equipment is Ushs 1.3 billion.
The Mengo Hospital Rotary Blood Bank was jointly opened by the then Rotary International President John F. Germ and the Right Prime Minister of Uganda Hon. Dr. Ruhakana Rugunda. The facility is fully functional and employs 13 medical practitioners.  It operates under the supervision of Uganda Blood Transfusion Service (UBTS)
Since its establishment on 27th February 2017, approximately 9,647 units of blood have been collected in the Rotary Mengo Blood Bank.
According to World Health Organization standards (WHO), Uganda needs at least 350,000 units of safe blood annually yet only 250,000 units of blood are collected. This leaves a deficit of approximately 100,000 units of blood annually. This critical blood shortage affects services and puts patients' lives at risk.
In all, about US$700,000 is needed to cater for extra equipment to transform it into fully fledged Blood Bank independent from the National Blood Bank.
 About Rotary
Rotary brings together a global network of community leaders dedicated to tackling the world's most pressing humanitarian challenges. We connect 1.2 million members from more than 35,000 Rotary clubs in almost every country in the world. Their service improves lives both locally and internationally, from helping those in need in their own communities to working toward a polio-free world.
Visit Rotary.org and endpolio.org for more about Rotary and its efforts to eradicate polio.