TERMS AND CONDITIONS.
All vehicles are sold with no duty to repair – sold "as is". MTN Uganda shall entertain no claims after the sale. All vehicles are sold without any warranties or guarantees of any kind whatsoever. Please ensure that you have carefully inspected the vehicle you are buying before the auction starts.
MTN Uganda gives no warranty as to the correctness of date of first registration, year of manufacture and the odometer reading listed on the vehicle to be correct and will not be liable for any errors or inaccuracies in the description or identification of the vehicles. In making a bid, a bidder shall be deemed to have made themselves fully acquainted with the condition, description, and identification of the vehicle.
In no event shall the successful bidder or buyer hold MTN Uganda responsible for having made or implied any warranty or merchantability or fitness for any specific purpose.
Removal of vehicles from MTN premises shall be at the expense, liability, and risk of the successful bidder. All vehicles must be removed within the period announced by the auctioneer for each auction. Ownership of vehicles not removed within the announced period will revert to MTN Uganda for resale or disposal, without refund or recourse to the bidder. Vehicles not removed shall be considered abandoned and no refunds shall be issued.
Announcements made at the time of the sale (during the auction) take precedence over conflicting announcements or postings.
MTN Uganda reserves the right to withdraw any vehicle from the sale before or during the auction without prior notice.
Persons attending the preview/inspection period, the auction, or the removal period assume all risks of damage, injury, or loss to their person and/or property, and release MTN Uganda from liability thereof.
On payment of the full bid price, the risk shall pass from MTN Uganda to the buyer. However, title shall pass from MTN Uganda upon completion of the Uganda Revenue Authority motor vehicle transfer process.
These rules apply to both bidders and successful bidders (buyers) and the terms and conditions will be deemed to be accepted by either of them, on completion of registration as a bidder.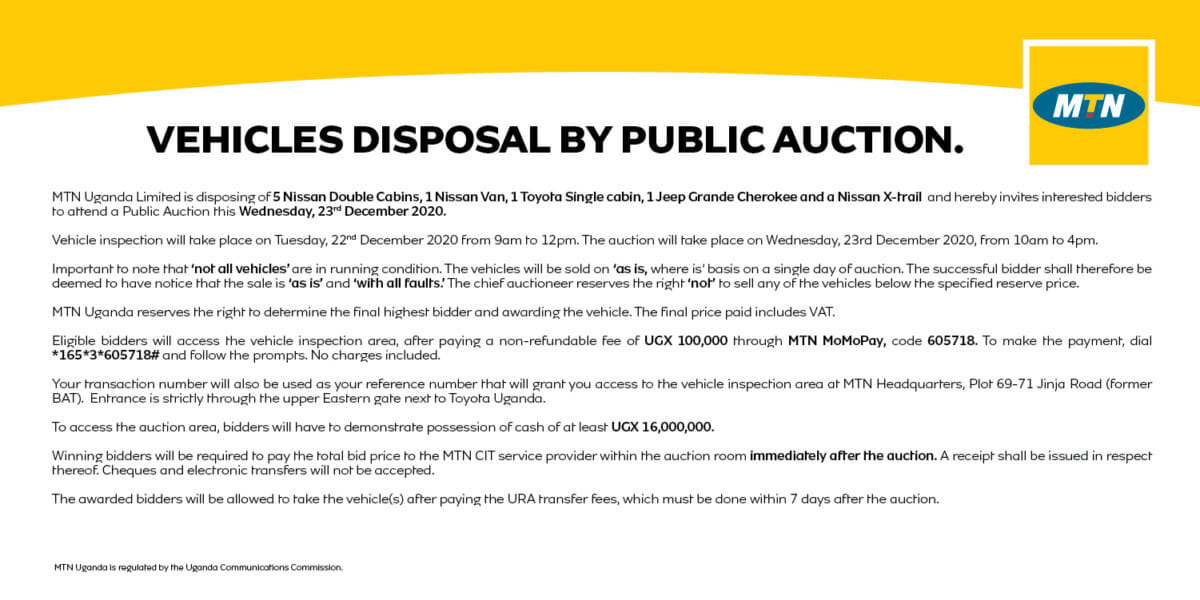 ayoba is an instant messaging app developed by SIMFY AFRICA
Paving the way to a SuperApp, ayoba has unique features such as chat, gaming, channels as well as communication with feature phone users via SMS and local language options in Luganda & Swahili. These are the first of many other features to come.
The app is free to use up to 1GB worth of data for every MTN customer, every month.
MTN Uganda has in partnership with SIMFY AFRICA, launched a SuperApp called 'ayoba' that will enable customers to access more affordable communication. ayoba is an instant messaging app available for now for Android devices and soon for iOS and works with any network. What makes it different from other messaging apps is that you can still chat (app to SMS and SMS to app) with anyone regardless of whether they have the ayoba app or not. MTN customers can reply to these messages on SMS even when they don't have the app. ayoba lets you securely send and receive text messages, voice messages, videos, images, audio and other files with any of your contacts, using your mobile internet connection.  MTN customers will however not need any data (MBs) to use the service. They can use it free of charge up to 1GB of data, every month.
ayoba is a Pan African messaging platform, built by Africans for Africans. It speaks to the uniqueness and diversity of Africa as it is built with lots of features not available on any other instant messaging platforms. The app is available in some African languages, such as Swahili, Luganda, Hausa, isiXhosa, and Yoruba. It has end-to-end encryption to keep users' data safe and ensure their privacy as they chat with their contacts regardless of their device or network. ayoba also has channels on sports, fashion, cooking, health, and games.
In addition to texting, customers can also initiate voice calls with their contacts, from within the ayoba app. The call will be charged as a standard voice call using the customers' available airtime or minutes.
"We are keen to see Africa actively participate in the global digital revolution that is now being further accelerated by the Covid-19 situation. Innovation and the connectivity that goes with it, are particularly key to our digital proposition. They are both crucial in our contribution to the social and economic transformation of our country, said Wim Vanhelleputte, MTN Uganda's Chief Executive Officer.
"ayoba is not just a new platform for people to chat with each other, it is a one of a kind digital platform that elevates the concept of instant messaging to a whole new level of instant and integrated connecting", Wim he added.
This innovation, underscores MTN's leadership ambitions in innovation as it helps Africa claim its place in the IM evolution.
Speaking about this partnership, David Gilarranz CEO of SIMFY AFRICA, "We are delighted to partner with MTN in Uganda and to offer its customers the ability to use the app with no data costs. In the coming weeks, our app will surely become a super app as we will be adding more features, like mobile money and music, as well as allowing other apps to co-exist in ayoba. We would like to take this opportunity to thank MTN Uganda for trusting our journey".
Key features of the ayoba app include:
Local languages: ayoba is available in the top local languages in the markets where the offering has launched.
Chat now: Users can instantly send and receive text and voice messages with any of their contacts regardless of device type or network.
Security: End-to-end encryption means that messages in a conversation cannot be read by anyone else.
Chat with everyone: Users can send SMS text messages with anyone in their contact list, regardless of whether they have ayoba installed or not.
Channels: Users can subscribe to channels for locally relevant content across various categories.
Gaming: Users can play with a large selection of games
FREE to use: It is free to use by MTN customers for up to 1GB every month, for every user.
MTN Uganda and UCC have officially signed the MTN License Renewal Agreement
MTN Uganda acquired a 12 year Second National Operating license which took effect on 1st July 2020
The license was acquired at a fixed operational license cost of USD 100M. The Telecom fully paid the fees
MTN Uganda and the Uganda Communications Commission (UCC) have today concluded the official signing of the License Renewal Agreement that will enable the telecommunication company continue its operations in the country for another 12 years, commencing 1st July 2020.
A joint press conference between MTN Uganda and the Regulatory body was held today at the UCC offices in Kampala to showcase the official signing of the new license.
This brings to an end, the long-standing negotiations between MTN Uganda, The Uganda Communications Commission (UCC) and the government. This license renewal comes almost 2 years later, since MTN Uganda applied for a license renewal following the expiry of their 20 year license in October 2018.
MTN Uganda secured the12 year operating license at a fixed fee of USD 100 million (Approximately UGX 371.5 Billion) which was paid in full. The Telecom's Second National Operator (SNO) License took effect on 1st July 2020.
Speaking at the license signing ceremony, the MTN Uganda Chief Executive Officer, Wim Vanhelleputte said that:
"I am glad to inform you that our second National Operator License has been signed and MTN can continue operating in Uganda. We are happy and  remains committed to our  vision of delivering a bold digital life to all our customers through diligent innovations and shall continue to provide high quality voice, data and mobile money services connecting Ugandans across all the 135 districts of Uganda.
MTN Uganda provides telecommunications services under a Second National Operator License for the operation of a telecommunications system issued on 15 April 1998 for a period of twenty years. The License expired on 21 October 2018 but was variously extended to accommodate conclusion of renewal negotiations which have been ongoing for close to 2years.
MTN Uganda will connect youth to their dreams by offering support to materialize their dreams
The five winners won the public vote beating over 100 other participants to emerge winners in the inaugural campaign
The winners will get support from MTN in a number of ways to bring their dreams to life.
Five lucky youth have won the public vote emerging as the winners of the MTN for Good campaign that was launched early 2020.
Following the story of MTN that started as a small SME to becoming one of the most admired brands in Africa, the Food Good campaign sought to awaken the youth to the fact that it is possible to realize your dreams if you pursue them.
Douglas Smith of Sportrise polled the highest public votes beating over 100 other participants to emerge winner in the inaugural campaign. Sportrise is a local company that is using plastics to make soccer balls. Other winners are Joseph Semayengo of Brick making, Julius Tusingwire a programmer, Brian Maw, a talented producer, and Tony Ayebare with the Online Butcher.
The winners will receive support from MTN in support of their dreams including MTN Mobile money to seed into their ideas, 60GB data per month for six months, Kigale fixed lines among others. MTN will also arrange for them to meet their idols.
In the campaign which targeted mainly the youth, they were asked to submit a one minute video showing their dream. The submissions were subjected to a public vote and the top five videos with the highest votes have been declared winners.
"We all have dreams. It's a great thing to be a dreamer because the ones who dream are the ones who own the future. Like MTN, many of the leading businesses, companies and enterprises started from an idea that sprung from a dream. Youths have many dreams and MTN wants to help them bring their dreams to life under the 'For Good' campaign, said Somdev Som, MTN Uganda Chief marketing officer.
Today, MTN is a leading emerging market telecommunications operator with 240 million customers in 21 countries in Africa and the Middle East. In 2015, the Telecom giant was named Africa's most admired and most valued African brands by Brand Africa. MTN has consolidated its position of being at the forefront of innovation in connectivity.
"The youths have many dreams. Since we are in the business of connectivity we wanted to be the link that connects the youth to their dreams. Our pledge to the public is whatever your dream, let's create it together." From connecting millions of people across the world with a dream of delivering a bold new world to its subscribers, MTN is seeking to connect youth to their dreams in its new thematic campaign dubbed 'For Good'.
The 'For Good' campaign was rolled out by MTN Group in November last year and will run across the 21 countries in which MTN operates. Running under the theme; 'whatever your dream, let's create it together' in Uganda, the campaign will be tied around connecting people, particularly the youth to their dream.