MTN Uganda has cemented its leadership position in the telecom industry in Uganda with a new milestone, hitting 15 million subscribers in July 2021.
As part of celebrations to this landmark, MTN Uganda is giving away UGX 15 million to the 15th million customer. Of that amount, the customer will take UGX 5 million and share the remaining UGX 10 million with ten other MTN customers of their choice.
"This is a major milestone for us as MTN Uganda and worth celebrating. So, we are giving away a UGX 15 million cash prize to that lucky customer. He will take home UGX 5 million for himself and share UGX 10 million with 10 other MTN customers, who he/she will randomly draw. Each of the ten customers he chooses or draws will bag UGX 1 million. This could be anyone, anywhere on the MTN network in Uganda," announced MTN Uganda CEO – Wim Vanhelleputte.
In a country with 28 million subscribers, MTN Uganda continues to demonstrate market share leadership with over 50% of total subscriber base in the country.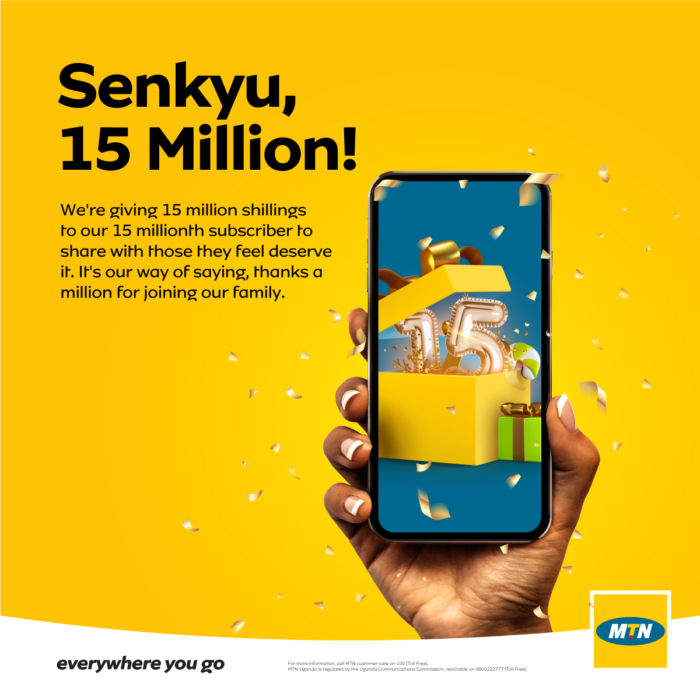 Commenting on the result, MTN Uganda CEO Wim Vanhelleputte said, "The management and staff of MTN Uganda are proud to have achieved the 15 million subscriber landmark. We are grateful to our subscribers, the Government, our regulator as well as technology partners for their support to us in achieving this".
Before 2018, Busiu Health Centre IV in Mbale district received about 60 women delivering at the facility every month.
The health center which at the time had very limited beds tried to house the mothers for at least 24 hours for purposes of medical review in vain.
"Initially we would tell the mother to stay around for 24 hours but when there was no room for the mother to sleep, she would go away," Dr. Maumbe Bernard the in-charge of Busiu Health Centre IV narrates.
The early departure of the mothers from the health center was one of the reasons why some of the newly born babies died soon after. About 3 babies were dying in a period of three months.
Today, child mortality at the health center is near extinguished. According to Dr. Maumbe, the health center now goes three months without recording any deaths.
These results are a culmination of combined efforts by the hospital and MTN Uganda.
MTN in the evening of 2018 donated beds and blankets to the health center which have since enabled more pregnant women seek maternity health care services.
The beds have allowed women stay over for a longer period enabling medical review of the mother and baby.
"Before we would have around 60 deliveries and now over a month, an average of 120 mothers are delivering from here but some months peak to 200. Antenatal visits are about 80 to 100," he explains adding that hospital efforts of availing medicine have also played a key role in this outcome.
The telecom company also renovated the maternity ward which Dr Maumbe says has contributed to encouraging mothers to visit the health centre to seek proper medical antenatal services
In fact, the impact is far-reaching as Busiu health center IV has now graduated to become a referral station for women in neighboring towns of Butaleja and Manafwa.
Kyenjojo hospital tells the same tale. The hospital received 30 beds and 30 mattresses from MTN which were installed in the general ward. Charles Tusiime, the health officer of Kyenjojo district says these beds have been very instrumental in delivering treatment to the people from the western district.
"The impact much as patients may not know is great. One bed can be used by so many people. In a month you find one bed has served about 5 to 10 people with bed occupancy of about 3 days," he said.
As he recounts, the hospital in the past would times get overwhelmed by the numbers which would force some of the patients to sleep on the floor, a situation they described as floor cases.
Tusiime says the hospital no longer has floor cases in its general ward because of the MTN intervention.
The intervention has also reduced the burden for the hospital allowing it to focus on other aspects in regards to its budget and procurement.
"What we would have been using for procurement of beds has been diverted to construction of 2 emptiable pit latrines which have addressed the costs associated with the hospital's sewerage system" he says.
MTN under the UGX400m access to health care initiative supported health centres and hospitals through refurbishing of maternity wards and donation of beddings such as blankets, mosquito nets, mattresses and beds.
Similarly, some of the health centres received solar lighting equipment and had their entire water system connected.
A total of 8 health centres and 5 hospitals across the country were supported.
Wim Vanhelleputte, MTN Uganda Chief executive officer lauded the hospitals and health centre staff saying MTN is pleased with the impact they have managed to drive in the community.
"I am very delighted to see the ripple effect of the donation. It makes us at MTN very happy to see lives of many people impacted and for that I would like to thank the medical staff making this happen. As MTN, we shall constantly seek to find ways of transforming lives of Ugandans," he appreciated.
MTN Uganda has launched a dedicated online Home of UG Sports dubbed "MTN Sports" to give all Ugandan sports enthusiasts a one-stop point for all sports related news, analysis, and updates. This innovation is hinged on the MTN's belief in delivering the benefits of a modern connected world to its customers.
Since it opened shop in Uganda over 20 years ago, MTN's proactive role in sports has positioned the brand as the biggest supporter of local sports through its sponsorships, partnerships and active engagements with the various sports disciplines including football and athletics, among others.
While launching the MTN Sports website, Somdev Sen, the MTN Uganda Chief Marketing Officer said that MTN Uganda decided to launch the MTN sports website, a digital sports hub, to provide sports fans with comprehensive sports coverage of the very best that Ugandan sports has to offer. This idea was further fueled by the prevailing circumstances that have limited fans physical involvement at sports facilities. "That is why we have decided to bring the fun and thrill closer on the screens of our customers," said Somdev
"Over the years, we have been big supporters of various sports disciplines in Uganda, including MTN Marathon, our support to broadcasting of the StarTimes Uganda premier football league, our continued partnership with local football clubs like KCCA and Onduparaka and support to talent development in other institutions, among others. Local sports, continues to be a major pillar in our sponsorship strategy," Somdev further said.
Somdev noted that across the world these days, the excitement of sports has spread beyond the confines of stadia and captured the hearts and minds of many through the internet. As such, the new MTN sports website is now part of this digital outbreak of the sports fever across the country. While stadiums may remain empty due to the pandemic, sports fans will continue to remain in the thick of it through this exciting sports website.
Today, MTN Uganda remains known as the founder of the biggest Marathon and the inspiration behind the running culture through which a number of athletes have been nurtured. Additionally, the MTN is also the official broadcast partner of the StarTimes Uganda Premier League and official sponsor of Onduparaka FC as well as KCCA FC.
Visit sports.mtn.co.ug to catch the latest in your favourite sport and to know more about your favourite Ugandan sports personalities, features and more. Also keep up with our own Joshua Cheptegei and the Uganda Olympics team as they go for glory in Tokyo, all on the MTN sports website, the Home of UG Sports.
—–ENDS—–
About MTN Uganda
Launched in 1998, MTN Uganda is the leading communications operator in Uganda, offering Mobile and Fixed telecommunications, Mobile Money Services and Internet Service Provisioning. As at 31st December 2018, MTN Uganda recorded 11.2 million subscribers across Uganda. Visit us at www.mtn.co.ug or follow us on www.youtube.com/mtnug and www.twitter.com/mtnug or www.twitter.com/mtnugpro for assistance.
About the MTN Group
Launched in 1994, the MTN Group is a leading emerging market operator with a clear vision to lead the delivery of a bold new digital world to our customers. We are inspired by our belief that everyone deserves the benefits of a modern connected life. The MTN Group is listed on the JSE Securities Exchange in South Africa under the share code 'MTN'. Our strategy, Ambition 2025, is anchored on building the largest and most valuable platform business, with a clear focus on Africa.
For more information, please contact:
The mediadesk.ug@mtn.com or 0772 123 067 or Rhona.Arinaitwe@mtn.com
Emmy Olaki at emmy.olaki@tbwa-uganda.com or 078 260 5997
Patients in need of blood are receiving quicker treatment following an MTN Uganda donation of the automated blood component extractor to Uganda Blood Transfusion services (UBTS) which mines components faster.
Prior to the donation, UBTS used manual methods of blood component extraction which took about 30 minutes to extract samples from about ten samples compared to the one minute using the automated machine.
The process, Otekat says was slow leading to equally tortoise-paced service provision to hospitals and patients in need of blood components for treatment especially those in regional areas.
However, Ms Grace Otekat head of laboratories UBTS says the machine has now enabled the blood bank improve component extraction which is critical to the treatment of accident and cancer patients.
"Because of existence of the extractor, the number of components has increased. We can now extract 48 platelets from the 24 we used to get so now we have enough platelets. Because of presence of the machine, when other centres like Masaka, Mbarara request for extracts, we have enough to distribute to all of them," she says.
Aside from Gulu and Mbale which have their own centrifuge; the machine used to separate the components of blood, UBTS supplies blood extracts to all other government hospitals countrywide.
According to Ms Otekat, UBTS supplies over 400 hospitals with blood components countrywide.
In July 2019, MTN, through the MTN Foundation donated UGX. 347 million for the purchase of the automatic blood plasma extractor machine along with three refrigerators to three regional blood banks.
The move was envisaged to improve blood processing and blood storage since fridges at some of the regional blood banks were old and characterised by frequent breakdowns.
For instance at Arua regional blood bank, breakdowns could happen as frequently as two to three times a month risking destruction of the blood.
Relieved Mbale regional hospital said challenges relating to storage are now addressed.
Similarly, UBTS has now doubled the number of components supplied to different hospitals culminating into increased availability and delivery to patients.
In addition, it has led to efficiency in blood extraction since more components are mined compared to the manual method where they used the naked eye.
Mr. Bryan Mbasa, the Senior Manager, MTN Foundation says MTN is proud to have been part of a process that has seen service delivery transform for the better around different hospitals of the country.
"We are glad to have contributed to the reform which has led to saving of more lives of different people in Uganda. As MTN, we prioritize the lives of not only our staff but also strive to improve the health conditions in the country at large," he says.
He also applauded UBTS for its pivotal role in safeguarding human life in Uganda.
Why blood components are important
From blood, different components are extracted including plasma and platelets.
Plasma is used to make a range of essential pharmaceutical products, such as those used to treat people with immune deficiencies or bleeding disorders.
According to Red Cross, Platelets give cancer patients the strength they need to keep fighting.
A major side effect of treatment for cancer patients is low platelet count which without a platelet transfusion can lead to life-threatening bleeding because platelets help blood to clot.
Platelets also help patients survive major surgeries or serious injuries for example accidents since they help in blood clotting.
Platelets give strength to patients with blood disorders and those with transplants.
"Within an average of four hours, a non-refrigerated vaccine becomes ineffective," Amos Asiku, the facility in charge at Bidibidi health centre III in Northern Uganda says.
Incidences of vaccines getting destroyed due to lack of refrigeration were common at the health centre which has been operational since 2016.
The health centre at the time had gas powered fridges with multiple mechanical faults causing breakdowns every so often, putting the vaccines at risk of getting destroyed. In addition, refilling of the gas in the fridge was strenuous since it was done from a distant area lasting multiple days.
"It had frequent breakdowns and when it went off, the faster you acted, the better, because the fridge would no longer be regulated, the vaccines would go bad which I termed as wasted because it can no longer be used,"Asiku recounts.
In the event of a break down, Bidibidi health centre III would move all the vaccines to a nearby government hospital for refrigeration which affected operation at the health centre in addition to time wastage.
The vaccine storage challenge affected about 150 people that visit the health centre on a daily basis including women and mothers in search for polio and early immunization vaccines.
In a twist of events, the hurdles became a story of the past after MTN in partnership with United Nations High Commissioner for Refugees (UNHCR) donated a solar powered fridge which would later become the salvation to a pandemic in the refugee settlement.
"MTN gave us a solar powered vaccine fridge that is able to run for 24 hours. It makes the antigens available for patients meaning they are able to access them at any time," he says.
Some of the vaccines housed at the hospital include polio, HPV and most recently covid-19.
According to Asiku, the fridge has been very critical in safe keeping of the covid-19 vaccines which were received in May and have been administered in accordance with ministry of health guidelines.
"Covid-19 vaccines are also maintained on cold chain so we were able to maintain them under cold conditions to keep them safe until such a time when people wanted to take the vaccine," he said.
As covid-19 cases rise in the country, the health centre is a medical relief to South Sudanese refugees and most recently Congolese refugees along with the area host community.
Bidibidi is only one of 10 health centres that were in dire need of refrigerators for vaccine preservation. In partnership with UNHCR, MTN handed over 10 solar fridges worth Shs600m to Odupi Health Centre III, Imvepi Refugee Settlement, .Swinga Health Centre II, Bidibidi Refugee Settlement.
Others included; Bangatuti Health Centre III, .Idiwa Health Centre III, Palorinya Refugee Settlement, PaludaHealth Centre II, Nakivale Refugee Settlement and Rulongo health centre II among others.
Rulongo health centre II in Isingiro is the converging area for refugees from Rwanda, Congo and Burundi. Like Bidibidi, Rulongo has greatly benefitted from the fridge especially during the pandemic.
"The problem we commonly get with vaccines is storage but this fridge is on 24 hours so you immunize and vaccinate clients at any time. For example we have already vaccinated people from covid-19," Juliet Tuhirirwe, a midwife at Rulongo health centre 2 said.
Additionally, the fridges provided large space allowing for more doses of vaccines to be stored.
Speaking days after commemoration of the world refugee day, Conrad Olowo, Project Manager, MTN Foundation says MTN has over the years dedicated a lot of support to all communities including refugees in Uganda.
"We are glad to have played a critical role in strengthening the fight against covid-19. MTN through its operations also ensures to contribute to the fight against the virus through streamlining communication and financial services through mobile money," he said.
He was reiterated by Wendy Daphne Kasujja the assistant Reporting Officer, External Engagement, UNHCR who affirmed that MTN has supported the refugees in Uganda and host communities with a focus on the health sector.
"Through their donation of medical fridges and construction of a full maternity ward in Palorinya refugee settlement, MTN has helped in ensuring that children get immunized, and contributed to the improvement of maternal and child health. The support received is not limited to refugees alone but includes the host communities in which they live, since refugees access the same government health facilities as the nationals," she says.
UNHCR urged the private sector to support the refugee response in Uganda; a home to 1.5 million refugees and asylum-seekers.
"An expectant mother in Buvuma hoped for a normal and safe delivery just like any other woman on earth. But for women in Buvuma, it was a matter of life or death. The health centre three on the island surrounded by water can only handle ordinary deliveries. In case of C-sections, the expectant mother would need to be ferried to Kiyindi town council, where she can be operated on. But the only ferry available rides on a schedule; three times a day," former mayor kiyindi town council Dickson Kasujja Kabuye reminisces.
The Kiyindi-Buvuma route currently has one ferry that carries 120 passengers and 8 cars, making three trips each day between Kiyindi landing site in Buikwe district and Kirongo landing site in Buvuma district.
Essentially, there was no emergency medical relief for an expectant mother in need of operation on Buvuma Island.
It all changed in June last year when MTN donated an emergency ambulance water boat to Kiyindi.
The 15 Seater state-of-the-art water rescue vessel would be used to respond to water transport and health emergencies in Buvuma and Buikwe districts among other areas served by the Kiyindi landing site.
The modern water emergency rescue vessel made by Fisheries Training Institute, Entebbe and licensed by Ministry of Works and Transport was worth Ush 52 Million made of fibre glass, enveloped by a waterproof canopy and cushion seats.
It has a Yamaha outboard engine DT 40, anchor, 2 oars, fire extinguisher, 5 lifeguards, first aid box and patient stretcher.
According to Kabuye, the boat has been very useful in transporting patients from Buvuma to access medical services from Buikwe district.
"Almost 50 per cent of the people living in Buvuma are from Buikwe district so the boat helps us to transport them from Buvuma to the main island of Buikwe so it is very useful to us," he says.
He goes on to narrate; "Previously, there was no way you could transport an expectant mother to Buikwe district because you had to wait for a ferry which moves in shifts. Now it is very easy to transport because this boat runs so fast," he says.
The boat, Kabuye says takes about 30 minutes to move from Buvuma district to Buikwe mainland in Kiyindi for medical care.
The boat was also very essential during the days of lockdown during which covid-19 patients were transported from Buvuma to Buikwe for medical health care.
"We got about 3-5 COVID-19 patients from Buvuma so it would go and pick them and finds the motor ambulance stationed in Kiyindi," he says.
Fishermen deaths mitigated
The tales were not unique to the town council. Fishermen live to hail the ambulance which has saved lives of many on the lake.
Paul Jumba, leader of fishermen in Kiyindi mans the emergency boat along with 2 others.  He narrates that on his many rides called upon by the town folk, he has saved many people from drowning.
"I have saved some people we have found drowning using our first aid kit," he says.
But the commonest occurrence is the exhaustion of fuel in water boats on the lake.
"Since there is no petrol station on the lake, we run to the rescue of the fishermen on the lake," he says.
Jumba also reveals that the boat has transported district officials around the islands to sensitise different members of the public on how to maintain standards of operation such as wearing masks and washing hands.
The donation of the emergency boat followed a request from the fishing community last year when MTN Uganda staff visited Kiyindi landing site to launch their annual staff voluntary program dubbed "21 days of y'ello care".
Mr Patrick Tusiime, the regional commercial head said MTN is proud to have contributed to the safeguarding of lives around the islands only accessible through water.
"We appreciate the work accomplished by the team manning the boat. MTN prioritizes lives of the people we serve and we are glad that the boat is saving and helping many people in the region," he also noted.
By Michael Kawesa Sekadde, MTN GM HR. 
It is overwhelming how much sad news is flying over different social media platforms, once a home of laughter and comedic memes. The second wave of the virus has taken a toll on everyone forcing the country back to lockdown in a bid to mitigate spread of the virus.
Whereas lockdown might block out the virus, it has affected people mentally. A report by Uganda Bureau of Statistics indicates that 5 per cent of the respondents were clinically depressed. The incidence was found majorly in elderly respondents around 65 years of age and above. A significant number of respondents between the age of 44 and 54 years were also found to be clinically depressed on account of their employment status and negative changes in business incomes.
Centers for disease control and prevention(CDC) has also said that public health measures such as social distancing and lockdown, while necessary to reduce the spread of the virus, have led to isolation and loneliness which cause stress and anxiety.
The pandemic is generally affecting people's emotional wellbeing, which is described as the ability to successfully handle life's stresses and adapt to change and difficult times. Experience has taught me that staff emotional well-being should be of great concern to organisations. It is important to understand the challenges staff are facing. Overwhelming challenges limit the ability of staff to focus and handle their responsibilities and tasks while at the job whether they are working from home or office. Consequently, staff will fail to deliver on their duties or even those who do deliver will submit substandard work which affects productivity of the company or business.
However, working from home puts emotional wellbeing of staff at more risk of being ignored especially if the HR professional is strictly work oriented.
At MTN, the first thing we did to ensure good staff mental health was assure them of their job security. This curb the fear and uncertainty of the staff especially during such a time when economic conditions were harsh and loss of jobs was skyrocketing.
You can also create a mental wellbeing program to insulate staff from covid-19 related mental health conditions. Ensure that the program is personalized to individuals as each person could be facing different challenges of their own. Avoid piling all of them together. It is high time companies realize mental health conditions are a real challenge and create mental health policy, which will house the business' direction towards mental wealth at the workplace.
At MTN, we opted to include counselling services as part of the medical insurance scheme, which enables staff to get expert advice.
When in apprehension to speak to a professional, we also encourage open communication with family and friends.
Frequent communication between HR and staff is also important in supporting staff mental health and well-being. Make it a point to make a phone call and check in on the state of your staff.  During online work meetings, you can take some few minutes to have personal banter to eliminate the feeling of loneliness.
During the second wave, staff are more afraid of contracting the virus, which also causes stress and anxiety.HR professionals need to guarantee a healthy and safe working environment for those staff that continue working from office during lockdown to limit worries of contracting the virus.
Strive to have staff buy into the measures and changes in work environment as it plays a key role in unification as a company in the fight against the virus. Owing to the buy-in, MTN instituted an emergency fund with monies contributed by staff to cater for needs or daily stipend to any employee affected by covid-19. This eliminates fear of hefty bills in case of contraction of the virus.
While undertaking these measures, it is important to carry out a post-mortem and evaluate their effectiveness. This can be done through quick and periodic surveys with the staff. HR professionals ought to engage the staff on a periodic basis to ascertain their mental health. Share your experience with the staff which will make you more relatable and they will be more willing to openly reveal their state of mind.
By Dorcas Muhwezi, MTN General Manager Customer Experience
We are back to lockdown and just like we saw in the first wave, businesses are now operating online.  One thing covid has taught us, is that the internet is no longer a nice to have or a luxury. The Internet is a necessity. The internet is the place where customers window shop, purchase and air out views on products and services offered by companies. Make sure you have online presence.
Unlike the earlier days where customers sneakily wrote their views on paper and dropped them into suggestion boxes hoping that no one would recognize their handwriting, today, customers take to social media to publicly appreciate and also vent their frustration.
Emergence of technology and social media has made the role of customer experience, even more profound today. Customer experience is the perception that customers have based on their interaction with your business or product. Today, customers are more empowered. They know what they want and will not compromise. In part, it is because they have a plethora of options to choose from when it comes to product and service providers.
To keep your head above water in the sea of businesses, entrepreneurs must embrace strategies such as enhancing customer experience especially via social media as the country strives to mitigate the spread of the virus during lockdown.
Easy accessibility of services is a good place to start. Despite limitation of movement, you need to ensure that there is uninterrupted service delivery especially if you are among the businesses allowed to operate during this period.
Aware of the vitality of easy accessibility of services to customers, using digital tools, MTN created the MyMTN app which among other things houses the telecom's different services under one roof.  One can buy all MTN Products, get access to Mobile Money statements and even get help or log a complaint using the MyMTN App. This reduces the amount of time a customer spends while trying to use MTN's services.
In addition, understanding how to use the new innovations or products is very critical to improving a customer's experience. I advise that you create short videos that you can run on social media, showing customers how to use a new product or service. This helps to guide customers to understand and acquaint themselves with the workings of the new product, which will smoothen their experience when they get to use it.
In light of the harsh economic times occasioned by covid-19, I am alive to the fact that many businesses are financially constrained and might not be able to do the above. But there are also ways of enhancing customers' experience at a cheap cost to your business.
Personalizing customers' experience is one of them. Wishing your seasoned customers a happy birthday is a sign that you value them. Make their milestones your milestones, recognize and celebrate with them even if virtually.
I am sure you all have received a birthday message from MTN once. This is a way of showing our customers that we care. This is a very key customer experience enhancement tool especially during this period; awash with sad news dampening moods of many.
Once only a chatting vessel, social media has morphed over time to become an official communication channel for businesses which breeds loyalty and efficiency.
It is important to engage with customers online by curating content specific to particular audiences. This can draw increased loyalty from them towards your product. This keeps you relevant. For instance, at MTN, a post about MTN Pulse or ayoba, the MTN version of WhatsApp, will be written in the lingo used by the youth because they are predominantly youth targeted services.
Engaging with customers through liking or commenting on their post is also another way of enhancing customer experience as it strengthens the relationship and builds a strong attachment to the brand.
Arguably the most important aspect of social media is customer feedback. Whether positive or negative, feedback provides an understanding of the customers' thoughts on the business' products and services, "the good, the bad and the ugly". Negative feedback is a contentious subject but at MTN, we believe a complaining customer is an alive customer. Work with them! Make the best out of bad reviews by addressing them while capitalizing and strengthening your preferred qualities.
The world today is fast paced so there is an expectation from customers for an immediate response and handling complaints in under 24 hours. At MTN, we have a team dedicated to social media to provide quick responses to customers and escalate concerns to responsible parties in the company.
It also goes without saying that as a business, ensure you have trained your staff who interface with customers via social media. The way a business responds to customers via social media speaks to the value it attaches to them. Plus, when on social media, assume all eyes are on you because with only a click of a button, a conversation can become an issue of national interest. Avoid flaring of tempers and strive for professionalism.
Remember, customer experience management will save your business money in reduced marketing costs. Make your customers your marketers.
Harunah Damba lived an ordinary life until the fateful year of 2015.  Falling ill for about three years, the young man slowly started to lose his hearing ability. Ear by ear, the sound disappeared. The silence was so loud. At only 22 years, Damba became deaf.
"In 2015, I suffered an illness and developed difficulty in hearing. The problem started with my left ear and later shifted to my right ear, and soon silence etched in both my ears," he narrates.
After several failed attempts by medical doctors to treat his illness, an old lady convinced Damba's parents to take him home. She advised that they use herbal medicine which they also later learnt was useless.
Faced with the new reality that he would be deaf, Damba did not take it so well. It was no easy feat.
"I didn't know any bit of sign language and neither did my parents nor relatives. I used to live in seclusion because it was difficult, almost impossible for me to engage in any conversation. While in such a situation, I could see that most of my friends with similar impairment had a lot on their mind, asking questions like; would we ever get a decent living and or good employment?" he recounts.
Corridor talk from the Persons with Disabilities (PWDs) fraternity illuminated him to the discrimination that would befall him in the employment market.
"I knew the future was going to be hard without any form of self-employment," he says. It was at that moment that Damba made the decision to become an entrepreneur.
Damba is an entrepreneur
With the help of his dad, Damba has made strides in his ambitions.
At only 27 years, in a country reeling with youth unemployment, Damba owns a garden, sugarcane plantation and a poultry house of both local and exotic birds. The young lad also leased land for a brickmaking project.
He earns enough from his businesses to meet his needs.
Damba is also a beacon amongst the PWD fraternity in Bweyogerere where he is the chairperson-elect of PWDs at the parish and founder of United Persons with Disabilities (UPWDs), a disabled peoples' organization in Bweyogerere parish.
"The organization has transformed into a social impact body tackling youth unemployment and increasing empowerment. We are still in the budding stage and using our own resources to set an example of what we really committed to. Currently, we are running two projects for the benefit of PWDs; bead making and poultry, and we are devising means of investing in mushroom growing," he reveals.
Damba qualifies as a jack of all traits having volunteered at Uganda Virus Research Institute (UVRI) as a junior scientist before the covid-19 outbreak.
"I am thrilling at the epitome of my efforts. At the moment, I am looking at ways to expand my businesses and also integrate modern technologies," he revels in his success.
MTN Youth skilling program
It was in his efforts to expand his business and hone skills in digital technology and youth social entrepreneurship that Damba landed on the MTN youth skilling program which he has since learnt extensively from.
"I am greatly enthralled to discover how ICT and entrepreneurship is bridging the rampant unemployment gap, and making PWDs resourceful and valuable. I commend the approach being used to train the next generation of young leaders which involves a paid training to acquire an internationally recognized International Certificate of digital literacy (ICDL) with cutting-edge modules tailored to our problems, business training, networking and mentorship," he says.
Bearing Haruna's hearing impairment in mind, the youth skilling program which was conducted online, ensured he was included through utilizing zoom online services which carried captions for interpretation.
"The zoom app has inclusive features like automatic captioning and a chat window. So I utilized them to always ask whenever I had not understood the concept and they were indeed mindful of the fact that the program includes people like me. We also heard google classroom and this is where most of the content was posted from class materials to reference content," he explains.
He goes on to add; "I see this opportunity as an optimal catalyst for me to launch a career in ICT and youth social entrepreneurship to the level where I can create economic and employment opportunities for not only myself but also a wider range of individuals."
Challenges
In spite of this success, it has not been a rosy journey for the young gentleman from Namanve. His hearing impairment has cost him friends and shone upon him a judgmental light in society.
"Most of my friends do not know sign language and many could not spare time to write while communicating to me. Many of them felt offended when I retorted because of my disability that I couldn't hear them and that they please write down what they are saying. Also, many still have the false perception against us, the disabled. They see our disability more than our abilities. They are quick to judge what I can and can't do because of my disability, yet I am more than what they perceive me to be," he notes.
Shaking off the grim, Damba believes the future is bright.
He is certain that he is now an asset to drive his association; UPWDs, from a grass root level to an internationally recognized institution, having attained knowledge and skills in resource mobilization, business setup and management along with soft skills: networking, collaboration, presentation among others.
In five years, Damba envisions himself as a successful entrepreneur.
The 'One More Push' Campaign is aimed at complementing the 'Adapted Africa Joint Continental Strategy for COVID-19 Pandemic' of the African Union
The campaign is a motivational call across the region to inspire the masses to keep up the fight against covid 19 through strict adherence to the COVID-19 SOPs as well as vaccination to foster herd immunity.
MTN Uganda has today rolled out yet another campaign dubbed 'One More Push" with the aim of strengthening masses in the fight against the deadly COVID-19. The "One More Push" campaign is spearheaded by The Africa Centres for Disease Control and Prevention, (Africa CDC) and pan-African operator MTN Group. The joint campaign is meant to encourage people across the continent to not give up in the fight against COVID-19 and to continue to wear their masks, wash their hands and practice social distancing as well as getting vaccinated against the deadly virus.
Uganda, like many countries across the continent, has been hit with a more ravaging wave of the virus that has seen the country register more deaths than before. Moreover, this is happening at a time when masses suffer from increased apathy, mask fatigue, vaccine myths and misinformation, and overall concern about vaccine efficacy and safety. This calls for renewed effort and zeal in deliberately fighting the spread of the disease. Therefore, the 'One More Push' campaign has been launched to inspire and motivate the masses to give the fight against COVI-19, one more push.
Commenting about the new wave and the One More Push campaign, Dr. John Nkengasong the Africa CDC Director said that; "With third and fourth waves of COVID-19 sweeping across parts of Africa, we cannot overstate the importance of everyone doing their best right now to keep the virus at bay. This campaign aims to encourage people to keep practicing the preventative measures we know can limit the spread of COVID-19."
'One More Push' is a renewed drive to encourage the public not to give up now. It asks that all of us keep our masks on, wash or sanitize our hands, and maintain a physical distance from each other until it is safe to no longer do so. In this way, we will be able to get back to the 'old normal' sooner rather than later.
Wim Vanhelleputte, the MTN Uganda CEO noted that; "The 'One More Push' campaign is about encouraging the people of Uganda and Africa to remain vigilant in fighting COVID-19, at a time when we are experiencing new waves of infections.
"Uganda is currently in the middle of the second wave of this pandemic which has been more detrimental than the first wave. In these times, we all ought to double our efforts to safeguard ourselves and loved ones against the deadly disease." Mr. Vanhelleputte said.
"As we continue with the distribution of vaccines across the continent, we all need to keep focused on overcoming COVID-19. We implore everyone to keep up the fight. Let's all give it one more push." said Dr. Nkengasong.
The awareness campaign is an extension of the African Union's 'Adapted Africa Joint Continental Strategy for COVID-19 Pandemic' endorsed by Africa's Health Ministers and aligned to the 'Prevent, Monitor and Treat' approach. It is also an extension of the partnership between the Africa CDC and MTN, which includes the rollout of COVID-19 vaccines to health workers across the continent through the Group's US$25 million donations.
A key part of the campaign is onemorepushafrica.com, a digital content hub of credible and authoritative third-party content covering all things related to COVID-19. This includes facts about getting vaccinated, advice from leading healthcare bodies and medical experts, and important information from the Africa CDC.
Visit onemorepushafrica.com for trustworthy content around vaccinations and the virus and to let us know what you are keeping your mask up for. Follow the #OneMorePushAfrica conversation on social media.
MTN Uganda has been instrumental in the fight against COVID-19 since the onset of the virus, early last year. The most outstanding among its series of interventions is last year's 'Wear it for me' campaign that urged the masses to practice mask-wearing alongside the other standard operating procedures as a way to prevent the spread of the lethal COVID-19 virus.