MTN Uganda has rewarded outstanding women in sports following a Women's month activation that commenced last month across all MTN's digital platforms. The nominations and voting happened on MTN's sports microsite www.sports.mtn.co.ug
Suncity Netball team walked away with a community service award and a sponsorship package worth Ugx.30,000,000 shillings in recognition of its efforts towards empowering young girls through sports.
The top 5 women as per the public's votes have each received Ugx.3,000,000 shillings while the other 15 who made it to the top 20 have each received Ugx.500,000 shillings.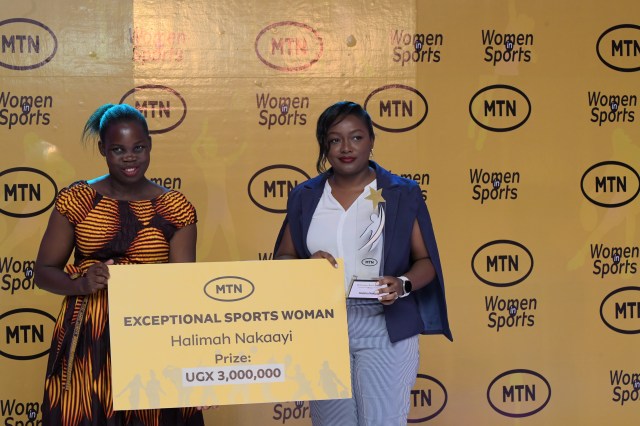 MTN Uganda rewarded a group of outstanding women in sports, including a community Netball team, following a campaign that was launched last month, in celebration of the women who have broken societal norms by shining in the male-dominated world of sports.
In a ceremony held yesterday at the Serena Hotel in Kampala, a total of 20 outstanding women and members of the Suncity United community Netball team were awarded cash prizes and a sponsorship package respectively, in appreciation of their efforts toward the country's sports scene.
Suncity United is a community-based netball team leveraging Netball to empower underprivileged girls hailing from slum areas in and around Kampala. The team received a community service award accompanied by a Ugx.30,000,000 shillings sponsorship package in recognition of its efforts. The money will go towards facilitating the team's travel to the United States where the team has been invited to compete in the U.S Open Junior Netball Championships in Atlanta, Georgia, later this month.
The top 5 winners namely; Jane Asinde, Janet Mbabazi, Frankline Najjumba, Peruth Chemutai, and Halima Nakaayi were each rewarded with Ugx.3,000,000 shillings. The rest of the 15 ladies who made it to the top 20 received Ugx.500,000 shillings each. Details of the winners are here.
Speaking at the rewarding ceremony, Somdev Sen, the MTN Uganda Chief Marketing officer said that the effort to pay respect to the women in sports is hinged on MTN's deliberate efforts to erase the gap between genders in the world of sport by recognizing and celebrating the women who have upheld the country's flag as far as sports is concerned.
"Like in many other professions, women in sports still do not receive the same recognition and appreciation as their male counterparts. As MTN we deliberately set out to use the women's month to shine a light on the greatness of the women in sports. We believe that if we work together in recognizing and celebrating the women who have in no small way upheld our country's flag far and wide, we shall erase the gap between genders in the sports profession," Somdev said.
Rehema Nanyonga, the Manager of the Suncity United Netball team thanked MTN for the recognition award as well as the sponsorship package to facilitate the team's travel for the U.S Open Junior championships in Atlanta, Georgia.
"As the Suncity United community, we are humbled to be recognized and supported in our endeavors by the biggest company in the country. This gesture from MTN has motivated us to continue pursuing our goals to continue inspiring more girls in our community through sports," Nanyonga said.
Penina Kabenge, the Vice President of the International University Sports Federation thanked MTN for always reaching out to the sports fraternity as well as looking out for and celebrating the women in sports.
Following the International Women's Day celebrations last month, MTN ran a digital campaign across its online platforms asking the public to nominate outstanding women from different sports disciplines including Athletics, Basketball, Football, Gymnastics, Hockey, Javelin, Kabaddi, Netball, Rugby, Shooting, Volleyball and Woodball among others, through the MTN Sports website (www.sports.mtn.co.ug).
Between 15th March 2022 to 4th April 2022, 100 nominations were received, backed by insightful profiles of the nominated women. Subsequently, the public cast their votes for their favorite sportswomen who were rewarded by MTN Uganda.
Since it started its operations in Uganda over 20 years ago, MTN's proactive role in sports has positioned the brand as the biggest supporter of local sports through its sponsorships, partnerships and active engagements with the various sports disciplines including football and athletics among others.
Harriet Nakkungu, a businesswoman based in Namataba town in Mukono district had for over 12 years, desired a smartphone to boost her business but she could hardly afford one due to the high cost of genuine smartphones.
Last year, her odds changed following a partnership between MTN and fintech platform M-KOPA. She was able to secure a smartphone that she could pay for slowly, for 12 months. Additionally, she gets free mobile data from MTN during the one-year smartphone financing period.
"I always wanted to post my business on social media platforms to get more customers but I didn't have a smartphone," Nakkungu recalls.
Now equipped with a smartphone and free MTN data, she is able to share her work with a wider base of customers.
"Every time I install glasses, I post photos of the work on my WhatsApp groups for my friends to share with their contacts. Within four months of doing this, I got over 20 customers through WhatsApp alone. Within a year, I will get even more customers," says Nakkungu.
Beyond the availability and affordability of data, digital inclusion requires access to internet-enabled devices that enable people to connect to the internet in order to enjoy the benefits of being online and to use technology confidently to improve their day-to-day lives.
For many people in Uganda, smartphones, which are the most affordable internet-enabled devices, remain unaffordable. Only one third of the population own smartphones, leaving a huge gap to be filled as the country embarks on a digital inclusion journey.
In a past interview, Ali Monzer, the MTN Chief Technical, and Information officer noted that Smartphone adoption will not only improve the network experience but also improve people's lives as well.
"We understand that the devices pose an affordability challenge; that is why we started our device financing program to avail affordable devices with ease, just to push the user to experience higher technology," Monzer said.
Brenda Nambalirwa, the M-KOPA Uganda spokeswoman says: "Stories like Harriet's emphasize the success of the partnership and the importance of accelerating smartphone penetration in Uganda to close the digital gap.
"By applying affordable payment terms to 4G devices,      customers instantly connect to a world of services that improves their everyday lives and also create opportunities to boost their income," Nambalirwa says.
Like Nakkungu, many people have been able to turn around their lives by harnessing the power of the internet.
So far, over 100,000 smartphones have been sold through the MTN and M-KOPA partnership with several thousand smartphones sold through other partners.
MTN has also partnered with companies such as Tecno and itel to support smartphone customers with free data for up to three months as a way of supporting them to connect to the internet with ease.
Additionally, MTN has over the years worked with manufacturers to sell internet-enabled devices such as Kamunye and Kabode devices with the aim of narrowing the digital gap in the country.
The Manjiya MP, Hon. John Baptist Nambeshe commended MTN Uganda and Salam Charity's Ramadan drive for fostering unity among all religions through their Ramadan charity drive. This was at the just concluded Iftar dinner held last weekend at the Wash and Wills Hotel in Mbale. 
At the Iftar dinner where Nambeshe was the chief guest, he thanked MTN and Salam TV for not only reaching out to the Muslim community but for also extending a caring heart to people of all faiths as the Muslim fraternity observes the holy month of Ramadan through fasting and sharing.
"I was pleasantly challenged by the fact that MTN Uganda and Salam Charity are not segregating any community or group of people. I really thank you so much on behalf of my people from Bududa, they are so appreciative, and the district Khadi was overwhelmed by your kindness. we pray that you keep it up," Nambeshe said while making his remarks at the Iftar dinner in Mbale.
The dinner followed a handover of alms to the Muslim communities in the Eastern districts of Mbale and Busia. Prior to this, MTN Uganda alongside Salam Charity delivered alms to the office of the Supreme Kadhi in Ndeeba where all the county Sheikhs and Imams in Kampala took part. The team also reached out to the district Khadi in Kawempe.
Since 2017, MTN Uganda has worked with Salam Charity to reach out to the Muslim fraternity across the country during Ramadan. This year's Ramadan project is being executed under the theme; "A giving heart", as a way of fostering benevolence as the country recovers from the effects of the nearly two-year-long Covid-19 pandemic and subsequent lockdown. 
As has been the norm, MTN Uganda and Salam Charity launched this year's Ramadan season with a dinner at Hotel Africana at the beginning of the fasting season to reaffirm their unity with the Muslim fraternity as they undertake one of the crucial pillars of their faith.
MTN Uganda's Ian Mugambe said that; "The alms handover is specifically targeting the less privileged and refugee communities across the country."
The alms comprise assorted items including; rice, baking flour, sugar, salt, cooking oil and soap among others. 
In this week's alms handovers that start tomorrow, MTN Uganda and Salam Charity will deliver alms to the Luzira Prisons and the Imam Forum in Kampala before moving to the Isingiro and Kisoro refugee camps in western Uganda. Another dinner shall be held at the Lake View hotel in Mbarara for the Muslim fraternity in the region.
As was the case last year, MTN has brought back the special Ramadan bundles offer to ease communication during the fasting period. At only 500/=, all its customers will get 30 MTN minutes and 100MBs valid from midnight to 5am. This offer is open to all MTN customers; Muslims and non-muslims alike.
As the highly contested first-ever Tooro Masaza Football Tournament comes to a feverish crescendo, Kyaka FC and Bunyangabu FC will face off in the finals that are slated for this Friday 15th April, at 3 pm at the Buhinga Stadium in Fort Portal City.
In the just-concluded Semi-Finals, kyaka beat Burahya 2-1 to qualify for the finals while Bunyangabu beat Kibale 3-2 to make it to the headlining match of the tournament.
This championship match is a befitting culmination of a month-long series of heated matches played amongst the 9 counties of Tooro Kingdom.
The tournament is part of MTN's sponsorship package to the Kingdom following a partnership between the telecom and the Kingdom in an endeavor to uplift the people of Tororo through leveraging sports alongside other social-economic engagements such as health and education.
While Kyaka FC and Bunyangabu FC will be tussling it out for the first and second place, another match will be held between Burahya and Kibale FC, on the same day to determine the 3rd and 4th place.
In this highly anticipated championship match, the winning team will walk away with Ugx.5 million shillings and a trophy, while the runner-up will get Ugx.3 million shillings. The third-placed team will get Ugx.1.5 million shillings while the fourth team will be given Ugx.500,000 shillings.
Hon. Peace Regis Mutuuzo Bunyangabu county woman Representative, who doubles as state minister for gender and culture who graced the Semi-Finals last weekend applauded MTN Uganda for providing a platform for the youths in Tooro region to showcase their soccer skills.
"Apart from showcasing their skills in soccer, this tournament has also provided a platform for the leadership of Tooro to interact with the youth and sensitize the masses who turn up for the matches on all pertinent issues pertaining to their welfare," Mutuuzo said.
Tooro Kingdom has nine counties that include, Ntoroko, Kibale, Bunyangabu, Kitagwenda, Mwenge North, Mwenge South, Kyaka, Fort Portal, and Burahya. All the counties participated in the tournament that has proven to be the hottest sporting activity in the Kingdom thus far.
Last year, MTN Uganda's youth platform, MTN Pulse partnered with Arapapa by Santa Anzo to mentor the fresh fashion talent in the country. This mentorship program saw young designers getting hands-on mentorship from one of the most respected and seasoned designers in the country.
The young designers were trained in several disciplines such as marketing, product sourcing, design ideation as well as design presentation among others, that would see them carry their fashion businesses to the next level.
23-year-old fashion designer, Kaaku Mickeydaddy of the Mengo hill road-based Mickey designs and who has been in the fashion industry since 2018 says the mentorship program remains his highlight in the industry thus far.
"The mentorship program was very inspiring as I got to learn from the great Santa Azo on how to come up with creative designs and also got a chance to interact with other designers. We were able to share ideas and learn from each other. The program pushed me harder on how to market my business and it's also increased my confidence as a designer and made so many people believe in me," said Mickeydaddy who completed the mentorship program in the first position.
25-year-old fashion designer, Judith Kusiima of the Weekend fit designs shares similar sentiments about the mentorship program.
"As a new self-taught designer, I learnt a lot from both Santa Anzo and fellow young designers who have been in the business longer than myself. We are still in touch and still supporting each other, something that was made possible by the MTN Pulse and Arapapa mentorship program," Kusiima says.
According to Mickeydaddy, the fashion industry is a very challenging industry, despite its glitz and glamor. He however notes that the challenges only push him to work harder and maintains that with synergy across the industry through programs such as the MTN Pulse and Arapapa mentorship program, that bring all designers together, such challenges can be turned into opportunities that can push the industry forward.
The industry challenges notwithstanding, Mickeydaddy has been able to build himself an admirable career over the years. He has dressed up people for events like miss Uganda, miss Tourism Uganda, Y+ beauty, little miss Uganda and little Miss Africa among others. 
Besides winning the MTN pulse fashion mentorship Program, Mickeydaddy won the rising Fashion pearl Africa Award 2018, Designer of the Famous teen Awards 2019, best Designer Vision for Africa 2019. These awards have earned him great positions in the world of fashion such as; the Fashion Director Miss Tourism Uganda, managing Director Toto Awards Ug, country Director, little Mr and Miss Africa Uganda
Mickeydaddy is intent on nurturing fellow younger designers through passing down his learnings from the MTN Pulse and Arapapa mentorship program.
"Not only have you been a fantastic mentor to me, but you have taught me how to mentor other people am so lucky to work with someone (Santa Anzo) who is my mentor and inspiration. Thank you MTN Pulse, for creating that connection," Mickey says.
As a young designer who immensely benefitted from the MTN Pulse and Arapapa fashion mentorship, Judith Kusiima looks forward to building her fashion brand that deals in creating casual weekend outfits for women, while making an impact in the society and beyond the borders of Uganda, a key lesson she learnt from her interaction with fashion icon, Santa Anzo.
"It was an incredible program and I hope more of these are arranged to support many talented designers in this country," she says.
Following 5 years of successfully organising the MTN UG Hip-Hop awards, MTN has today launched the sixth edition of the MTN UG Hip-Hop awards
The 2022 MTN UG Hip-Hop awards are scheduled to be held on Saturday, 28th May 2022.
Through these awards, MTN Pulse will extend support to the young undiscovered talent through the MTN Pulse Cypher challenge to allow new and undiscovered talent to showcase their abilities in an online Hip-Hop rap battle.
Following 5 years of successfully organising the MTN UG Hip-Hop awards, MTN has today launched the sixth edition of the MTN UG Hip-Hop awards which promise to be superior to those before.
The 2022 Hip-Hop awards which will be held on Saturday, 28th May 2022 with the aim of recognizing accomplished hip-hop artists, will also uplift virgin talent through the MTN Pulse Cypher challenge.
According to Hellen Kirungi, the MTN Uganda youth segment manager, the MTN Pulse Cypher, which allows new and undiscovered talent to showcase their abilities in an online Hip-Hop rap battle has this year been elevated to another level. This year the winner of the MTN Pulse Cypher will take home UGX2million, while the second and third walk away with UGX1.5million and UGX1million respectively.
To take part in the MTN Pulse Cypher and stand a chance to win the prize money, Pulsers are required to download the MTN Pulse Cypher beat from the MTN Pulse microsite, record a one-minute video of themselves rapping to the beat and then upload the video on Instagram or Twitter and tag MTN with the hashtag #MTNPulseCypher
It is based on these submissions that judges will select the top 10 contenders who will face-off in the MTN Pulse studio to later inform the choice of the top 5 finalists whose videos will be shared online for voting by the public.
Organized by UG Hip-Hop Awards with support from MTN and co-sponsors including Mountain Dew and Magic TV, the MTN UG Hip-Hop awards seek to celebrate and amplify the growth of the hip-hop music industry which is predominantly comprised of the youth in Uganda. In the same spirit of supporting Uganda's Hip-Hop industry, MTN in 2020 sponsored the first televised rap battles that saw several rappers pitched against each other culminating into the discovery of new talent in the country.
Win UGX. 2M with the MTN Pulse Cypher Competition. Download the beat here.
Today, MTN joins the rest of the world to celebrate World Health Day, as a reaffirmation of its commitment to support the health and well-being of communities in Uganda.  World Health Day is a global health awareness day celebrated every year on 7 April, which also doubles as the anniversary of the founding of the World Health Organisation.
Over the last 5 years, MTN has invested UGX5.4billion in interventions aimed at improving the health sector in Uganda. The interventions largely focused on improving maternal health care, healthcare services for Persons with Disabilities, refugees, tackling mental health illness and easing accessibility to quality health care services in rural areas.
Some of these initiatives have included the renovation and furnishing of maternity wards in 8 health facilities such as Aroi HC III Arua, Cwero HC III Gulu, Amach HC IV Lira, Naboa HC III Budaka, Kigorobya HC III, Kijura HC III and Kamukira HC IV Kabale.
In the past three years, MTN equipped and refurbished 24 health facilities including health centre III and IVs across the country.
In an effort to support the large refugee settlements in Uganda, MTN in 2017 fulfilled UGX 1 billion pledge to the Office of the Prime Minister which saw the upgrade of 10 refugee serving hospitals in Uganda.
More recently, MTN supported Butabika Hospital through the construction of sanitary facilities in an effort to support delivery of health services at the mental health institution.
It is worth noting that MTN believes strongly in the power of collaboration to create meaningful impact; which is why over the years, the telecom has worked with the Ministry of Health, Red Cross, UNHCR, USAID and UNFPA to realise the success of its interventions.
Bryan Mbasa, the senior manager MTN Foundation said health of the people in the communities is something close to the heart of MTN's business.
"Health is one of the key pillars of Corporate Social Investment for the MTN Foundation because at MTN, we believe that we are only as good as the communities we serve," he noted.
2022 Planned projects
Mbasa also reaffirmed MTN's commitment to investing in Uganda's health sector with the aim of achieving SDG 3 which focuses on health and well-being noting that the MTN Foundation intends to commission even more impactful projects this year.
Key among the interventions MTN is undertaking this year, is the upgrade of Ibakwe health Centre II in Parolinya refugee settlement located in Moyo district and Bwizi health centre III in Western Uganda to mention but a few.
MTN Uganda together with Salam TV will reach out to the less privileged Muslim communities during the holy month of Ramadan.
MTN hosted an iftar dinner to observe the long-standing relationship between MTN and the Muslim community in Uganda which spans many years.
MTN Uganda has also unveiled a special Ramadan bundle where all its customers will get 30 Minutes and 100MBs everyday when they load airtime or buy any bundle worth 500/= or more. The 30 minutes and 100MB are valid from 12am to 5am. The objective of the offer is to ease communication and follow proceedings in Mecca and Madinah during Ramadan.
 As has become custom over the years, MTN Uganda together with Salam TV have kicked this year's effort to support vulnerable communities with alms to enable them fast through the Ramadan season. Under the theme, "A giving heart", MTN and its partner Salam TV will go around the country to handover alms – a vital pillar of the Muslim faith observed every year during the holy month of Ramadan. MTN together with Salam charity, will distribute alms specifically targeting the less privileged and refugee communities across the country.
The country-wide delivery of alms will be crowned with iftar dinners in the various regions of Uganda in the towns of Mbale, Mbarara and Gulu as MTN further seeks to cement its relationship with Muslim communities across the country.
The month-long donation activities kicked off with an all-embracing dinner, also known as iftar, at Hotel Africana. Present at the dinner, whose objective was to demonstrate unity and commitment to the ideals of the holy month, were Muslim leaders and notable members of the Islamic community including business partners, ambassadors, customers, and the media.
Since 2017, MTN Uganda through Salam TV (Charity) has reached out and supported less privileged Muslim communities with alms, including food and other household items to carry them through the holy month of Ramadan.
Speaking at the dinner held at Hotel Africana in Kampala, The Iftar dinner chief guest, Hon. Misa Kabanda, the Kampala Member of Parliament thanked MTN for its kind gesture and urged other companies to emulate MTN and Salam Charirty.
The MTN Uganda Chief Executive Officer, Wim Vanhelleputte said that: "We are very pleased to spend this time with you as you begin this holy month of Ramadan, which is a very special time of spiritual reflection and renewal. On behalf of MTN Uganda, we wish you the very best as you undertake this spiritual journey," Vanhelleputte said.
As was the case last year, MTN has brought back the special Ramadan bundles offer to ease communication during the fasting period. Every time an MTN customer buys airtime or buys a bundle worth 500/=, they will get 30 MTN minutes and 100MBs to be used between midnight and 5am that night. This offer is open to all MTN customers.
Salam TV Chairman, Hajji Kin Ibrahim Kariisa, expressed his desire to keep working with MTN Uganda based on its cordial relationship that has fostered a strong bond with the Muslim community.
"On behalf of the Muslim community, I thank MTN Uganda for partnering with us again and standing one with the Muslim community during this holy month of Ramadan. We are also happy to note that MTN is partnering with us to send off our brothers and sisters who will be embarking on a pilgrim to Mecca a month after Ramadan. MTN is indeed a steadfast partner that we are blessed to be associated with," Kariisa said.
Ramadan is the ninth month of the Islamic calendar and is observed by Muslims worldwide as a month of fasting to commemorate the first revelation of the Quran to Muhammad according to Islamic belief. Muslims are expected to put more effort into following the teachings of Islam with the fast beginning at dawn and ending at sunset.
Itel and MTN have unveiled the new itel smartphones; itel P17 and P17 Pro. The itel P17 battery lasts up to 3 days
Customers who buy itel devices and connect to MTN will automatically get free 3GB of MTN data monthly for 3 months, and 100% bonus on all the MTN data bundles that they purchase for 3 months.
itel and MTN Uganda have jointly launched the itel P17 series today following the recently launched partnership between the two companies.
The itel P17 and P17 Pro are the latest addition to the itel range of smartphones.  Both phones have an impressive 5.5" screen and a long-lasting battery, whose single charge can last up to 3 days. The itel P17 which comes with 2GB RAM and 16GB ROM retails at Ugx.235,000/= while the P17 Pro which features 2GB RAM and 32GB ROM will roll out into the market soon.
Based on the ongoing partnership between MTN Uganda and itel, MTN will provide a free 3GB monthly data bundle for the P17 devices which will latch onto the MTN network, for three months. In addition to the 3GB, all devices will enjoy 100% data bonus on every data bundle purchased for the first 3 months on the MTN network. The same offer applies to the rest of the itel devices currently on the market.
While speaking at the itel P17 launch press conference held at the MTN headquarters in Kampala, Ms. Thurraya Nakayima, itel Uganda's Executive Trainer said that the partnership has enhanced the value of itel's smartphones by making access to the internet more affordable and exciting.
"The itel P17 and P17 Pro are designed with close attention to our consumers' needs. These phones, equipped with very durable battery lives, impressive features and attractive data offers from our partner will surely be appreciated by any consumer out there who needs a great smartphone at a friendly price." Said Ms. Thurraya.
Somdev Sen, MTN Uganda's Chief Marketing Officer noted that this partnership further demonstrates MTN's commitment to championing digital inclusion.
"Our partnership with itel is showing great results. We recently launched the itel A58 which is doing well on the market and today, we are unveiling two more series of the itel P17. With such a diversity of itel smartphones on the market, we believe there is something for everyone. And what is even better is that all these itel devices come with attractive MTN data offers that enable customers to do more with their itel smartphones," Somdev said.
itel, a leading mobile phone brand committed to providing budget-friendly yet high-quality entry-level devices partnered with Uganda's Telecom giant, MTN, early this year in February to accelerate smartphone penetration. In this strategic partnership, itel provides affordable smartphones while MTN avails its best-in-class internet data offers with a common goal of bringing more Ugandans online.
This is but one of the many customer-centred device partnerships that MTN has undertaken to enable smartphone penetration and digital inclusion with a vision of delivering a bold new digital world to all its customers.
Nsindika Njake is a youths-centered entrepreneurship TV show aimed at equipping youths with entrepreneurial skills to alleviate youth unemployment.
The youths on the entrepreneurship show will undergo vigorous training sessions and undertake a series of business-skills-related tasks in pursuit of the grand cash prize of 60 million that they can invest in their business idea of choice.
The show will be aired on selected local TV stations every Wednesday at 8:30 pm, starting this week. Selected radio stations will host Nsindika Njake moments where the public can call in and answer questions about the show to win instant Mobile Money.
This program underpins MTN's commitment towards promoting shared value as enshrined in the company's Ambition 2025 strategic priorities.
MTN Uganda, in partnership with the Makerere University Business School (MUBS) has today unveiled a youth-centered entrepreneurship TV show dubbed Nsindika Njake, aimed at supporting the youth with business-related-skills to efficiently operate businesses. The overarching goal of the show is to inspire and stimulate the entrepreneurship acumen among the youth as one of the ways to alleviate the high youth unemployment rates that are prevalent in the country.
Uganda currently has the second youngest population in the world with over 78% below 30 years. Youth unemployment in Uganda stands at between 64% and 70%, with up to 400,000 young people entering the job market annually for a mere 9,000 jobs.
Based on the above statistics, entrepreneurship remains the most viable way to provide immediate employment and job creation opportunities. Unfortunately, majority of the start-ups don't make it through their second year due to a number of reasons including the lack of entrepreneurial skills.
While launching the Nsindika Njake program in a press conference held today at the MTN Uganda Headquarters in Kampala, Somdev Sen, MTN Uganda's Chief Marketing Officer said that the show would go a long way in addressing the unemployment issue that the youth are currently facing.
"Given the high rate of youth unemployment, many youths have taken the right path of starting small businesses but sadly, majority of them have not had the opportunity to get the skills required to effectively operate a business. We believe that this show will teach them how to navigate the day-to-day challenges that they face in their businesses and set them on a path to becoming better entrepreneurs," Somdev said.
Nsindika Njake is a TV show featuring budding entrepreneurs running small enterprises commonly referred to as 'hustles'. The show targets both the educated or skilled and the unskilled, with the goal of equipping them with the requisite business skills to successfully run their hustles.
The 12 participants (small business owners) of the show will be mentored and trained by the MUBS entrepreneurship and small business center and thereafter engage in solving business-related challenges based on what they will have been taught for a period of 12 weeks.
Dr Diana Nandagire Ntamu, the Director MUBS Entrepreneurship Innovation and Incubation Centre said the Nsindika Njake program is a very unique initiative focusing on both classroom and experiential learning aimed at harnessing the youths' entrepreneurial potential.
"92% of the young people that join the workforce in Uganda go to the informal sector and a lot of them are running SMEs yet they have no experience. As MUBS, we pride in supporting those young people through capacity building and mentorship so I must say that I am very excited to have worked with MTN. While MUBS fosters entrepreneurship, MTN Uganda wants to support young people," she noted.
Dr Ntamu further lauded MTN Uganda for this effort noting that tackling youth unemployment is a collaborative effort.
While the top 3 winners will walk away with assorted cash prizes, the grand winner will get a cash prize of 60 million. The prize money will be issued over a period of one year upon the achievement of key milestones.
The Nsindika Njake Show will air every Wednesday 8.30 pm on local TV stations with a repeat on Sundays at the same time.
Follow the show and tune in to Galaxy FM, Radio Simba, Radio Buddu and CBS2 FM to participate in the Nsindika Njake moment and win instant Mobile Money.