itel, a leading mobile phone brand committed to providing budget-friendly, high quality entry-level devices has partnered with MTN Uganda to accelerate smartphone penetration. This strategic partnership will see itel provide affordable smartphones while MTN avails its best-in-class internet data offers with a common goal of bringing more Ugandans online. itel and MTN officially launched their partnership today in a press conference held at Golden Tulip Hotel in Kampala.
The partnership promises to enhance the value of itel's offers to its customers through making access to the internet more affordable and exciting. MTN will provide a free 3GB monthly data bundle for Itel devices which will latch onto the MTN network, for three months. In addition to the 3GB, all devices will enjoy 100% data bonus on every data bundle purchased for the first 3 months on the MTN network.
'We pay close attention to our consumers' needs, and we try our utmost best to provide products that will satisfy and make life easier to enjoy for them. Our latest product, the itel A58 series, is on par with what our consumers want, and we are sure that they will not be disappointed.' Says Henry Kijjo, itel Uganda's Assistant Brand Manager
To kickstart its partnership with MTN Uganda, itel unveiled their flagship entry level smartphone, the itel A58 which comes with a 6.6" High definition waterdrop full screen, 4000mAh battery, lots of memory space in a sleek beautiful design at a pocket friendly price of Ugx.180,000shs only.
Following the partnership, buyers of this high-quality entry-level device will automatically qualify for the 3GB monthly MTN data for three months as well as 100% data bonus on every MTN data bundle as long as they are connected to MTN.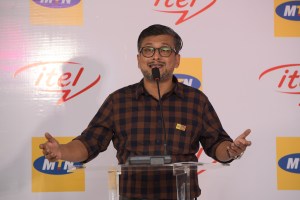 Speaking at the launch of the partnership, Somdev Sen, MTN Uganda's Chief Marketing Officer noted that this partnership further demonstrates MTN's commitment to drive its vision of delivering a bold new digital life to its customers.
"We envisage that by partnering with itel we shall spur digital inclusion through getting more Ugandans online. We believe that getting online and staying connected is helping transform every sector of our society from entrepreneurship to education, health and everything in between," Somdev said, adding that the recent revision of MTN's data pricing will make it easier for more first-time internet users to stay connected more than ever before.
This partnership comes only days after MTN repackaged its daily data bundles to offer customers up to 65% more data at the same existing prices, thus making internet more affordable through giving customers more value for their money. Relatedly, a recent report from a survey carried out by a global telecom monitoring and testing firm, Rohde & Schwarz, in the last quarter of 2021 ranked MTN's data as the best in the country in terms of quality of user experience as well as speed, reliability and coverage.
This partnership is one of the various customer-centric partnerships that MTN has undertaken with a vision of driving digital inclusion through accelerating smartphone penetration.
Established over 10 years ago, itel is an entry level mobile phone brand with a mission to provide budget-friendly mobile communications technology to everyone. It democratizes technology by giving entry to technology and connectedness to consumers without prior access to it, allowing them to get closer and benefit from their social connections. After more than 10 years' development, itel has expanded its presence in more than 50 emerging markets globally.
About itel
Established in 2007 in Hong Kong, itel is an innovative brand that specializes in mobility solutions of creating trendy, affordable and reliable smartphones for everyone. With its brand philosophy "join", "enjoy, the brand has tremendously grown in the cut-throat market, to become a household name in the industry spreading its presence in over 40 countries across the globe. In 2018, "African Business", most influential business magazine on the continent, ranked itel Mobile the 16th Most Admired Brands for African consumers. Its product portfolio comprises smartphones, tablets and feature phones.
About the MTN Uganda
MTN Uganda is a leading telecoms company in Uganda with a primary objective of carrying on the business of a national operator of a telecommunications network pursuant to the NTO license granted by the UCC. Among our offerings are network services, digital and financial technology services, interconnect and roaming, sale of mobile devices and MTN Mobile Money (which is conducted through subsidiary MTN Mobile Money Uganda Limited). MTN has a presence in all 134 districts of Uganda. Our services are delivered through a network of 119,077 Mobile Money agents, 200 service stores and 13 main distributors. At end of June 2021, MTN Uganda had 14.9 million subscribers, 8.6 million MoMo users and 4.7 million active data users. Visit us at www.mtn.co.ug or follow us on
www.youtube.com/mtnug and www.twitter.com/mtnug or www.twitter.com/mtnugpro for assistance.
About the MTN Group
Launched in 1994, the MTN Group is a leading emerging market operator with a clear vision to lead the delivery of a bold new digital world to our 240 million customers in 21 countries in Africa and the Middle East. We are inspired by our belief that everyone deserves the benefits of a modern connected life. The MTN Group is listed on the JSE Securities Exchange in South Africa under the share code "MTN". We are pursuing our Ambition 2021 strategy with a major focus on growth in data, fintech and digital businesses.
For more information, please contact:
MTN Uganda Press Office: mediadesk.ug@mtn.com
Rhona Arinaitwe: Rhona.Arinaitwe@mtn.com or 0772 123 067
Prisca Baike: prisca.baike@tbwa-uganda.com or 0782 654 083

---
Lastest news
MTN MoMoPay Merchant hits 200,000 business customers
Lastest news
Matter concerning fraudulent withdraw of an MTN customer's mobile money at an MTN dealer shop.
Lastest news
MTN Uganda awarded as the fastest mobile network in Uganda
Lastest news
MTN Uganda Announces 5-year Sponsorship for the Uganda Cranes
Lastest news
MTN Uganda ranked Uganda's best network
Lastest news
MTN Uganda embraces the future of Uganda's digitalization journey with a 5G Core network Transformation
Lastest news
New Reduced MTN MoMo Sending Rates
Lastest news
MTN Foundation Launches Youth Economic Empowerment Initiative dubbed MTN ACE
Lastest news
MTN Uganda marks its first anniversary as a publicly listed company