MTN Uganda has injected over five hundred million in the Bwizi Health Center III for the renovation of the general wards and, expansion and equipping of the maternal ward at the health center.
With the construction of the new maternity ward underway, MTN Foundation is holding a corporate build with the key stakeholders in the project.
This project was initiated in February 2020 and will be officially handed over in April 2020 upon its completion.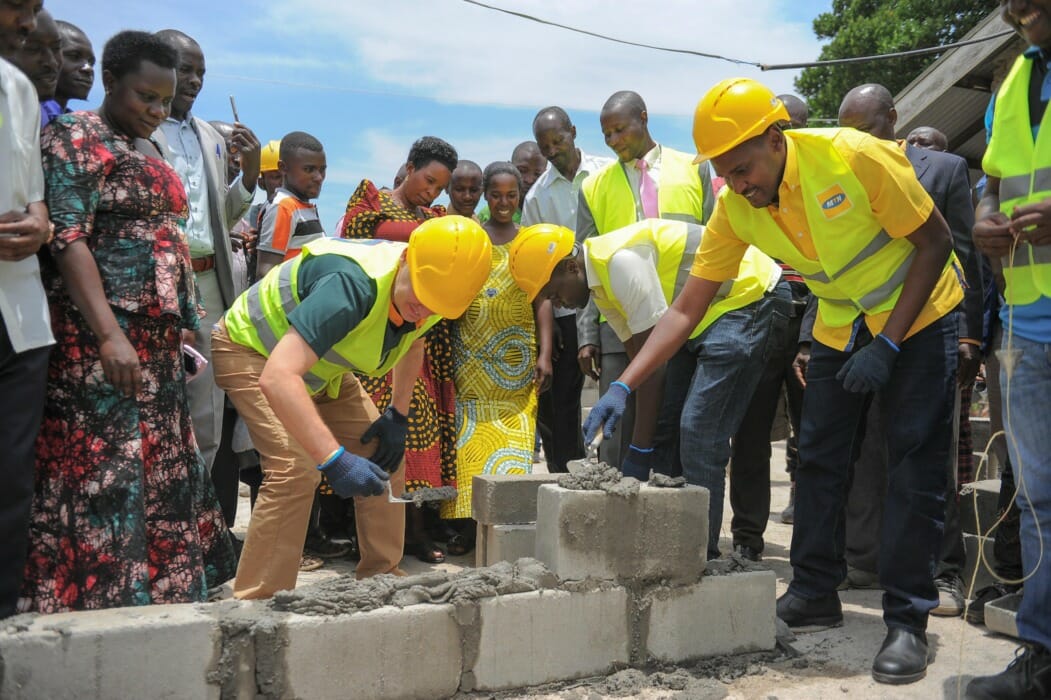 MTN Uganda, through its corporate social responsibility arm, MTN Foundation, has today held a corporate build at Bwizi Health Center III to bring to the attention of the general public and various stakeholders on the plight of maternal mortality rates within the region.
The telecom giant has injected over five hundred million Uganda shillings in the health center to renovate, expand the maternal/ general wards, and improve the sanitary facilities like showers and placenta pit as well as a comprehensive re- equipment of the entire health facility.
With an estimated growth rate of 3.2% per year, the estimate for 2010 was 350,000 people. MTN Uganda noticed a gap that it sought to mend together with its stakeholders to see to it that mothers are availed with a safe environment for child delivery.
MTN Uganda together with Joint Medical Stores, started the project started last month.  With construction currently underway, the project will be officially handed over upon its completion next month.
The health center located in Bwizi sub county serves all the locals in the region however is restrained when it comes to the proper facilities and equipment in place.
Speaking at the corporate build, Mr. Wim Vanhelleputte the MTN Chief Executive Officer, said that MTN Uganda, together with its partners would have chosen to have all hands on deck as they wage a war against poor maternal health services."
"Life is precious and valuable thus each and every mother deserves to give birth under the right conditions in a suitable environment without hindrances that we are in position to improve," said Mr. Vanhelleputte as he reiterated MTN's commitment to supporting maternal health in Uganda as an ongoing, long term project.
Hon. Frank Tumwebaze, the Minister for Gender, Labor and Social development thanked MTN Uganda for its continued support against maternal health not only in Bwizi but Uganda as a whole.
"For the last three years the MTN Marathon has raised funds to support maternal health in Uganda and today we are pleased that the MTN Foundation has delightfully come out to support Bwizi Health Center III," Hon. Tumwebaze said.
He further urged the locals and hospital staff to be good stewards of the equipment, and facilities put in place such that the entire community gets to benefit from the improved health center.
"We have to police each other and hold the other accountable if we are to benefit as a whole from the generosity of MTN Uganda and Joint Medical stores," Honorable Tumwebaze said.
In Uganda the maternal rate as per December 2019 was at 375 deaths/100,000 live births.

---
Lastest news
MTN Launches 2023 Thematic Campaign: "Together, we are unstoppable"
Lastest news
MTN MoMoPay Merchant hits 200,000 business customers
Lastest news
Matter concerning fraudulent withdraw of an MTN customer's mobile money at an MTN dealer shop.
Lastest news
MTN Uganda awarded as the fastest mobile network in Uganda
Lastest news
MTN Uganda Announces 5-year Sponsorship for the Uganda Cranes
Lastest news
MTN Uganda ranked Uganda's best network
Lastest news
MTN Uganda embraces the future of Uganda's digitalization journey with a 5G Core network Transformation
Lastest news
New Reduced MTN MoMo Sending Rates
Lastest news
MTN Foundation Launches Youth Economic Empowerment Initiative dubbed MTN ACE