MTN Uganda has today reinforced its partnership with M-KOPA in a bid to avail 4G smartphones at instalment payment terms, as a way of making them accessible to the people who may not be able to pay for smartphones, upfront. This follows a successful partnership between MTN and M-KOPA last year that enabled the sale of over 70,000 smartphones on M-KOPA's fintech platform, which has financed over 2 million customers across Africa.
Under this partnership, customers can choose from a wide range of up to 11 assorted Samsung and Nokia devices from M-KOPA and finance them for up to one year while enjoying free data from MTN, every day for a year as they use their smartphones. Customers can opt for a daily, weekly, or monthly payment plan for any of the devices they choose to purchase.
While officially launching the MTN and M-KOPA partnership, Ian Mugambe, the MTN Uganda High-Value Segment Marketing Manager said that the partnership is aimed at enabling the public to acquire smartphones in the most financially convenient way that doesn't affect their cashflow.
"With the current digital evolution, a smartphone is more than just a phone. It is an enabler for work, business, education and access to a wealth of information that can help people get ahead in life. However, many people fail to own smartphones due to their high cost of purchase. Therefore, by availing of such a flexible payment solution coupled with free daily data, we believe many more people will now find owning a smartphone much easier." Mugambe said.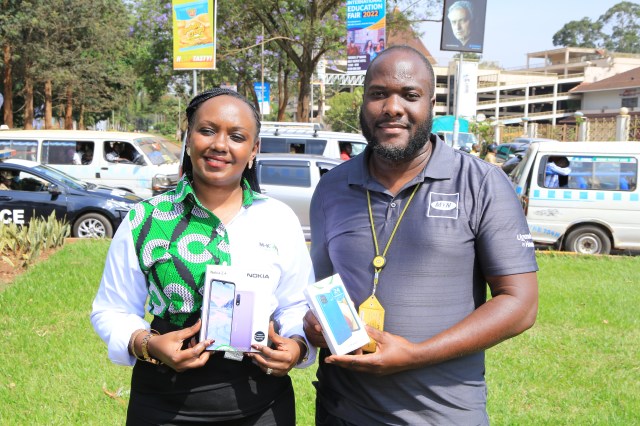 M-KOPA Uganda's spokeswoman, Brendah Nambalirwa, said; "This partnership has already proven to be a successful way to accelerate smartphone penetration and digital inclusion in Uganda. Affordable payment solutions for our customers, who would ordinarily find it difficult to access credit or save large deposits, can now instantly have a 4G smartphone in their hands and connect to the internet for a myriad of services. Many of our customers are doing so for the very first time."
M-KOPA is a fintech platform that provides connected financing and digital financial services to underbanked consumers across Africa. As a financing platform, M-KOPA has provided more than $600 million in credit across multiple products and financial services to its customers. They source their devices straight from the manufacturer, so users are guaranteed a high level of quality for the purchased devices. M-KOPA also operates a robust repair center and offers world-class after-sales services for customers whose gadgets may require after-sales care.
Just like M-KOPA, MTN is keen on availing avenues to her customers to access the best possible device deals in the market today. Therefore, by partnering with M-KOPA, MTN is demonstrating its commitment towards continuing to break the barriers to smartphone penetration in the country, as well as helping customers access the best internet experiences in the land with the world-class devices provided by M-KOPA.
This partnership closely follows MTN's repackaging its daily data bundles to offer customers up to 80% more data at the same existing prices, thus making the internet more affordable by giving customers more value for their money. Relatedly, a recent report from a survey carried out by a global telecom monitoring and testing firm, Rohde & Schwarz, in the last quarter of 2021 ranked MTN's data as the best in the country in terms of quality of user experience as well as speed, reliability and coverage.
This partnership is one of the various customer-centric partnerships that MTN has undertaken with a vision of driving digital inclusion through accelerating smartphone penetration.
About M-KOPA
Founded in 2011, M-KOPA is a fintech platform that provides connected financing and digital financial services to underbanked consumers by leveraging data to combine digital micropayments with the Internet of Things (IoT) technology. With operations in Kenya, Uganda, Nigeria and Ghana, M-KOPA's platform has provided over $600 million in financing that has enabled 2 million customers to access smartphones, solar lighting, solar-powered appliances and digital financial services such as cash loans and health insurance.
About the MTN Uganda
MTN Uganda is a leading telecoms company in Uganda with a primary objective of carrying on the business of a national operator of a telecommunications network pursuant to the NTO license granted by the UCC. Among our offerings are network services, digital and financial technology services, interconnect and roaming, sale of mobile devices and MTN Mobile Money (which is conducted through subsidiary MTN Mobile Money Uganda Limited). MTN has a presence in all 134 districts of Uganda. Our services are delivered through a network of 119,077 Mobile Money agents, 200 service stores and 13 main distributors. At end of June 2021, MTN Uganda had 14.9 million subscribers, 8.6 million MoMo users and 4.7 million active data users. Visit us at www.mtn.co.ug or follow us on
www.youtube.com/mtnug and www.twitter.com/mtnug or www.twitter.com/mtnugpro for assistance.
About the MTN Group
Launched in 1994, the MTN Group is a leading emerging market operator with a clear vision to lead the delivery of a bold new digital world to our 240 million customers in 21 countries in Africa and the Middle East. We are inspired by our belief that everyone deserves the benefits of a modern connected life. The MTN Group is listed on the JSE Securities Exchange in South Africa under the share code "MTN". We are pursuing our Ambition 2021 strategy with a major focus on growth in data, fintech and digital businesses.
For more information, please contact: 
MTN Uganda Press Office: mediadesk.ug@mtn.com
Rhona Arinaitwe: Rhona.Arinaitwe@mtn.com or 0772 123 067
Prisca Baike: prisca.baike@tbwa-uganda.com or 0782 654 083

---
Lastest news
MTN Uganda's New CEO, Sylvia Mulinge Assumes Office
Lastest news
MTN Uganda Launches Bicycle Races in Ker Kwaro Acholi 
Lastest news
MTN Pulse Hip Hop Cypher Winners release debut group Song "Bikaaye" with Swangz Avenue
Lastest news
MTN-Bunyoro bicycle race competitions attract 60 participants in Kibaale district.
Lastest news
Nebbi and Zombo districts Shine at the MTN Ker Alur Bicycle Races Finale
Lastest news
MTN MoMo Hackathon Delivers Top Innovations to accelerate financial inclusion in Uganda
Lastest news
MTN Uganda and Enabel handover new ICT laboratory 
Lastest news
MTN Uganda Launches "Obugaali Bwa Masaza" in Busoga Kingdom
Lastest news
MTN Uganda Launches "Obugaali Bwa Masaza" in Busoga Kingdom
Lastest news
MTN Uganda joins the league of Africa's Top 250 Companies