The bicycle races are competitive engagement between the 9 counties (Masaza) that make up the kingdom of Tooro

Launched by the Omukama H.R.H Oyo Nyimba Kabamba Iguru Rukidi IV, the preliminary races will take place in each county to select riders who will represent their counties in the finale on Saturday 3

rd

September 2022
The "Obugaali bwa Masaza" is part of activities leading up to this Empango celebrations, marking the 27

th

coronation anniversary of H.R.H the Omukama of Tooro
This is part of activities contained in a cooperation agreement signed between MTN Uganda and the Kingdom of Tooro, back in 2019.
MTN Uganda in partnership with Tooro Kingdom has today launched the inter-county bicycle racing competition that will be competed for by the 9 counties (Masaza) of Tooro. The launch took place at the Tooro Kingdom administrative headquarters in Muchwa, Fort portal where the bicycle racing kit was unveiled to the public ahead of the competitions.
This bicycle racing competition comes barely three months after the kingdom concluded a two-month-long MTN-sponsored football tournament dubbed the Tooro Masaza cup that engaged all 9 counties of Tooro Kingdom.
Dubbed the Obugaali bwa Masaza, the bicycle racing is a precursor to the 2022 Empango celebrations, marking the 27th coronation anniversary of H.R.H the Omukama of Tooro. 
Speaking at the launch of the bicycle races, Andrew Tusubira, MTN Uganda's Western Region Business Manager confirmed that the races shall kick off on 22nd July 2022 in Kyaka county until 21st August leading to the finals that shall take place on the 3rd of September, during the Empango celebrations week. 
Tusubira further noted that MTN was proud to be a partner of Tooro Kingdom, with which the company had a successful Masaza football engagement early this year.
"As MTN, we are strongly grounded in the belief that we are good together. We only succeed if the communities in which we operate succeed. Being a partner in development also means that we have a responsibility to support the social-economic opportunities in our communities," said Tusubira.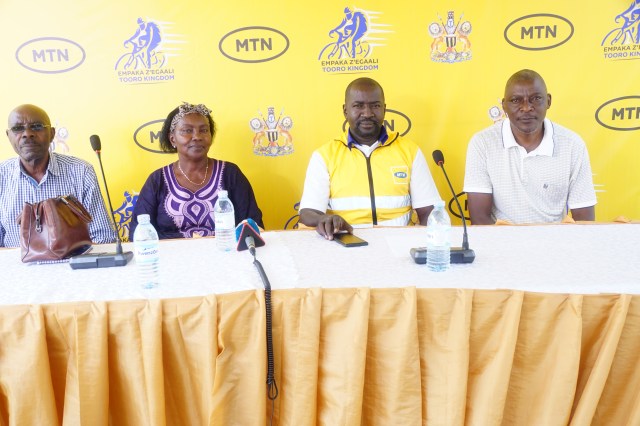 Besides being a socially entertaining sport, cycling confers unique health benefits like improved strength, balance, and coordination, making it a great sport.
Rt. Hon Bernard Tungakwo, the Prime Minister of Tooro Kingdom thanked MTN Uganda for taking such a beneficial social activity to the people of Tooro Kingdom and for recognizing the value that cultural institutions offer to their subjects.
"These bicycle races will surely foster unity in social development and growth for our people, especially the youth, just like the Tooro Masaza Cup did. We are indeed honored to partake in this project with our loyal friends from MTN Uganda," said Tungakwo. 
Each of the 9 Kingdoms of Tooro shall hold county-level competitions to identify 10 outstanding cyclists; 5 riding sports bicycles and 5 riding ordinary bicycles to compete in the final races on 3rd September. The finals shall be presided over by the King of Tooro, His Royal Highness King Oyo Nyimba Kabamba Iguru Rukidi IV.
While celebrating its 20th anniversary in Uganda, MTN organized bicycle races across Uganda in the districts of Arua, Gulu, Lira, Kabale, Mbarara, Fort Portal, Hoima and Mbale. The races were warmly welcomed as participants rode from neighboring districts to take part in the races, a great indication of the love for the sport in the country.
Apart from Tooro Kingdom, MTN Uganda has partnered with other cultural institutions namely; Bunyoro, Ker Alur, Ker Kwaro (Acholi), and Busoga Kingdom whose ongoing Masaza Cup is majorly sponsored by MTN Uganda. These partnerships seek to uplift the socio-economic, and cultural wellbeing of the subjects of the respective kingdoms through supporting health, education, and sports initiatives in the kingdoms. This is based on the premise that cultural institutions play a pivotal role in the maintenance, revitalization, and documentation of peoples' cultural heritage as well as in facilitating their subjects' social-economic wellbeing, interaction, and engagement. 

---
Lastest news
MTN Uganda's New CEO, Sylvia Mulinge Assumes Office
Lastest news
MTN Uganda Launches Bicycle Races in Ker Kwaro Acholi 
Lastest news
MTN Pulse Hip Hop Cypher Winners release debut group Song "Bikaaye" with Swangz Avenue
Lastest news
MTN-Bunyoro bicycle race competitions attract 60 participants in Kibaale district.
Lastest news
Nebbi and Zombo districts Shine at the MTN Ker Alur Bicycle Races Finale
Lastest news
MTN MoMo Hackathon Delivers Top Innovations to accelerate financial inclusion in Uganda
Lastest news
MTN Uganda and Enabel handover new ICT laboratory 
Lastest news
MTN Uganda Launches "Obugaali Bwa Masaza" in Busoga Kingdom
Lastest news
MTN Uganda Launches "Obugaali Bwa Masaza" in Busoga Kingdom
Lastest news
MTN Uganda joins the league of Africa's Top 250 Companies