The tests were conducted by Rohdes & Schwarz, using the ITU/ETSI standards and methodology.
MTN Uganda has been recognized by Rohde & Schwarz, with "Highest Network Performance Score" for its data and voice services.
The award was officially presented to the Chief Executive Officer (CEO), MTN Uganda – Mr. Wim Vanhelleputte at the company's offices in Kololo, Nyonyi Gardens on Tuesday, 18 February 2020 by Shakil Ahmed, Director Africa together with Paul Mwangi, Manager Mobile Network Testing, Rohde Schwarz.
Rohde & Schwarz bestowed this award on MTN Uganda following tests conducted on ground in Uganda, during the 3rd quarter of 2019, and within the framework of a study that involved extensive tests of voice calls and internet speed evaluations across over 8500km around the country as well as static tests in hot spots.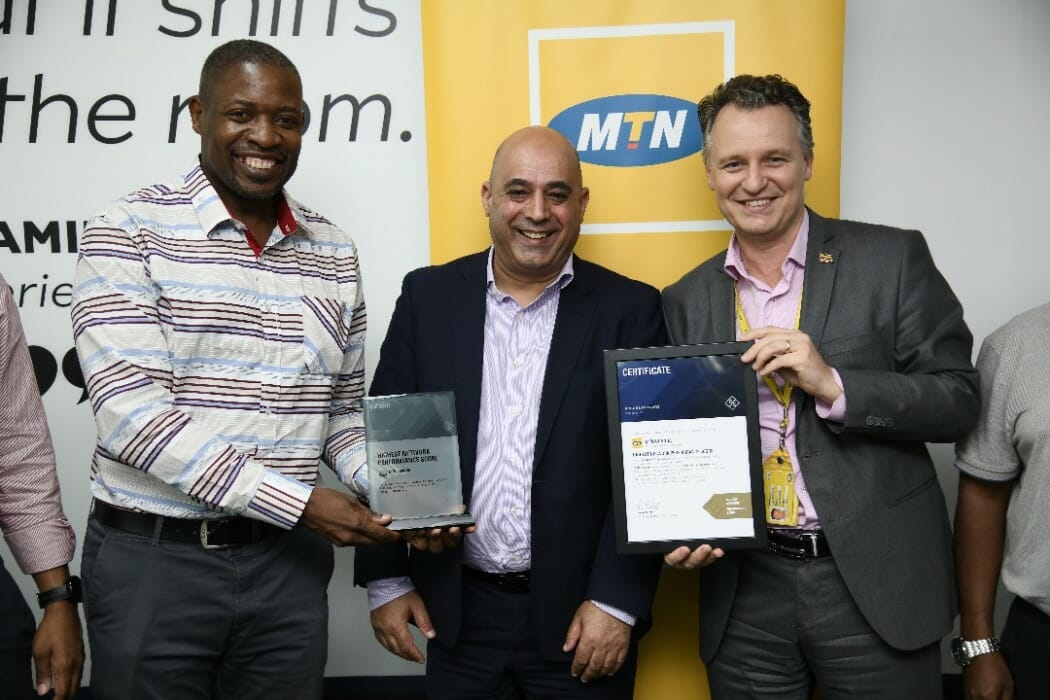 These independently conducted network quality and performance tests were done on the networks of all mobile operators in Uganda and benchmarked against leading European mobile telephone operators using the network performance scoring methodology of European Telecommunications Standards Institute (ETSI) TR 103 559 S.
Rohde & Schwarz is a renown international organization that specializes in auditing 2G, 3G, 4G and 5G performance of mobile networks across the globe using the International Telecommunication Union (ITU)/ETSI standards and methodology.
"The award justifies MTN's commitment over the years to continuously invest in a wide and quality network.", said Mr. Vanhelleputte.
"The advantage of using this global standard of measurement (is that), it challenges us to not only be the best in Uganda but also benchmark ourselves against leading networks across the world. Our consistent investment in the network over the years is getting us ever closer to the 'best in class' global networks.", he further noted.
MTN's network had the highest aggregated voice performance score across major towns and on highways. This specifically with regard to placement and quality of calls. In addition, MTN Uganda also registered the highest aggregated data performance score in relation to quality of videos and ability to stream.
Being the market leader with more than 13 million customers, MTN Uganda has made it a strategic priority to deliver and maintain a positive experience for customers using our network.
Commenting on the subject, MTN Uganda Ag. Chief Technical Officer (CTO), Mr. Samuel Sentongo said, "MTN Uganda's innovation agenda requires that we constantly invest, upgrade and maintain a robust network, one that can optimally carry and sustain both voice and data traffic as well as the rapidly growing mobile financial services portfolio".
MTN has over the years embarked on an aggressive dual data strategy, through which the company is not only heavily investing in the network but also signing-up various partnerships with device manufacturers and other related service providers to put in the market affordable data enabled devices. "At MTN, we believe everyone deserves the benefits of a modern connected life. That explains our commitment to put communication and access to the internet in the hands of every Ugandan while maintaining a network that has both the reach and quality to sustain positive customer experiences," concluded the CEO.
In January 2020, MTN Uganda became the first operator in East Africa and the third in Africa to showcase the 5G network to its customers, after MTN South Africa and MTN Nigeria last year. The use case trials demonstrated the capability of 5G, giving customers a glimpse of the benefits, this future technology will deliver.
Ends.
About MTN Uganda
Launched in 1998, MTN Uganda is the leading communications operator in Uganda, offering Mobile and Fixed telecommunications, Mobile Money Services and Internet Service Provisioning. As at 31st December 2018, MTN Uganda recorded 11.2 million subscribers across Uganda. Visit us at www.mtn.co.ug or follow us on
www.youtube.com/mtnug and www.twitter.com/mtnug or www.twitter.com/mtnugpro
for assistance.
About the MTN Group
Launched in 1994, the MTN Group is a leading emerging market operator with a clear vision to lead the delivery of a bold new digital world to our 240 million customers in 21 countries in Africa and the Middle East. We are inspired by our belief that everyone deserves the benefits of a modern connected life. The MTN Group is listed on the JSE Securities Exchange in South Africa under the share code "MTN". We are pursuing our BRIGHT strategy with a major focus on growth in data, fintech and digital businesses.
For more information, please contact:
The mediadesk.ug@mtn.com or 077 212 1372 or
Emmy Olaki at emmy.olaki@tbwa-uganda.com or 078 260 5997