There is a high number of youth skilling programs today but very little or no information is known about the impact they have actually created.
Among the most recently launched is the MTN Foundation Youth Skilling program. The program funded by MTN Foundation, the charity arm of MTN Uganda and implemented by Ubunifu Systems was created with the aim of empowering youth to become job creators. The program also sought to boost innovation with the aim of solving challenges in society.
Following the recently concluded inaugural graduation ceremony where 60 youth were empowered with technical and digital business skills, MTN and Ubunifu systems organized a webinar deciphering ways in which organizations can track the impact of youth skilling programs. The webinar also spoke to how youth can implement the learnings from the programs.
Speaking during the webinar, the guest speaker, Edmund Walusimbi , founder of The Secret Initiative, a youth motivational program and campus ambassador of Startup Africa, advised youth to only learn what they intend to use.
Plan-Do-Check-Act (PDCA)
He urged the youth to utilize the PDCA management formula which involves planning, doing, checking and acting.
"You plan a process and execute the process. As you do that, you notice areas that need improvement, garnering feedback, interact with customers and that ushers you into the checking stage to analyze what works and what does not. The final stage is acting upon the information you have received. This now needs to become a vicious circle because it will help improve your personal and business brand," he said.
Irene Nandyose, a co-founder of Candid crafts, a business that provides market for artisans and alumni of the MTN Foundation Youth Skilling program also has an individual business knitting and crocheting. The young lady says she has gained a lot from the MTN Foundation Youth Skilling program to the benefit of her crocheting venture.
"Personally I have seen changes in the projects I am involved in. In the beginning, I had a low stock turnover due to high pricing. After the training, I picked lessons from entrepreneurship, marketing and product development training to research, engage and interact with my customers which has since boosted my sales," she narrates.
Organisations
Speaking to organisations, Walusimbi said it is important to ensure that they have key performance indicators for the trainees undertaking the program.
"It is important to identify key performance indicators. They are a form of performance measurement used for tracking impact of organisations. These can be tailored around the roles or vision of the organization for example a digital skills training center can be assessed through the ability for people to create websites and online advertising campaigns," he explained adding that it is important to ensure the indicator is reliable and relevant.
Evaluation of the trainees is also important. Walusimbi explained that organisations can utilize online forms to assess the qualitative and quantitative data about the impact of the program.
"Some of the tips on creating smart evaluation forms include: mostly using specific objective questions during the assessment. Make the form short and concise to fill, highlight anonymity as people love secrecy when it comes to giving honest feedback," he notes.
It is also very important to explain to the trainees the vitality of honest feedback for improvement of the training programs.
There are also simple software programs that can be used to make the smart evaluation forms for instance Google forms, Microsoft forms and Air table.
Walusimbi also advised to create a community of the trainees (alumni) with the goal of building sustainability of the empowerment.
An alumni, he said will create an accommodating environment for the youth to bond and freely share ideas for growth.
"Recognize the fact that everyone grows at different paces to give room for the members to grow at ease. It is also important to document the achievements of the members to create proof of the impact," he tipped organisations.
Nelson Munyanda, a manager at MTN Foundation in charge of youth empowerment said the Foundation is glad to have witnessed positive results from the trainees such as Nandyose noting that MTN is keen to see results and commits to create a sustainable and successful skilling program to reduce unemployment among the youth.
Before 2018, Busiu Health Centre IV in Mbale district received about 60 women delivering at the facility every month.
The health center which at the time had very limited beds tried to house the mothers for at least 24 hours for purposes of medical review in vain.
"Initially we would tell the mother to stay around for 24 hours but when there was no room for the mother to sleep, she would go away," Dr. Maumbe Bernard the in-charge of Busiu Health Centre IV narrates.
The early departure of the mothers from the health center was one of the reasons why some of the newly born babies died soon after. About 3 babies were dying in a period of three months.
Today, child mortality at the health center is near extinguished. According to Dr. Maumbe, the health center now goes three months without recording any deaths.
These results are a culmination of combined efforts by the hospital and MTN Uganda.
MTN in the evening of 2018 donated beds and blankets to the health center which have since enabled more pregnant women seek maternity health care services.
The beds have allowed women stay over for a longer period enabling medical review of the mother and baby.
"Before we would have around 60 deliveries and now over a month, an average of 120 mothers are delivering from here but some months peak to 200. Antenatal visits are about 80 to 100," he explains adding that hospital efforts of availing medicine have also played a key role in this outcome.
The telecom company also renovated the maternity ward which Dr Maumbe says has contributed to encouraging mothers to visit the health centre to seek proper medical antenatal services
In fact, the impact is far-reaching as Busiu health center IV has now graduated to become a referral station for women in neighboring towns of Butaleja and Manafwa.
Kyenjojo hospital tells the same tale. The hospital received 30 beds and 30 mattresses from MTN which were installed in the general ward. Charles Tusiime, the health officer of Kyenjojo district says these beds have been very instrumental in delivering treatment to the people from the western district.
"The impact much as patients may not know is great. One bed can be used by so many people. In a month you find one bed has served about 5 to 10 people with bed occupancy of about 3 days," he said.
As he recounts, the hospital in the past would times get overwhelmed by the numbers which would force some of the patients to sleep on the floor, a situation they described as floor cases.
Tusiime says the hospital no longer has floor cases in its general ward because of the MTN intervention.
The intervention has also reduced the burden for the hospital allowing it to focus on other aspects in regards to its budget and procurement.
"What we would have been using for procurement of beds has been diverted to construction of 2 emptiable pit latrines which have addressed the costs associated with the hospital's sewerage system" he says.
MTN under the UGX400m access to health care initiative supported health centres and hospitals through refurbishing of maternity wards and donation of beddings such as blankets, mosquito nets, mattresses and beds.
Similarly, some of the health centres received solar lighting equipment and had their entire water system connected.
A total of 8 health centres and 5 hospitals across the country were supported.
Wim Vanhelleputte, MTN Uganda Chief executive officer lauded the hospitals and health centre staff saying MTN is pleased with the impact they have managed to drive in the community.
"I am very delighted to see the ripple effect of the donation. It makes us at MTN very happy to see lives of many people impacted and for that I would like to thank the medical staff making this happen. As MTN, we shall constantly seek to find ways of transforming lives of Ugandans," he appreciated.
"Within an average of four hours, a non-refrigerated vaccine becomes ineffective," Amos Asiku, the facility in charge at Bidibidi health centre III in Northern Uganda says.
Incidences of vaccines getting destroyed due to lack of refrigeration were common at the health centre which has been operational since 2016.
The health centre at the time had gas powered fridges with multiple mechanical faults causing breakdowns every so often, putting the vaccines at risk of getting destroyed. In addition, refilling of the gas in the fridge was strenuous since it was done from a distant area lasting multiple days.
"It had frequent breakdowns and when it went off, the faster you acted, the better, because the fridge would no longer be regulated, the vaccines would go bad which I termed as wasted because it can no longer be used,"Asiku recounts.
In the event of a break down, Bidibidi health centre III would move all the vaccines to a nearby government hospital for refrigeration which affected operation at the health centre in addition to time wastage.
The vaccine storage challenge affected about 150 people that visit the health centre on a daily basis including women and mothers in search for polio and early immunization vaccines.
In a twist of events, the hurdles became a story of the past after MTN in partnership with United Nations High Commissioner for Refugees (UNHCR) donated a solar powered fridge which would later become the salvation to a pandemic in the refugee settlement.
"MTN gave us a solar powered vaccine fridge that is able to run for 24 hours. It makes the antigens available for patients meaning they are able to access them at any time," he says.
Some of the vaccines housed at the hospital include polio, HPV and most recently covid-19.
According to Asiku, the fridge has been very critical in safe keeping of the covid-19 vaccines which were received in May and have been administered in accordance with ministry of health guidelines.
"Covid-19 vaccines are also maintained on cold chain so we were able to maintain them under cold conditions to keep them safe until such a time when people wanted to take the vaccine," he said.
As covid-19 cases rise in the country, the health centre is a medical relief to South Sudanese refugees and most recently Congolese refugees along with the area host community.
Bidibidi is only one of 10 health centres that were in dire need of refrigerators for vaccine preservation. In partnership with UNHCR, MTN handed over 10 solar fridges worth Shs600m to Odupi Health Centre III, Imvepi Refugee Settlement, .Swinga Health Centre II, Bidibidi Refugee Settlement.
Others included; Bangatuti Health Centre III, .Idiwa Health Centre III, Palorinya Refugee Settlement, PaludaHealth Centre II, Nakivale Refugee Settlement and Rulongo health centre II among others.
Rulongo health centre II in Isingiro is the converging area for refugees from Rwanda, Congo and Burundi. Like Bidibidi, Rulongo has greatly benefitted from the fridge especially during the pandemic.
"The problem we commonly get with vaccines is storage but this fridge is on 24 hours so you immunize and vaccinate clients at any time. For example we have already vaccinated people from covid-19," Juliet Tuhirirwe, a midwife at Rulongo health centre 2 said.
Additionally, the fridges provided large space allowing for more doses of vaccines to be stored.
Speaking days after commemoration of the world refugee day, Conrad Olowo, Project Manager, MTN Foundation says MTN has over the years dedicated a lot of support to all communities including refugees in Uganda.
"We are glad to have played a critical role in strengthening the fight against covid-19. MTN through its operations also ensures to contribute to the fight against the virus through streamlining communication and financial services through mobile money," he said.
He was reiterated by Wendy Daphne Kasujja the assistant Reporting Officer, External Engagement, UNHCR who affirmed that MTN has supported the refugees in Uganda and host communities with a focus on the health sector.
"Through their donation of medical fridges and construction of a full maternity ward in Palorinya refugee settlement, MTN has helped in ensuring that children get immunized, and contributed to the improvement of maternal and child health. The support received is not limited to refugees alone but includes the host communities in which they live, since refugees access the same government health facilities as the nationals," she says.
UNHCR urged the private sector to support the refugee response in Uganda; a home to 1.5 million refugees and asylum-seekers.
"An expectant mother in Buvuma hoped for a normal and safe delivery just like any other woman on earth. But for women in Buvuma, it was a matter of life or death. The health centre three on the island surrounded by water can only handle ordinary deliveries. In case of C-sections, the expectant mother would need to be ferried to Kiyindi town council, where she can be operated on. But the only ferry available rides on a schedule; three times a day," former mayor kiyindi town council Dickson Kasujja Kabuye reminisces.
The Kiyindi-Buvuma route currently has one ferry that carries 120 passengers and 8 cars, making three trips each day between Kiyindi landing site in Buikwe district and Kirongo landing site in Buvuma district.
Essentially, there was no emergency medical relief for an expectant mother in need of operation on Buvuma Island.
It all changed in June last year when MTN donated an emergency ambulance water boat to Kiyindi.
The 15 Seater state-of-the-art water rescue vessel would be used to respond to water transport and health emergencies in Buvuma and Buikwe districts among other areas served by the Kiyindi landing site.
The modern water emergency rescue vessel made by Fisheries Training Institute, Entebbe and licensed by Ministry of Works and Transport was worth Ush 52 Million made of fibre glass, enveloped by a waterproof canopy and cushion seats.
It has a Yamaha outboard engine DT 40, anchor, 2 oars, fire extinguisher, 5 lifeguards, first aid box and patient stretcher.
According to Kabuye, the boat has been very useful in transporting patients from Buvuma to access medical services from Buikwe district.
"Almost 50 per cent of the people living in Buvuma are from Buikwe district so the boat helps us to transport them from Buvuma to the main island of Buikwe so it is very useful to us," he says.
He goes on to narrate; "Previously, there was no way you could transport an expectant mother to Buikwe district because you had to wait for a ferry which moves in shifts. Now it is very easy to transport because this boat runs so fast," he says.
The boat, Kabuye says takes about 30 minutes to move from Buvuma district to Buikwe mainland in Kiyindi for medical care.
The boat was also very essential during the days of lockdown during which covid-19 patients were transported from Buvuma to Buikwe for medical health care.
"We got about 3-5 COVID-19 patients from Buvuma so it would go and pick them and finds the motor ambulance stationed in Kiyindi," he says.
Fishermen deaths mitigated
The tales were not unique to the town council. Fishermen live to hail the ambulance which has saved lives of many on the lake.
Paul Jumba, leader of fishermen in Kiyindi mans the emergency boat along with 2 others.  He narrates that on his many rides called upon by the town folk, he has saved many people from drowning.
"I have saved some people we have found drowning using our first aid kit," he says.
But the commonest occurrence is the exhaustion of fuel in water boats on the lake.
"Since there is no petrol station on the lake, we run to the rescue of the fishermen on the lake," he says.
Jumba also reveals that the boat has transported district officials around the islands to sensitise different members of the public on how to maintain standards of operation such as wearing masks and washing hands.
The donation of the emergency boat followed a request from the fishing community last year when MTN Uganda staff visited Kiyindi landing site to launch their annual staff voluntary program dubbed "21 days of y'ello care".
Mr Patrick Tusiime, the regional commercial head said MTN is proud to have contributed to the safeguarding of lives around the islands only accessible through water.
"We appreciate the work accomplished by the team manning the boat. MTN prioritizes lives of the people we serve and we are glad that the boat is saving and helping many people in the region," he also noted.
For close to two years, Doreen Ataro lived with a bent leg painted with burn bruises from a fire accident.
At only one and a half years of age, the young girl fell in a pool of fire where she was playing and sustained injuries to her left leg.
As the father Denis Oroto narrates, Ataro's accident caused his daughter so much pain.
"Her left leg was burnt by the fire causing it to curve to a certain extent. She couldn't move or shower herself. The mother had to feed and shower her," he recounts.
But it was not only the physical turmoil that foiled the family. Ataro's accident also took a toll on the father's finances.
Oroto has spent nearly Ushs500,000 in an effort to treat the daughter and have her leg restored to normal.
However, his effort was all in vain as the health centres in Kaberamaido were unable to treat Ataro despite multiple trials.
It was not until Pius Ekiro, a community mobiliser in the town, notified Oroto of a hospital in Entebbe that could treat his daughter and the transport was catered for.
"Pius Ekiro told me about Corsu and told me they were also providing transport to and from the hospital in Entebbe," he says.
On arrival, the young girl was given medical care at no cost.
Around the same time at the same hospital in Entebbe was a young Vivian Achola wrapped in the arms of her uncle, 26 year old Alex Owume.
Unlike Ataro, Achola could walk albeit with a limitation. Achola had had rickets for all her life.
The young orphaned girl who spent the majority of the  time living with her grandfather was at the hospital to correct the disability.
Her surgery was also to be done for free.
Doreen Ataro and Vivian Achola were one of the lucky beneficiaries under the MTN Uganda partnership with Corsu rehabilitation hospital.
During the one year partnership, MTN Uganda sponsored corrective surgery for over 80 children and youth worth about Ushs 184million.
Wim Vanhelleputte, the MTN Uganda chief executive officer says "MTN prides itself in improving the lives of Ugandans. Children and youth are the bedrock of society since they not only bring joy to our lives but also make up a big fraction of the productive economy."
According to Oroto, his daughter now walks, runs and even plays.
"Before bringing her to Corsu hospital, she couldn't walk. But now, Ataro can run and play. In fact, now the mother doesn't need to take care of her like before," he testifies.
Denis Oroto who practices agriculture to make ends meet says that the wife, Sarah Aponye can now help him at the farm since she is no longer preoccupied with taking care of their daughter.
"Now the mother comes to dig and help me at the farm because Ataro stays playing with her friends," he says.
Meanwhile, Achola's uncle,Owume, a resident of Aduku Town in Kwania district has now shifted concern from his ten year old niece's health to her education as the former is now a problem of the past.
"She is now walking very well. She is now okay and we want her to start school so we are searching for funds to take her to school," he notes.
He appreciated MTN for its effort in ensuring his niece's life was back to normal.
Established in 2009, CoRSU is a private, non-profit, non-governmental organization in Uganda mandated to mitigate disability and provide rehabilitative services.
It's been over a year since the emergence of covid-19 in Uganda which tested the fortitude of many of the country's structures, the health sector the most.
Around the steep slopes and hills of Kabale district, news of the virus outbreak broke at Kabale regional referral hospital.
According to ministry of health, Kabale Regional Referral Hospital is a 280 bed hospital located in Kabale Municipality in Southwestern Uganda, approximately 426 Kilometers from Kampala.
The hospital serves a population of about 2 million people in the districts of Kabale, Kisoro, Rukungiri, Kanungu and some parts of Ntungamo as well as people from neighboring countries of Rwanda and the Democratic Republic of Congo.
But for two weeks, the very important and strategic referral hospital was closed off to other patients due to the news of the covid-19 outbreak at the facility.
Patients with other diseases were forced to look for alternatives in the town for survival.
A few kilometres away from the referral hospital sits Kamukira health centre IV, a once incomplete deserted building blossomed into a storied building canopied by red iron sheets.
It was in Kamukira health centre IV that the stranded patients found solace. Kamukira health center IV serves a catchment population of 8,778 but receives about 4000 patients both in and outpatients on a monthly basis.
The hospital according to the facility in charge had to step up and take up majority of the patients suffering from other diseases which it handled successfully thanks to its structure and facilities.
Inpatient admissions
The story would have been different back in 2016 when Kamukira did not have the ability to admit patients, with the exception of the maternity ward.
Most in-patients used to be referred to other facilities.
"Patients used to fear since the facility did not have the capacity to admit," Paddy Mwesigye, the facility in-charge narrated.
A new dawn
However, in 2019, MTN through the MTN Foundation funded the completion of outstanding building works, electricity installations, plumbing installations and finishing.
According to Mwesigye, the completion of the main in-patient structure by MTN Uganda Foundation has solved issues of low turn-up and enabled them treat and admit patients during the lockdown.
Because of the presence of an inpatient structure, there is now an increase in inpatient admissions which has led to reduced decongestion of Kabale regional referral hospital.
Surgery
MTN also went on to acquire a generator, beddings including: 20 mattresses, 20 metallic beds, 20 mosquito nets and 20 Blankets which have enabled the health centre carry out operations in the theatre.
"The wards did not have a water system in place. MTN Uganda Foundation put flashing water in all those toilets and wash facilities," he further explains.
The community in Kabale district lauds MTN and is "very appreciative and beyond grateful" as they are enjoying a neat and conducive environment at the hospital.
The MTN Uganda Foundation, together with Fenix International Uganda as an implementing partner are set to light up other 56 schools with 200 kits in 24 districts under their "Light up A Village Project".
Under this project, the MTN Foundation has donated an overall total of 560 solar kits worth 380 million. Fenix International Uganda will install and maintain the kits.
Acute power shortages even when connected to the national grid is the biggest challenge that students face especially when they have to study at night.
The MTN Uganda Foundation in partnership with Fenix International Uganda are set to light up more schools in an ongoing project dubbed "Light up a village". With an extra donation of 190 solar kits, 56 schools from 24 districts will have light and power to facilitate proper learning outcomes by increasing reading time, secure learning environment especially in the night as well as supporting teachers' preparation for lessons.
The Light up A Village project has so far donated over 560 solar kits across several schools in various districts in Uganda. Health centers and settlement camps have also benefitted from the same project.
Implemented in partnership with Fenix International Uganda, a next-generation energy and technology company whose mission is to improve the quality of life of customers through inclusive energy, the project is in partial fulfilment of MTN's vision of brightening lives across all the communities within which it operates.
Speaking at the handover of the kits today, The MTN Uganda Chief Executive Officer noted that: "With the availability of solar power, students can now have extended learning times and teachers can put in more preparation time which will at least try to level the ground with learners and teachers in urban areas that have easy access," Vanhelleputte said.
He further noted that by providing solar lighting, It will provide a safe learning environment for the learners and hopefully this will encourage enrollment.
The project worth 380 million kicked off in late 2019 and has so far seen installations of solar equipment in off-grid regions like Buvuma Island where schools and health centers were lit up to improve education and health care services in the area. Still in 2019, the MTN Foundation donated and installed 100 solar kits in the Bunambutye resettlement camp in Bulambuli district while another batch of solar kits were donated to several schools in Kamuli district.
Other districts that have benefitted from this project include; Apac, Pader, Adjumani, Lira, Nwoya, Yumbe in Northern Uganda, Kanungu, Kabale, Sheema, Rukungiri, Kiruhura, Kamwenge, Kabarole, Kibale, Kyegegwa, Kyenjojo, Kyotera, Rakai, Luwero, Masaka as well as Bududa, Bugweri, Bukwo and Iganga.
As several learners and teachers are looking forward to having schools reopen, the acute power shortages despite being connected to the national grid is still one of the biggest challenges most schools face countrywide. This has affected performance of school children since revision time is hampered each time there is no electricity. Therefore by providing solar lighting, learners can be able to read for longer as they recover the study time they lost in the previous year 2020. Over 45,000 learners will benefit from this project.
The MTN Foundation has undertaken to support a number of government initiatives in the education sector. MTN Foundation has been building and rehabilitating schools in various parts of Uganda in partnership with PEAS. MTN Foundation has also been extending ICT skills to learning institutions through setting up fully functional ICT laboratories. The Telecom has also extended computer literacy to rural schools through MTN ICT bus. The bus is fully equipped with ICT facilities with which the children and given basic ICT training.
The donation of the Water Ambulance is part of MTN's initiative to improve livelihood of the community they operate through initiatives that focus on health.
The 52 Million -15-Seater state-of-the-art water vessel will be used to respond to patient referrals and other emergencies between Buikwe and Buvuma districts
 Buikwe District, Central Uganda: MTN Uganda has through its Corporate Social Responsibility arm, the MTN Foundation, donated an Ambulance and emergency response boat to Kiyindi landing site in a bid to improve emergency response amidst the current health crises caused by Covid-19.
The 15 Seater state-of-the-art water rescue vessel will be used to respond to water transport and health emergencies in Buvuma and Buikwe districts among other areas served by the Kiyindi landing site.
The donation of the emergency boat follows a request from the fishing community last year when MTN Uganda staff visited Kiyindi landing site to launch their annual staff voluntary program dubbed "21 days of y'ello care". The activities carried out that day included refurbishment of the Makonge health center, donation of four full sets of computers with internet connectivity and community cleaning.
The Kiyindi community requested for support to enhance water safety and emergency response. To that effect, MTN Uganda donated 100 life jackets and pledged a 15-seater water rescue boat. It is to serve as a rescue boat and also respond to medical referral cases in the area.
The modern water emergency rescue vessel worth Ush 52 Million is made of fibre glass, provided with a waterproof canopy and cushion seats. It has a Yamaha outboard engine DT 40, anchor, 2 oars, fire extinguisher, 5 life buoys, first aid box and patient stretcher. It was made by Fisheries Training Institute, Entebbe and licensed by Ministry of Works and Transport.
While handing over the emergency rescue boat at an event held at the Kiyindi landing site, Mr Patrick Tusiime, the Regional commercial head expressed his concerns about health emergencies and water safety in the area and MTN Uganda's commitment towards reaching out to the communities within which they operate.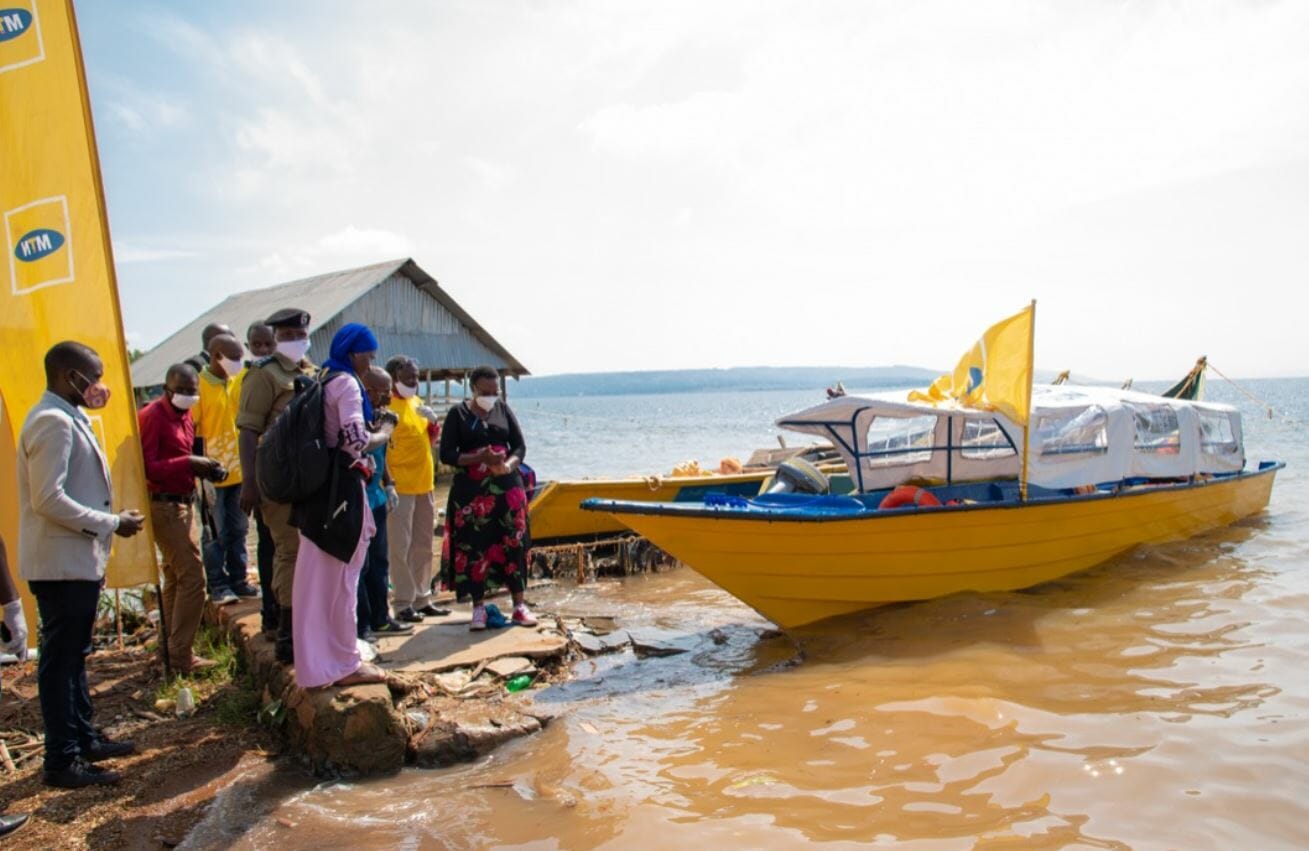 "We understand that water transport is the only way people in this area can access the islands and the main land and this comes with challenges. As MTN Uganda, we have honored our pledge of providing the residents of this area with an emergency rescue boat," Mr  Tusiime said, adding that the boat will help respond to emergency health referral cases in the areas served by the Kiyindi landing site.
The Kiyindi-Buvuma route currently has one ferry that carries 120 passengers and 8 cars, making three trips each day between Kiyindi landing site in Buikwe district and Kirongo landing site in Buvuma district. This therefore makes it hard for the ferry to cater for emergencies that may not resonate with its schedule.
The boat was handed over to Ms Jane Frances Kagaia, the Resident District Commissioner of Buikwe who will entrust it with the District Health Officer to oversee its usage. She thanked MTN Uganda for heeding to the request of the people of Buvuma and the surrounding areas.
"I thank MTN Uganda for giving us this emergency rescue boat. Here travelling by water is almost inevitable and like all forms of transport, we encounter situations that require the services of an emergency rescue or response boat. This will ensure water transport safety for our residents and visitors as they travel between the mainland and the islands." Kagaia said.
To enhance water safety, MTN Uganda last year donated 100 life jackets and commissioned a 24 hour rescue communication line in Kiyindi to respond to the soaring numbers of water transport emergencies in Buikwe and Buvuma districts.
Last year still, MTN donated 550 customized solar kits to 9 schools and 3 health centers in Buvuma under its "Light up a Village" project in order to boost education and health services in the off-grid Island.
MTN Uganda remains committed to improving lives of the communities within which it operates while championing the true delivery of a bold and bright world.
MTN Uganda has injected over five hundred million in the Bwizi Health Center III for the renovation of the general wards and, expansion and equipping of the maternal ward at the health center.
With the construction of the new maternity ward underway, MTN Foundation is holding a corporate build with the key stakeholders in the project.
This project was initiated in February 2020 and will be officially handed over in April 2020 upon its completion.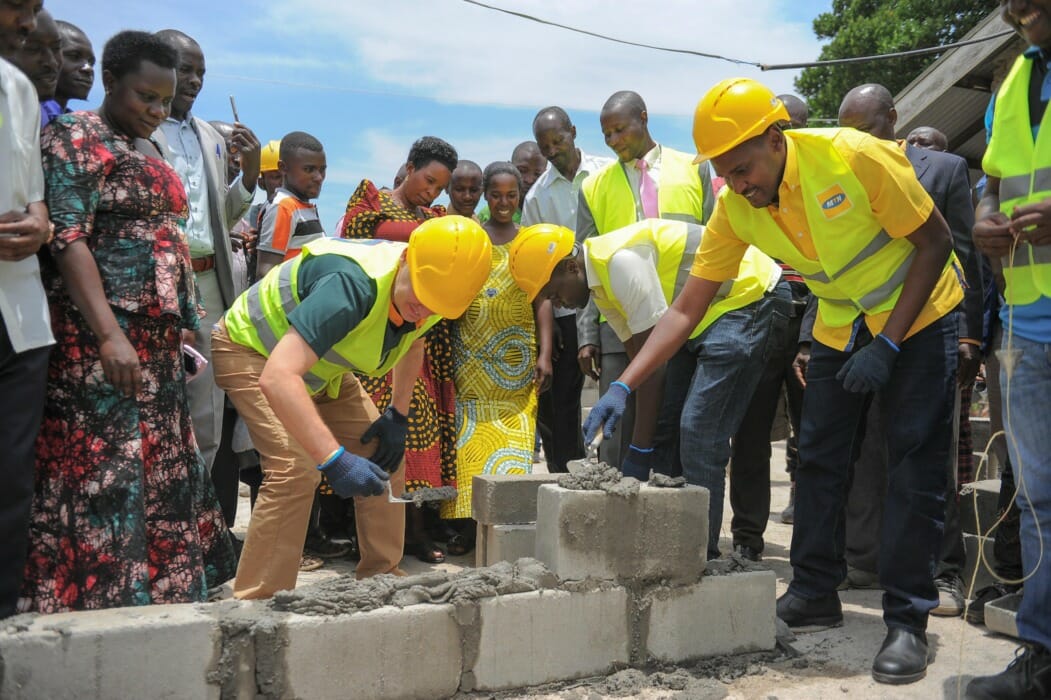 MTN Uganda, through its corporate social responsibility arm, MTN Foundation, has today held a corporate build at Bwizi Health Center III to bring to the attention of the general public and various stakeholders on the plight of maternal mortality rates within the region.
The telecom giant has injected over five hundred million Uganda shillings in the health center to renovate, expand the maternal/ general wards, and improve the sanitary facilities like showers and placenta pit as well as a comprehensive re- equipment of the entire health facility.
With an estimated growth rate of 3.2% per year, the estimate for 2010 was 350,000 people. MTN Uganda noticed a gap that it sought to mend together with its stakeholders to see to it that mothers are availed with a safe environment for child delivery.
MTN Uganda together with Joint Medical Stores, started the project started last month.  With construction currently underway, the project will be officially handed over upon its completion next month.
The health center located in Bwizi sub county serves all the locals in the region however is restrained when it comes to the proper facilities and equipment in place.
Speaking at the corporate build, Mr. Wim Vanhelleputte the MTN Chief Executive Officer, said that MTN Uganda, together with its partners would have chosen to have all hands on deck as they wage a war against poor maternal health services."
"Life is precious and valuable thus each and every mother deserves to give birth under the right conditions in a suitable environment without hindrances that we are in position to improve," said Mr. Vanhelleputte as he reiterated MTN's commitment to supporting maternal health in Uganda as an ongoing, long term project.
Hon. Frank Tumwebaze, the Minister for Gender, Labor and Social development thanked MTN Uganda for its continued support against maternal health not only in Bwizi but Uganda as a whole.
"For the last three years the MTN Marathon has raised funds to support maternal health in Uganda and today we are pleased that the MTN Foundation has delightfully come out to support Bwizi Health Center III," Hon. Tumwebaze said.
He further urged the locals and hospital staff to be good stewards of the equipment, and facilities put in place such that the entire community gets to benefit from the improved health center.
"We have to police each other and hold the other accountable if we are to benefit as a whole from the generosity of MTN Uganda and Joint Medical stores," Honorable Tumwebaze said.
In Uganda the maternal rate as per December 2019 was at 375 deaths/100,000 live births.