• MTN corporate and business customers now get more minutes and data at the same price with the MTN Super bundle.
• Dial *160*60# to get started with the most reliable and affordable voice and data deals to keep in touch with your clients, employees, colleagues, friends, and family.
• Choose from our 3-day, 14-day and 30-day voice and data packages according to your needs.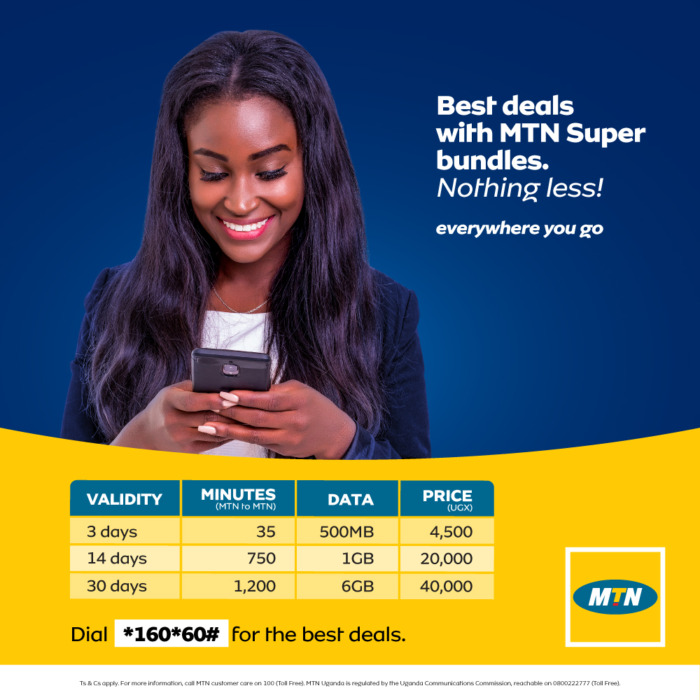 MTN Uganda has improved the voice minutes and MBs with the new MTN Super Bundles package to give its corporate and business customers more value for their money as they go about their business. This is, in line with the company's vision of delivering the benefits of a modern connected world to its customers.
Available in 3-day, 14-day and 30-day voice and data packages, the MTN Super bundles now come with even more voice minutes and more data MBs for the same price hence allowing customers to do more with the MTN Super Bundles at no extra cost.
Prospective clients can enjoy the best deals on the most reliable and affordable voice and data by subscribing to the MTN Super Bundles through dialing *160*60# to get started.
Commenting about the improved super bundles offer, Somdev Sen, the MTN Uganda Chief Marketing Officer said that:
"Our target clients for the MTN super bundles are in the prime years of their lives. They are shaping their dreams, building businesses, looking for prospective clients, upgrading their education, making meaningful social capital among other things. To do that, they need stable, reliable, and affordable voice and data which the MTN super bundles deliver," said Somdev.
"The MTN Super bundles really work for anyone juggling the hustle, family and friends. I encourage anyone with any business, whether corporate, trading and school to try out this offer that has been tailor made for them with the intention of giving them more value to enable them to get to the top," Somdev said.
Below are the MTN Super Bundles Packages:
| | | | |
| --- | --- | --- | --- |
| Validity | Minutes (MTN to MTN) | Data | Price (UGX) |
| 3 days | 35 | 500MB | 4,500 |
| 14 days | 750 | 1GB | 20,000 |
| 30 days | 1200 | 6GB | 40,000 |
MTN has refreshed its MyPakaPaka offering to give customers more minutes of talk
The refresh comes at a time when more businesses are going online, and more people are only able to stay in touch remotely.
The improvements in the MyPakaPaka product are part of MTN's drive to make communication more affordable for Ugandans.
 MTN Uganda has revamped its innovative voice bundles called MyPakaPaka to give customers even more minutes to talk.
MTN Uganda's Chief Marketing Officer Somdev Sen said the revamp is part of the telecom company's drive to offer affordability to customers while maintaining value.
"In these times of economic difficulty, MTN is committed to offering affordable voice solutions that fit the budget of every customer. We are delighted to announce improved offers that provide significantly more minutes for customers to keep in touch with their friends and loved ones," he said.
The refreshed MyPakaPaka voice bundles come at a time when more people have to communicate with customers remotely and also when family and loved ones can mainly stay in touch on phone, making it very relevant in the lives of Ugandans at this time.
MyPakaPaka is a voice offering from MTN that was developed using customer's usage behaviour and average spend to create various 24-hour bundles that are suited to each customer's pocket. The bundles are for varied durations up 100 minutes a day depending on a customer's usage pattern.
"MyPakaPaka represents one of the best calling options for the public who are using the MTN network. It offers customers great value, allowing them to connect day and night affordably and now with the revamp, there are even more minutes allowing for more talk," Somdev said.
Key to note is that all MTN customers have a unique offer tailored to suit both their budget and talking needs. In addition to minutes, MyPakaPaka also comes with SMS bundles.
To activate and buy MyPakaPaka, the MTN customer is required to dial *160*1# and select their preferred bundle.
Customers pay only 100/- to make calls between 10pm-8am in the morning
They can subscribe by dialing *160*19# or my MTN App
Customers can subscribe for MTN Kafyu Calls using airtime or MoMo
The MTN Kafyu Calls offer is between MTN to MTN subscribers
MTN Uganda has today announced an exciting promotional offer that will enable customers to make calls and stay in touch with friends and family between 10pm and 8am in the morning for only UGX100.
The offer is dubbed "Kafyu Calls" following the curfew conditions imposed by the Covid-19 pandemic. Whereas Ugandans are being encouraged to keep a distance between themselves, MTN Uganda's 12 million subscribers now have this affordable offer that enables them to stay in touch with each other.
By enabling individuals to stay in touch remotely, this offer by MTN Uganda further promotes the social distancing directive, a measure encouraged by the Ministry of health as one of the many ways to prevent the spread of coronavirus Covid19.
Commenting on the offer, Wim Vanhelleputte, MTN's Chief Executive Officer said that, "In these unprecedented times of hardship we have a responsibility to stand with the people of Uganda and make it as affordable as possible for them to stay connected with their dear ones, many of whom are today distanced from each other with no other way to connect but through their mobile phones. Whether it is to check on your parents upcountry or to call for emergency help at night, the MTN Kafyu call bundle makes it much more affordable to keep talking."
MTN customers can activate their Kafyu calls using airtime or mobile money by either dialing *160*19# or through their My MTN App. These calls can be made between MTN to MTN customers.
From sending any amount of money for free, to the affordable work from home data bundles and now the Kafyu calls, MTN is committed to making it easier and more affordable for its customers to stay in touch during these hard times.
As part of the country's continued efforts to fight the virus, MTN through the MTN Foundation donated 297m to the Uganda Red Cross society for its relief efforts to the people of Uganda who are affected by the pandemic. Furthermore, MTN established a MoMoPay account where customers can donate money to the relief effort. Customers who wish to donate, can dial *165*3*191919# and contribute any amount of money directly to the Uganda Red Cross.
Additionally, MTN supported National Water and Sewerage Corporation (NWSC) with 220m/- to provide 23 bulk water points as part of an initiative by NWSC to install a total of 100 water points aimed at supplying water to water stressed areas of Kampala.
MTN also made it free for customers who want to check for covid19 updates at www.who.int , www.health.go.ug  and www.covid19.gou.go.ug. Customers will not be charged for browsing these sites. MTN also zero-rated several education websites so that kids continue learning as much as possible while at home. The free websites can be seen at www.mtn.co.ug/LearnAtHome
—End—
About MTN Uganda
Launched in 1998, MTN Uganda is the leading communications operator in Uganda, offering Mobile and Fixed telecommunications, Mobile Money Services and Internet Service Provisioning. As at 31st December 2018, MTN Uganda recorded 11.2 million subscribers across Uganda. Visit us at www.mtn.co.ug or follow us on
www.youtube.com/mtnug and www.twitter.com/mtnug or www.twitter.com/mtnugpro for assistance.
About the MTN Group
Launched in 1994, the MTN Group is a leading emerging market operator with a clear vision to lead the delivery of a bold new digital world to our 240 million customers in 21 countries in Africa and the Middle East. We are inspired by our belief that everyone deserves the benefits of a modern connected life. The MTN Group is listed on the JSE Securities Exchange in South Africa under the share code "MTN". We are pursuing our BRIGHT strategy with a major focus on growth in data, fintech and digital businesses.
For more information, please contact:
The mediadesk.ug@mtn.com or 077 212 1372 or
Emmy Olaki at emmy.olaki@tbwa-uganda.com or 078 260 5997