TERMS AND CONDITIONS.
All vehicles are sold with no duty to repair – sold "as is". MTN Uganda shall entertain no claims after the sale. All vehicles are sold without any warranties or guarantees of any kind whatsoever. Please ensure that you have carefully inspected the vehicle you are buying before the auction starts.
MTN Uganda gives no warranty as to the correctness of date of first registration, year of manufacture and the odometer reading listed on the vehicle to be correct and will not be liable for any errors or inaccuracies in the description or identification of the vehicles. In making a bid, a bidder shall be deemed to have made themselves fully acquainted with the condition, description, and identification of the vehicle.
In no event shall the successful bidder or buyer hold MTN Uganda responsible for having made or implied any warranty or merchantability or fitness for any specific purpose.
Removal of vehicles from MTN premises shall be at the expense, liability, and risk of the successful bidder. All vehicles must be removed within the period announced by the auctioneer for each auction. Ownership of vehicles not removed within the announced period will revert to MTN Uganda for resale or disposal, without refund or recourse to the bidder. Vehicles not removed shall be considered abandoned and no refunds shall be issued.
Announcements made at the time of the sale (during the auction) take precedence over conflicting announcements or postings.
MTN Uganda reserves the right to withdraw any vehicle from the sale before or during the auction without prior notice.
Persons attending the preview/inspection period, the auction, or the removal period assume all risks of damage, injury, or loss to their person and/or property, and release MTN Uganda from liability thereof.
On payment of the full bid price, the risk shall pass from MTN Uganda to the buyer. However, title shall pass from MTN Uganda upon completion of the Uganda Revenue Authority motor vehicle transfer process.
These rules apply to both bidders and successful bidders (buyers) and the terms and conditions will be deemed to be accepted by either of them, on completion of registration as a bidder.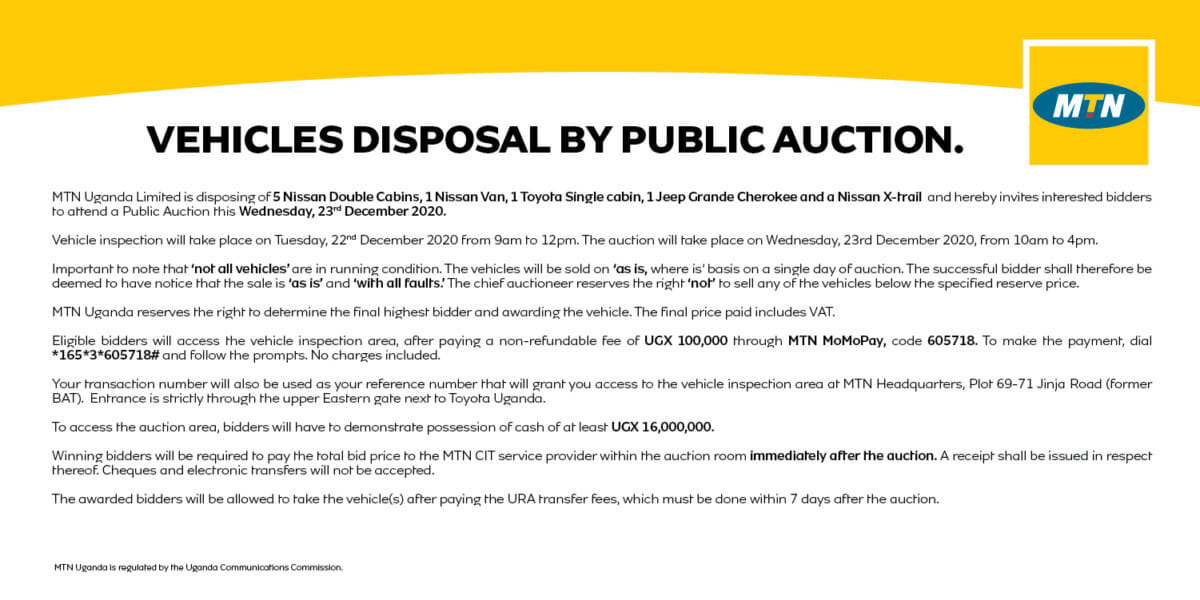 ---
Lastest news
MTN Launches 2023 Thematic Campaign: "Together, we are unstoppable"
Lastest news
MTN MoMoPay Merchant hits 200,000 business customers
Lastest news
Matter concerning fraudulent withdraw of an MTN customer's mobile money at an MTN dealer shop.
Lastest news
MTN Uganda awarded as the fastest mobile network in Uganda
Lastest news
MTN Uganda Announces 5-year Sponsorship for the Uganda Cranes
Lastest news
MTN Uganda ranked Uganda's best network
Lastest news
MTN Uganda embraces the future of Uganda's digitalization journey with a 5G Core network Transformation
Lastest news
New Reduced MTN MoMo Sending Rates
Lastest news
MTN Foundation Launches Youth Economic Empowerment Initiative dubbed MTN ACE