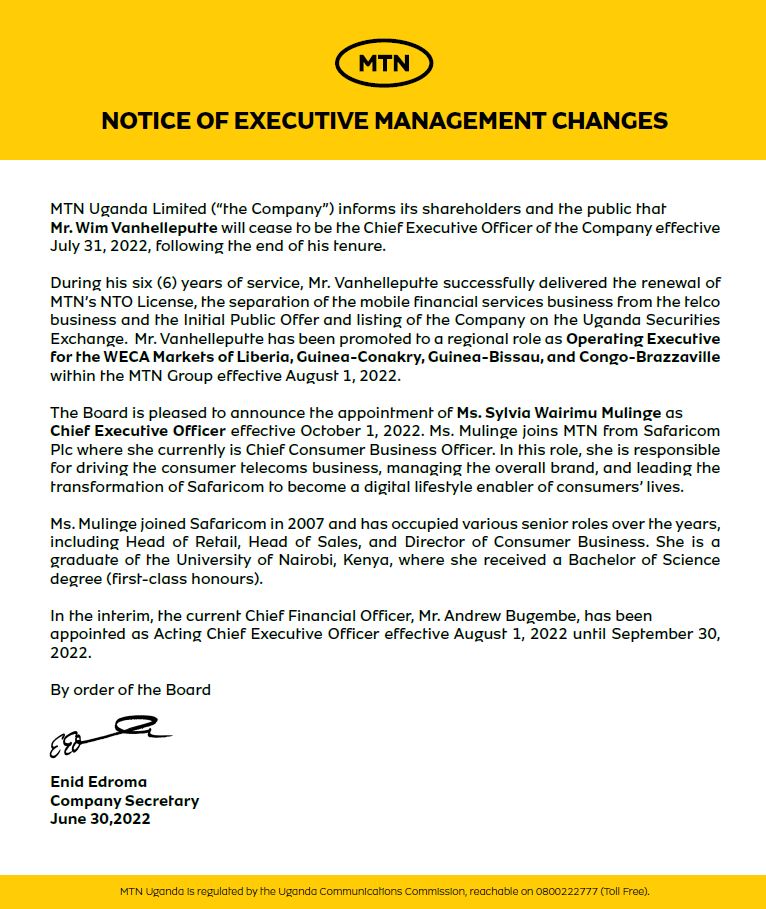 MTN Uganda Limited ("the Company") informs its shareholders and the public that Mr. Wim Vanhelleputte will cease to be the Chief Executive Officer of the Company effective July 31, 2022, following the end of his tenure.
During his six (6) years of service, Mr. Vanhelleputte successfully delivered the renewal of MTN's NTO License, the separation of the mobile financial services business from the telco business and the initial public offer and listing of the Company on the Uganda Securities Exchange.  Mr. Vanhelleputte has been promoted to a regional role as Operating Executive for the WECA Markets of Liberia, Guinea-Conakry, Guinea-Bissau, and Congo-Brazzaville within the MTN Group effective August 1, 2022. Chairman of the Board of Directors Mr. Charles Mbire in a statement said "The Board is grateful to Mr. Vanhelleputte for his outstanding service over the years and contribution to the Company's growth during that period. We wish him the best in his new role."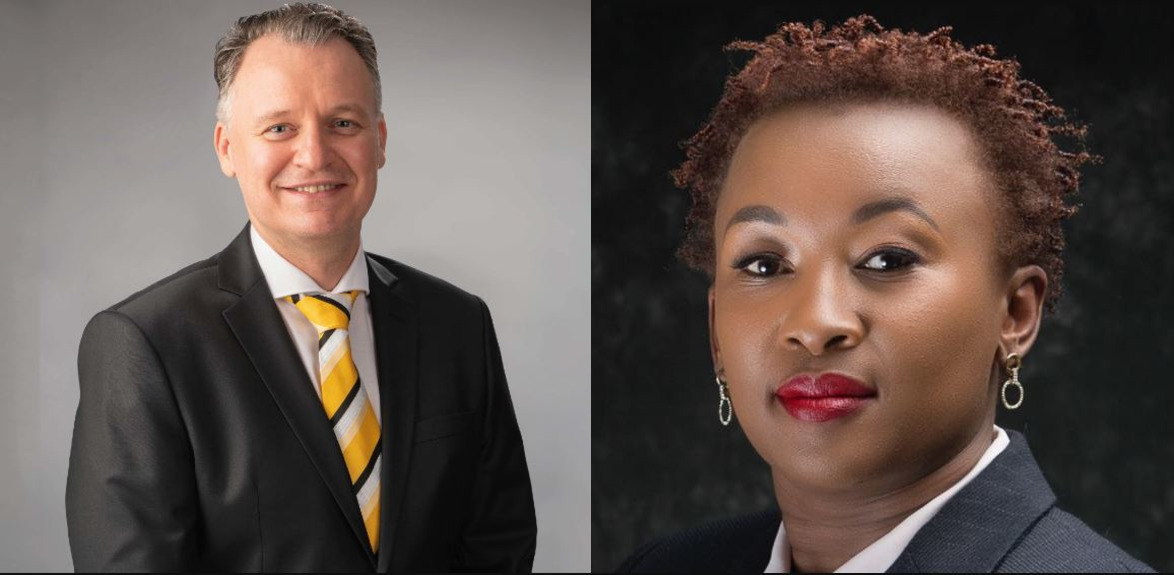 The Board is pleased to announce the appointment of Ms. Sylvia Wairimu Mulinge as Chief Executive Officer effective October 1, 2022. Ms. Mulinge joins MTN from Safaricom Plc where she currently is Chief Consumer Business Officer. In this role, she is responsible for driving the consumer telecoms business, managing the overall brand, and leading the transformation of Safaricom to become a digital lifestyle enabler of consumers' lives.
Ms. Mulinge joined Safaricom in 2007 and has occupied various senior roles over the years, including Head of Retail, Head of Sales, and Director of Consumer Business. She is a graduate of the University of Nairobi, Kenya, where she received a Bachelor of Science degree (first-class honours).
"I would like to welcome Sylvia Mulinge to MTN Uganda. I believe that her experience will be beneficial to MTN, particularly given her alignment to our strategic intent of leading digital solutions for Africa's progress. The Board is confident that Ms. Mulinge will continue the work of growing the Company as a leading provider of telecommunications and digital solutions." Mbire concludes
In the interim, the current Chief Financial Officer, Mr. Andrew Bugembe, has been appointed as Acting Chief Executive Officer effective August 1, 2022, until September 30, 2022.
Nsindika Njake is a youth-centered entrepreneurship TV show that was undertaken by MTN Uganda in collaboration with Makerere Business School (MUBS), to equip young people with skills to promote entrepreneurship and ease youth unemployment.

Contestants on the show have undergone vigorous training sessions supported by a series of business skills-related tasks.
The practical driven tasks have revolved around how they can harness the power of digital solutions to grow their businesses.
This program underpins MTN's commitment to driving shared value through promoting community wellbeing and supporting individual ambitions.
Following a 3-months exciting entrepreneurship training program, MTN Uganda in collaboration with Makerere University Business School (MUBS), this Wednesday announced the overall winners in the Nsindika Njake ne MTN TV entrepreneurship series that have been showing on NBS TV. The overall winner walks away with Ushs 60,000,000 that they'll inject back into their businesses over a one-year period. The reality TV show task-oriented series, has equipped participants with the skills and exposure to position their businesses, commonly referred to as hustles, for future growth and excellence.
Jovan Kagenzi scooped the grand cash prize of 60 million shillings set to push his cook-stove business to the next level, backed by the cutting-edge business skills he has acquired from the 3 months-long training. Kagezi invented a charcoal stove connected to a chimney and a biogas source providing clean cooking energy to the end-users. Kagezi's business also makes charcoal briquettes at affordable prices, targeting households, schools, restaurants and hotels. 
Joy and excitement overwhelmed the families and friends of Jovan Kagezi. The overwhelmed Kagezi walked to the stage with a jubilant team clapping for his achievement.  
While giving a vote of thanks, Kagezi knelt down and joyfully thanked MTN, judges, and partners for finding him appropriate to handle the 60 million shillings.
"Thank you everyone for considering my hustles and filling huge gaps in my business with skills and financial support," said Kagezi and he accompanied it with a praise song," Kagezi said.
Being announced the first runner-up accompanied with a 20 million cheque, David Kasaali together with his team happily thanked MTN and all the partners who have made this project a success. The youthful proprietor has promised to invest the cash in his company dubbed Psalms4, which deals in processing and packaging ground-nuts.
Shakirah Nassejje emerged as the second runner-up and won a 10 million cheque that saw her thanking Allah, MTN, the trainers, friends, and family who encouraged her in her journey. With 10Million guaranteed for her craft-making business, the 19 year-old entrepreneur vows to take her business to the next level.
In third and fourth place was Joseph Kwesiga, who also doubled as the People's choice award winner walked away with a total of Ugx.10 million, with 5 million being the Nsidika Njake cash prize and 5 million for being the participant of choice for the public. He will use his cash prize to bolster his juice-making business.
To ensure proper management of the finances, the cash prize will be dispatched to winners in 4 installments over a 1year period, upon the completion of key business milestones.
The main aim of this show was to inspire and stimulate entrepreneurship insight among the youth as one of the ways to lessen the high youth unemployment rates that are prevalent in the country. Youth unemployment in Uganda stills stands at between 64% and 70%, with up to 400,000 young people entering the job market annually for a mere 9,000 jobs.
Based on the above statistics, entrepreneurship remains the most viable way to provide immediate employment and job creation opportunities. Unfortunately, the majority of the youths don't sustain their start-ups due to a lack of entrepreneurial skills.
While addressing the media at the grand closure of the Nsindika Njake show, held in Naguru, Somdev Sen, the MTN Uganda Chief Marketing Officer congratulated the winners and said that the show has gone a long way in addressing the unemployment issue that the youth are currently facing.
"While we worked with only 24 youths on this show, we believe that this show, that was televised for the entire public has taught very many people how to navigate the day-to-day challenges faced in businesses and has now set them on a path to becoming better entrepreneurs," said Somdev.
The show commenced with 24 small business owners who were mentored and trained by the MUBS entrepreneurship and small business center. With trials at different levels, 20 contenders were eliminated in a period of 11 weeks and the show zeroed down to the top 4 finalists. including; Shakirah Nassejje, David Kasaali, Joseph Kwesiga, and Jovan Kagezi.   
Dr. Diana Nandagire Ntamu, the Director of MUBS Entrepreneurship Innovation and Incubation Centre, said the Nsindika Njake program has mentored several youths in capacity building and skills cutting across various disciplines in the business sector.
"I must say that I am very excited to have worked with MTN in fostering entrepreneurship to the enthusiastic young people hustling to develop their lives and communities," said Ntamu.
Dr. Ntamu further applauded MTN Uganda for the financial support towards the youths noting that this initiative will surely improve many lives of Ugandans once skills are practically embraced.
MTN Uganda paid a final dividend for the year ending December 31, 2021, of UGX 105.4 billion to 21,452 shareholders at UGX 4.706 per share.
NSSF is MTN Uganda's second-largest shareholder, with 8.84% shareholding, earned a total of UGX 9,317,880,000/= in dividends for the year 2021.
Following approval of declaration of dividends by its shareholders at the Annual General Meeting held on the 27th day of May 2022, MTN Uganda has paid out a total dividend of Ugx105.4 billion to its 21,452 shareholders for the year ended 31st December 2021.
Each shareholder, registered on the books of the company by 01 June 2022, has received a dividend of UGX4.706 per share in accordance with the Uganda Securities Exchange Rules.
All dividend payments have been subjected to withholding tax in accordance with the Income Tax Act. All Ugandan individuals are subject to a 10% withholding tax while East African individuals and Companies including Ugandan companies, are subject to a 15% withholding tax.
The National Social Security Fund (NSSF), which is the second-largest institutional shareholder with a stake of 8.84%, earned a dividend of UGX 9.3 billion for the year 2021.
Handing over a dummy cheque for the final dividend earnings for the period 6th to 31st December 2021 to Richard Byarugaba the Managing Director of the NSSF, Andrew Bugembe, the MTN Uganda Chief Finance Officer highlighted the company commitment to its shareholders.
"MTN Uganda is committed to returning great value to all its shareholders, and therefore today, we are delighted to be living out to this commitment to our shareholders having taken a step to invest in MTN Uganda" Mr. Bugembe said.
Bugembe further noted that MTN Uganda's policy is to pay dividends three times a year in June, September, and December at a minimum of 60% of profit after tax hinged on the company operational performance. The target for the year 2022 is to payout 75-80% of the profit made as dividends.
Richard Patrick Byarugaba the Managing Director of the National Social Security Fund applauded the Telecom company for it's great performance.
"The dividend declared and paid by MTN Uganda is impressive and grows investor confidence in the company. We have also seen the company deliver impressive subscriber growth since the IPO (mobile subscribers – 10.7% to 15.7M), as well as double-digit growth in key segments (data and mobile money) which bodes well for the future performance of the company."
In line with MTN's Financial inclusion strategic mission, 87% of MTN shareholders have been paid through the MTN mobile money platform.
MTN Uganda was listed on the Uganda Securities on 6th December 2021.
This is in a bid to equip students in vocational training Institutes with the necessary skills for the 21st Century job market.
This project that is currently in its second phase is under MTN Uganda's ICT for Development project and is in line with the MTN Ambition 2025 Strategy.
Previous beneficiaries of this project include; St. Daniel Comboni VTI in Moroto, Amello VTI in Adjumani and St. Simon Peter VTI in Hoima District. This second phase is also targeting 3 VTIs.
The students of Kasese Youth Polytechnic Vocational Training Institute (VTI) in Western Uganda are set to rip from the generous donation of a fully furnished Digital Resource center courtesy of the MTN Foundation in partnership with Enabel a Belgian NGO. This project is hinged on MTN's strategic priority to build digital skills for digital jobs in alignment to the company's Ambition 2025 Strategy.
The MTN Uganda Foundation which is the corporate social responsibility arm of MTN Uganda, in partnership with Enabel, an NGO that supports vocational training institutes with a vision to end unemployment and extreme poverty, is extending support to the 'Skilling Uganda' National Project in Vocational institutes through the provision of computers and fast internet connection. This is in fulfillment of the ministry of education and sports national program titled 'Skilling Uganda' as part of BTVET strategic plan 2012/3 to 2021/2.
The first phase of the ICT for Development project that happened in 2019/20 supported three VTIs including St. Daniel Comboni vocational institute in Moroto, St. Simon Peter Vocational Training institute in Hoima and Amello Vocational Training institute in Adjumani district with fully furnished ICT labs to promote digital learning in the VTIs.
To start off the second phase of the project, MTN Uganda Foundation alongside Enabel have completed and handed over the first of three ICT labs in Kasese Youth Polytechnic VTI. The ICT lab that cost 65 M has 10 computers, 4 batteries, a power stabilizer an uninterrupted power supply, and high-speed internet connectivity for a year.
Additionally, MTN has committed another 102M for the production of digital education content commonly known as How-to videos that shall be used for training at all the VTIs that MTN and Enabel have supported. These how-to videos shall facilitate training as learning materials for the students of all the beneficiary institutions as well as the neighboring communities.
The entire second phase is ongoing and will cost UGX 297,254,237 which will extend support to three vocational training institutes including Uganda technical college- Kyema in Masindi and Millennium Business school in Hoima and the Kasese Youth Polytechnic VTI.
Speaking at the handover ceremony for the Digital resource center of Kasese Youth Polytechnic, Richard Yego, the Managing Director MTN MoMo Uganda said that: "The aim is to skill Ugandan youth for the 21st-century job market by enabling them to access technical and vocational information online through open education resources for skills development."
Yego further noted that the decision to support vocational institutions was based on the fact that vocational training was found to be an effective way of addressing unemployment, which is a major issue for the youth in Uganda today.
Cornille Bart, the Institutional Development Expert at Enabel said that: "We have been in partnership with the MTN Foundation for the past years to bridge the gap between Vocational Training Institutes and ICT solutions to support the educational needs of young people in districts all over the country. We are happy with the progress that the project has registered so far."
While delivering the keynote Joe Walusimbi, the KaseseDistrict Resident District Commissioner (RDC) praised MTN Uganda and Enabel for supporting educational services in communities and recognizing government initiatives by supporting the education sector.
"We are in a highly developing technological era that requires all students to be able to have access to ICT tools that accomplish and solve everyday tasks.  ICTs play a critical role in shaping the desirable 21st century work and life balance that is required," He/she said.
Dickens Koma Olwoch, the Principal of the Kasese Youth Polytechnic VTI expressed his gratitude to the MTN Foundation and Enable for their generosity.
"The Digital resource center is going to create an avenue for our students to learn and share in the vast educational materials available on the web and in the training materials you have shared."  Said Olwoch.
He also noted that the institute will be able to connect with the advanced world of technology that will uplift them to a fast-paced workforce of the 21st century and not have them left behind.
Just last week, MTN equipped over 700 people from the grassroots communities across the country with digital skills that are requisite for the 21st-century job market, under its just-concluded 21 days of Y'ello Care staff volunteerism campaign.
MTN is committed to extending the benefits of a modern connected world to everyone across its footprint, according to its Ambition 2025 strategy.
We are down to the top 4 MTN Nsindika Njake competition contestants. Here is your chance to make one of them the peoples choice award winner. The winner walks away with UGX 5,000,000 that will be seeded in his/her business to help them get started.
Click here to vote or  dial *160*70#
Following the after-effects of two years of covid-19 that saw the economy closing. MTN Group announced to revamp communities by empowering entrepreneurs aiming at driving economic recovery.
MTN Uganda, yesterday, launched its staff-driven Corporate Social Responsibility titled 21 Days of Y'ello Care with the aim of providing communities with digital skills training as well as boosting their economic activities. 
Today, MTN staff reached out to the businesses under Focus for Life Development link in the Kawempe Division of Kampala City as well as the Tesobar Deaf Carpentry workshop in Lira District. 
The Kampala team was led by Joseph Bogera, the MTN Uganda Sales and Distribution General Manager while the team in Lira was led by Phillip Odoi, The MTN Uganda Northern region Business Manager.
Each of the two entrepreneurship communities received a cheque of Shillings 8,000,000 million to support their businesses. They were also given wheelbarrows, rakes, hoes, spades, brooms, and reflector jackets to be used in keeping a clean environment. This followed a cleaning exercise undertaken by the MTN staff prior to the digital skills training and the relief package handovers.
Kakande Muhamad, the Vice Chairperson of Focus for Life Development Link in Kawempe, applauded MTN for lighting up the community with the generous giving.
The MTN Staff were tipped on how to make charcoal briquettes from the solid waste by members from Focus for life Development.
The Resident City Commissioner of Kawempe division Sulaiman Mulangira, thanked MTN for supporting and engaging in sanitation duties and upskilling the youths in digital services. He also committed to partnering with MTN in its future projects.
Other groups that shall be supported include; the Masaka Diocese Youth, the Jinja based Tabulera Kawuma deaf carpentry, the disabled association of Fortportal, the Bunusya abarema twetungure association in Mbarara, the Glorious widows of Makindye, Missionaries of the poor in Rubaga and the Nakawa Market Vendors association.
According to Bryan Mbasa, the Senior Manager MTN Foundation, 21 days of Y'ello care is an opportunity to give back and be of importance to the community. 
"When I contribute to this program, I am able to impact the communities where we live and this gives me an ability to fulfill my purpose in the country at large. This is a very good initiative," said Mbassa.
MTN has become aware of an article circulating on social media authored by Mulengera news dated June 13, 2022 in which it claimed among other misleading allegations that "the Tax Appeals Tribunal, in their 11 page judgement proclaimed last Friday….that MTN should promptly pay the UGX 24BN as assessed by URA"
MTN informs the public that this information is incorrect and deliberately misleading. MTN resolved all tax disputes between itself and the Uganda Revenue Authority in the Tax Appeals Tribunal following a joint reconciliation exercise in December 2020. MTN issued a statement regarding the cases resolved in the Tax Appeals Tribunal in December 2020, details of which are available at https://www.mtn.co.ug/tag/mtn-v-ura-tat-application/
The Tax Appeals Tribunal has not issued any judgement against MTN Uganda since 2020 as alleged by Mulengera News.
MTN is a responsible and ethical corporate citizen committed to meeting all its lawful obligations including all taxes that are properly assessed and are due and owing.
For more information, please contact:
MTN Uganda Press Office: mediadesk.ug@mtn.com
Rhona Arinaitwe: Rhona.Arinaitwe@mtn.com or 0772 123 067
MTN Uganda has resumed its employee volunteering campaign following a 2 -year hiatus occasioned by the covid-19 pandemic.

This development follows an announcement of the resumption of the global award-winning

program by the MTN Group across its footprint.

Communities across the MTN footprint, including 10 communities in Uganda, shall be equipped with digital skills training with the aim of bolstering economic recovery following the covid-19 pandemic.
MTN Uganda has today launched its staff volunteerism campaign dubbed 21 Days of Y'ello care following the MTN Group's announcement of the resumption of its employee volunteering program after two years of Covid-19. The annual event aims to secure high participation levels of MTN staff in high-impact social projects to uplift and empower the local communities in which the company operates. 
The campaign that is always executed within the first 21 days of June, will this year run under the theme: "Empowering Communities to Drive Economic Recovery". The aim is to inspire MTN staff to upskill local communities in order to drive economic activity and participation through focusing on digital skills training and digital job creation. This is linked to MTN's strategic priority to build digital skills for digital jobs aligned to the company's Ambition 2025 Strategy. 
While launching the MTN Uganda 2022 21 Days of Y'ello Care campaign at the Kiira Road Police grounds in Kampala, The MTN Chief Executive Officer said that it was heart-warming for the staff of MTN Uganda to once again dedicate their time, financial resources, and skills, with the communities in a bid to uplift them socio-economically, especially now, following the drastic effects of the Covid-19 pandemic.
"Focusing on empowering communities to drive economic recovery after Covid-19 through training, upskilling, and knowledge sharing will create lasting and sustainable change in our communities", Vanhelleputte said, at the inaugural activity of the 2022 MTN Uganda 21 days of Y'ello care campaign that doubled as the launch of this year's campaign. 
This year, MTN's 21 Days of Y'ello care program will focus on upskilling and supporting women, youth, and disadvantaged populations groups across the country. 10 groups have been selected in; Lira, Jinja, Masaka, Fort Portal and Mbarara as well as the 5 divisions of Kampala i.e. Nakawa, Kawempe, Rubaga, Makindye and Central Division.
Today, two MTN Uganda staff teams interfaced with the Kamwokya Women tailoring group in the Kampala central division. The group members underwent digital upskilling training sessions delivered by MTN staff, to help them harness the power of digital usage to bolster their economic activities through various digital channels that resonate with the current digital era.
The MTN team also engaged in community cleaning sessions before handing over a cheque of Ugx. 8,000,000/= to support the group.
Lillian Cheptoek, the Kamwokya women's team leader thanked MTN for reaching out to their group.
"Our group was badly affected during the pandemic. We are happy that MTN has reached out to support us. We have learnt how to manage our business better and how to market our products on social media. We shall use the money to buy tailoring equipment to boost our business," Cheptoek said.
Other groups that shall be supported include; the Tesobar deaf carpentry group in Lira, the Masaka Diocese Youth, the Jinja based Tabulera Kawuma deaf carpentry, the disabled association of Fortportal, the Bunusya abarema twetungure association in Mbarara, the Glorious widows of Makindye, Focus for Life Development Link in Kawempe, Missionaries of the poor in Rubaga and the Nakawa Market Vendors association.
All the above groups will undergo a digital upskilling training and receive a financial recovery package to boost their businesses, from MTN Uganda staff, who will also engage in a cleaning activity in their areas of operation. 
Launched in 2007, 21 Days of Y'ello care is a global award-winning staff initiative that has seen MTN staff step out of their offices every year, to make a difference in the lives of the communities within which they work. Some of the past initiatives in Uganda include a successful two-day career expo, various training programs aimed at tackling youth unemployment, and entrepreneurship training among many mentorship programs aimed at positively impacting communities across the country.
This year, MTN is committed to adding economic value by contributing to society through its programs focused on digital education, digital skills and digital skills training. The company believes that reducing the digital skills gap will help address issues of digital and social inequalities while at the same time ensuring the sustainability of the business. 
Therefore, by resuming its 21 Days of Y'ello Care campaign, MTN is striving to ensure that it continues to strengthen and uplift all of our community members in their pursual of economic development within each community since everyone deserves the benefits of a modern connected life.
MTN has contributed Ushs.30Million towards the 28

th

coronation anniversary celebrations of Omukama Solomon Gafabusa Iguru IV of Bunyoro Kingdom.

MTN and Bunyoro kingdom have a longstanding relationship aimed at uplifting the socio-economic well-being of the people of Bunyoro.
MTN is keen on working with cultural institutions because they are a strong community establishment that foster shared beliefs and unity of purpose. 
MTN Uganda over the weekend  reaffirmed its partnership with the people of Bunyoro Kingdom as the monarchy celebrated the 28th coronation anniversary of Omukama (King) Solomon Gafabusa Iguru IV.
Following the signing of a collaboration agreement in 2019, MTN, last weekend handed over a cheque of Ush.30 million to support the Kingdom's initiatives at the Empango celebrations in Hoima. This follows the lifting of restrictions on public gatherings that prevented the celebrations from happening over the last two years. 
The cheque was handed over to the Bunyoro Kingdom officials at the Karuzika Royal Palace in Hoima by the MTN Mobile Money Uganda Limited Managing Director, Richard Yego, who graced the celebrations. Yego congratulated the Omukama of Bunyoro, who was not in attendance of the celebrations due to ill health, upon his peaceful and developmental 28-year reign.
"We are honored to join the people of Bunyoro on this auspicious day that gives us an opportunity to celebrate the friendship between MTN and the people of Bunyoro Kitara. On behalf of MTN Uganda, I congratulate the people of Bunyoro for reaching this great milestone under the great leadership of Omukama Gafabusa who has fostered peace and overseen transformation in the region," Yego said. 
Yego further added that MTN has committed resources to further champion the socio-economic and cultural wellbeing of the people of Bunyoro through supporting health, education, and sports initiatives in the Kingdom.
The Bunyoro Kingdom Prime Minister, Owek. Andrew Byakutaga, on behalf of the Omukama, thanked MTN for its continued support towards the kingdom's initiatives. "We extend our sincere appreciation to MTN for all the work they do in our communities to extend better services to our people here in Bunyoro and beyond," Byakutaga said.
Last year, MTN Uganda restored 50 hectares of forest cover in Kagombe forest in the Bunyoro region as part of its "Uganda is Home" campaign. Prior to that, the telecom refurbished and re-equipped the Maternity ward and theatre at Kigorobya Health Center IV in Hoima district to champion maternal and child health in the region. Furthermore, the telecom set up an ICT laboratory at the St. Simon Peter Vocation Training Institute to champion digital skilling.
This year, MTN is set to sponsor the Bunyoro football tournament and bicycle race competitions between the counties of Bunyoro. MTN is keen on working with cultural institutions because they are a strong community establishment that fosters shared beliefs and unity of purpose, which resonates with MTN's #GoodTogether notion.